Croatian NatCo claims progress in dynamic spectrum sharing implementation at 5G test ground in Samobor.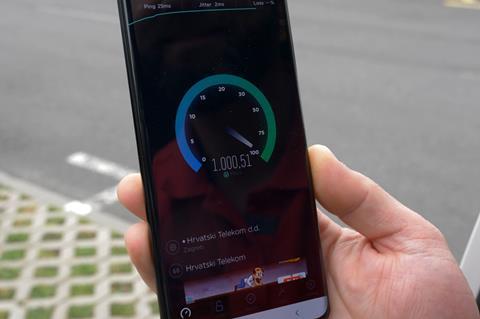 Hrvatski Telekom (HT) became the second European NatCo within Deutsche Telekom (DT) to flag a deployment of dynamic spectrum sharing (DSS).
HT said it has enabled 5G services at ten base stations in Samobor — an area just outside Zagreb, designated as one of HT's 5G testing grounds (Deutsche Telekomwatch, #82) — using 2.1GHz frequencies currently used for 4G. The trial was performed using commercial Samsung S20 5G devices.
A hyped-up Boris Drilo, Chief Technology Officer at HT, described the demonstration as the "biggest breakthrough in the development of 5G technology in Croatia". HT noted the project marks the first time DSS has been used to enable 5G in Croatia. It said the trial was one result of a two-year network modernisation programme conducted by HT, presumably in reference to an engagement announced with main network enabler Ericsson Nikola Tesla back in 2018 (Deutsche Telekomwatch, #72).
With five base stations in Samobor also said to have been upgraded to allow 3.5GHz-based 5G, HT claimed to have enabled the "largest 5G area in terms of speed and coverage in Croatia". The service appears set to be in trial mode for a while, though — Croatia's coming multi-band (or "5G") auction, covering 2.1GHz, 3.4GHz–3.8GHz, and 26GHz frequencies, is not expected to take place until later in 2020.
As well as Samobor, HT has highlighted the tourist island of Krk and city of Osijek as 5G testing hubs.
German parallels
Elsewhere within DT, Telekom Deutschland has indicated it is rolling out DSS as part of a 5G expansion drive announced in April 2020. Like HT, it is apportioning part (5MHz) of its 2.1GHz resource for 4G and 5G as needed (Deutsche Telekomwatch, #93).
Rival Vodafone Germany partnered with Ericsson to claim a world-first DSS landmark in April 2020, deploying the technology to shoot 700MHz frequencies back and forth between 4G and 5G (Vodafonewatch, #183).
T-Mobile US has long been a sceptic regarding DSS, although this is fed by its large base of mid-band frequencies, including 2.5GHz spectrum acquired through the recent Sprint merger (Deutsche Telekomwatch, #84 and #90).