Timotheus Höttges, Chief Executive of Deutsche Telekom (DT), waded into the dispute at European Union (EU) level over which technology should be selected to support connected-cars in Europe.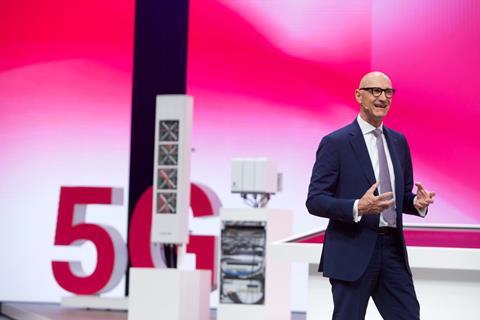 Höttges' intervention came after recent indications by the European Commission (EC) that deployment of so-called Cooperative Intelligent Transport Systems (C-ITS) on Europe's roads will at least initially rely on Wi-Fi standard 802.11p, as opposed to DT-backed Cellular Vehicle-to-Everything (C-V2X). Reuters reported that Höttges and Harald Krueger, Chief Executive of BMW, had written to Andreas Scheuer, Germany's Transport Minister, claiming that ruling out a 5G-based approach will jeopardise Europe's progress with 5G, and urging the German government to block the EC proposal.
The 5G Automotive Association (5GAA), of which DT is a member (Deutsche Telekomwatch, #58 and passim), is supporting the rollout of C-V2X, and has already voiced its objections to the EC's 'delegated act' on C-ITS, warning that it will "downsize safety gains, negatively impacting the competitiveness of our automotive sector and the development of 5G technology in Europe".
The GSM Association (GSMA) has also sent a number of missives on the issue, including a letter to Members of the European Parliament (EP) that asked them to vote in favour of an objection to the delegated act, supported by the EP's Committee on Transportation and Tourism.
It seems that the EP has since voted in favour of the Wi-Fi-based technology, meaning that the Council of the EU will have the final say.
BMW, Daimler, Ericsson, Ford, Huawei Technologies, Jaguar Land Rover, Nokia, PSA Group, Qualcomm, and Vodafone are among parties supporting C-V2X within the 5GAA, and are said to be pitted against car makers including Renault, Toyota, Volkswagen, and Volvo, as well as technology specialists such as Autotalks, Kapsch TrafficCom, MAN, and NXP Semiconductors.