Germany's move for shared European cloud infrastructure backed.
CEO laments lack of European rivals to tech giants from America, Asia.
TDE announces upcoming campus network products.
NatCo signs strategic partnership with Teradata.
T-Sys unveils new public and private cloud propositions.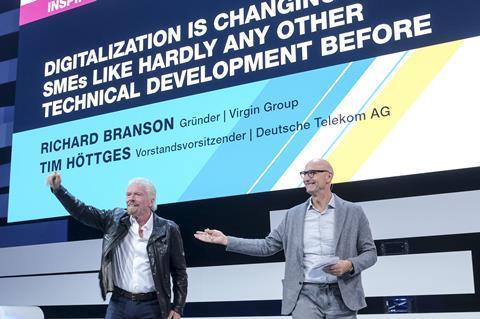 Timotheus Höttges, Chief Executive (CEO) of Deutsche Telekom, was among a number of high‑profile speakers at Digital X, a cross‑industry initiative showcasing new digital products targeted at business customers.
He used his keynote speech at the two-day event, held in Cologne during late-October 2019, to emphasise the importance of "digital sovereignty" in Europe. "I expressly support a shared European cloud infrastructure", he said. This was a clear reference to the German government's Gaia X Project, announced in parallel with the Digital X event, which is aimed at lessening Europe's reliance on US cloud providers such as Amazon, Google, and Microsoft. China's Alibaba Group is also seen as a threat.
Gaia X marks the spot
According to a paper published by Germany's Ministry of Economic Affairs, Gaia X is set to go live in late‑2020. "Our goal is to develop the next generation of European data infrastructure for Europe, its states, its businesses, and its citizens", said the paper. France is also involved in the project, and other European countries have apparently been invited to collaborate on Gaia X.
Along with Bosch, Deutsche Bank, and Siemens, DT was reportedly involved with formulating plans for Gaia X, and suggested a significant Group role in getting the project off the ground.
Amazon Web Services (AWS), perhaps not surprisingly, cast doubt on the project's chances of preventing data being stored in the US or China. A lack of scale, claimed an AWS spokesperson, will be a major weakness.
"We think that the idea of a 'national' cloud is interesting in theory, but in reality it removes many of the fundamental benefits of cloud computing. Running technology infrastructure at the scale that we do at AWS is hard and a capital-intensive business, in which customer demands for innovation and the latest security tools are insatiable. This is also why the many proposals we have seen for 'national' clouds over the years have not been seriously pursued. "

— AWS spokesperson.
Höttges touched on some other familiar themes at the event, including a desire for improved investment conditions to make a stronger digital Europe. "This includes a labour market policy that promotes SMEs [small‑ and medium-size enterprises]", he said. "Europe also needs companies that can keep pace with the tech giants from America and Asia", he added.
The event was billed by its organisers as the biggest of its kind in Europe. Backed by the German government, Digital X proved something of a draw, with entrepreneur Sir Richard Branson and Sir Tim Berners-Lee, pioneer of the World Wide Web, both making an appearance.
DT used the show to unveil a range of enterprise partnerships and product development initiatives:
Telekom Deutschland (TDE) announced two campus network products: one aimed at SMEs, and the other targeting large enterprises. Dubbed Campus M and Campus L, respectively, the two mobile-based offerings are slated to become commercially available in 2020. New edge cloud solutions are also positioned for "real‑time data processing", which TDE labels as "EDGE in the box", and apparently enable latency times of less than ten milliseconds. Campus M, designed for SMEs, leverages the public mobile network. SME data, said TDE, is nonetheless separated from public channels and sent to a fixed‑line virtual private network. The Campus L variant offers large corporations their own private mobile network. A dedicated on‑premise server provides the back‑end for private network infrastructure. In this way, claimed TDE, data does not leave the campus. The NatCo said the two new products were developed in close collaboration with campus network enabler Ericsson after testing on‑campus with three different businesses: Osram, a German lighting specialist; ZF Friedrichshafen, a German car parts maker; and BorgWarner, a US‑headquartered manufacturer of automotive parts with operations in Hungary, where Magyar Telekom took the operator lead.
A strategic partnership was flagged between TDE and Teradata, a US‑based data analytics specialist. The idea is to support the "digital transformation goals" of SMEs in Germany. "This partnership gives [SMEs] access to data analysis that only large companies have been able to carry out to date", asserted Hagen Rickmann, Director of Business Customers at TDE. "By combining our strengths, we can provide affordable solutions created especially for our customers", he added. The NatCo said it was incorporating Teradata Vantage into its IT portfolio. In doing so, TDE claimed it can provide SMEs with "unprecedented easy and efficient access to data analytics, bypassing the technological complexity that has previously been a barrier to entry". TDE said it was developing a Digital Sales Assistant based on Teradata Vantage. The aim here is to enable the sales force to "immediately recognise the needs of its customers and respond to them more precisely". Initial target market markets for the strategic partnership include the industrial production, real estate, and retail verticals.
T‑Systems (T‑Sys) showcased its Multi & Hybrid Cloud Management (MHCM) solution at Digital X. MHCM purportedly allows customers to better manage public and private cloud infrastructure according to their needs. T‑Sys advanced the idea that customers will benefit from being able to cherry‑pick aspects of different platforms, such as AWS, Google Cloud, and Microsoft Azure. Apparently capable of working in a multi-vendor environment, MHCM focuses on three areas: cost management, to create transparency for running costs across all platforms; cloud governance, to comply with access rights and enforce security rules; and service wrapper, a framework for developing cloud applications that follow the company's compliance guidelines.
T-Sys flagged Future Cloud Infrastructure, a new service designed to allow customers to "flexibly use" private cloud capacity from a T‑Sys data centre "with the same look and feel as pubic cloud services". T‑Sys is initially offering the service based on VMware technology. Services for Microsoft Azure Stack and OpenStack will follow later, based on the same model.
Also announced at Digital X was a tie-up between T‑Sys and Siemens on Internet of Things and wider "industrial digitalisation". The deal appears set to meld T‑Sys communications services with Siemens' MindSphere platform for IoT. A dedicated team of IoT experts, drawn jointly from the two partners, will "drive customers from consulting on enterprise architecture design to implementation".
Digital migration specialist WalkMe joined DT's cloud partner network. Through the partnership, DT and WalkMe will offer a joint service for organisations undergoing digital transformation. WalkMe's solutions are purported to help businesses adopt a simplified approach to digital adoption, boost back‑end system efficiency, harness user analytics, and proactively push digital self‑support, while DT will offer consulting and implementation services. The providers showcased the joint solution at Digital X.