Greek operator launches the country's first commercial 5G network in partnership with Ericsson.
Höttges points to future investment, with Greece of "strategic importance" as a tech hub.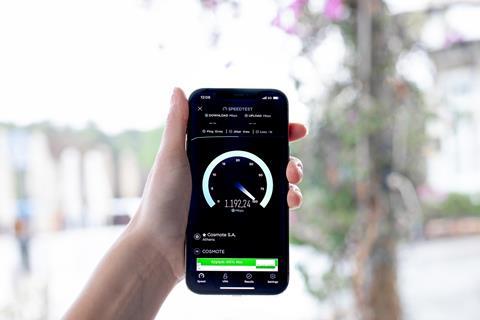 Cosmote Greece stole a march on rivals, and evidently got some brownie points from the government, by launching the country's first commercial 5G services.
The initial deployment brings limited coverage to large cities including Athens and Thessaloniki, and was conducted in partnership with Ericsson. It uses 3.5GHz spectrum Cosmote had licensed and activated prior to this week's spectrum auction.
5G launch just the beginning for Deutsche Telekom…
Deutsche Telekom CEO Timotheus Höttges used the launch to reiterate the Group's commitment to investment in Greece (DT's largest European market outside of Germany).
" Our investment in Greece is of strategic importance to us. There are significant growth prospects and it can be an important technology hub. "

Höttges.
Headline targets laid out by the Group for Greece include:
€2bn (£1.8bn) capex over the next four years, earmarked "mainly" for 5G and fibre-to-the-home rollout. For comparison, FY 2019, Greece received €357m cash capex;
50% 5G coverage by the end of 2021, measured by population reach;
100% 5G coverage on highways by the end of 2023.
… and for Greece
As elsewhere, the Greek government is talking up economic development opportunities around 5G innovation, off the back of the auction.
Cosmote's launch was marked by a meeting between DT leaders — Höttges, Europe CEO Dominique Leroy, and OTE Group CEO Michael Tsamaz — and the country's Prime Minister (PM) Kyriakos Mitsotakis and Minister of State & Digital Governance Kyriakos Pierrakakis. Sitting in the PM's Maximos Mansion, the group discussed the "great prospects" of next-gen connectivity, before the first 5G-enabed video call was made between Mitsotakis and Pierrakakis.
Leroy sought to highlight that the Group's plan to reach 100% 5G coverage along the nation's 2000km of highways will support the government's Connected Highways initiative. This aims to create "5G corridors", she said, to help the Greek import/export industry and prepare its infrastructure for automated logistics in the future.
The Hellenic Corporation of Assets and Participation (HCAP), the umbrella organisation that manages the Greek state's stakes in public companies, will also launch its Faistos fund in early-2021. It will make investments in startups offering 5G-enabled products and solutions.
Vodafone has also been seeking to promote its investments in Greece as strategic to the country's development, selecting Greece to host a new research and development centre focused on healthcare-oriented Internet of Things solutions.
Others runners in the race
Vodafone Greece and Wind Hellas, Cosmote's primary competition, are also working on 5G launches.
Vodafone Greece Chief Executive Haris Broumidis recently said the operator will "start 5G in the beginning of January".
Wind Hellas Chief Executive Nassos Zarkalis, on announcing the operator's spectrum haul, said it formed part of an "extensive" €500m investment programme in its Greek 5G networks to be enacted over the next five years. It will launch its first 5G services in 2021, targeting 60% coverage "in the first three years".
Spectrum auctions to watch, 2021
Spectrum auctions may come thick and fast for DT in 2021 after a year of postponements due to coronavirus. Auctions for spectrum in the 700MHz band are scheduled across a host of countries as European Union member states ready for commercial 5G networks, with low-band frequencies also being re-allocated. Though auction dates remain tentative given the ever-evolving pandemic, the first half of the year should see spectrum allocated across several of DT's European markets.
DT spectrum agenda, 2021
Bands
Expected start of award procedure *

Note: * Dates are tentative and prone to slippage.

Sources: BTwatch, Deutsche Telekomwatch, Telefónicawatch, Vodafonewatch, regulators.

Croatia

700MHz / 800MHz / 900MHz / 3.6GHz / 26GHz

H1 2021

Hungary

900MHz / 1800MHz

Early-2021

Netherlands

3.5GHz

Early-2022

Poland

3.6GHz–3.8GHz

Q1 2021

Portugal

900MHz / 1800MHz / 2.1GHz / 2.6GHz / 2.6GHz / 3.6GHz

Early-2021

Romania

700MHz / 800MHz / 2.6GHz / 3.4GHz–3.8GHz

Q2 2021

USA

3.4GHz–3.5GHz

December 2021

Joseph Purnell is a Staff Reporter for TelcoTitans, contributing telecoms news analysis since 2019 as part of the TelcoTitans Editorial team.