DT's leadership bowls a googly with appointment of Europe boss Srini Gopalan to head German NatCo.
Message: nothing is sacred, as DT's focus turns to re-imagining Europe-side businesses over 2020s.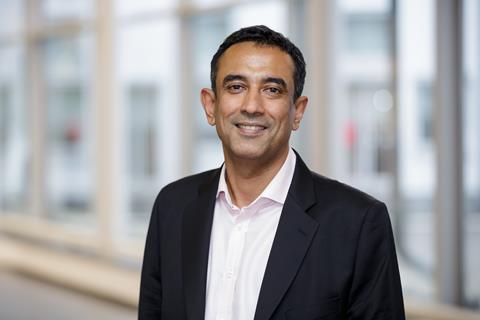 Deutsche Telekom Europe head Srini Gopalan is now being challenged to bring out his business transformation box of tricks in the Group's home market, after being appointed the first non-German Chief Executive of Telekom Deutschland.
Gopalan — who has led DT's Europe segment back into revenue and earnings growth, since being poached from Bharti Airtel in 2016 (Deutsche Telekomwatch, #54) — will take up his new position on 1 November 2020.
This is two months before current Telekom Deutschland CEO Dirk Wössner is due to officially depart DT (Deutsche Telekomwatch, #92), and the operator did not explicitly put this overlap down to the need for a handover process. The urgency to develop and bed in fresh, post-COVID-19 strategies, and confirmation that Wössner is to become CEO of healthcare IT services rival CompuGroup Medical, may mean the Group is in a hurry to get Gopalan's feet under the table as quickly as possible.
DT has yet to confirm who will replace Gopalan in the Europe segment job.
PowerPoints have impressed
DT CEO Timotheus Höttges has long been a Gopalan cheerleader, giving him repeated pats on the back during recent earnings sessions and only recently handing him a new, four-year contract.
In a LinkedIn post, he showed particular appreciation for Gopalan's "strategic expertise and… clear analytics". But he also stressed he was a "great guy — down-to-earth, focused and with a good sense of humour" — an indirect nod, perhaps, to the importance of culture in supporting new strategy when it comes to refreshing DT's established lines of business.
Favour can disappear quickly in the house of Höttges, however. Under his leadership, top executives at DT's home-market business have never received the same level of patience or lenience afforded to other Group segments, particularly perennial reorganiser T-Systems. Despite the rapid rise of T-Mobile US to become DT's largest business by far in the past decade, Telekom Deutschland remains at the head of affairs when leadership presents the Group's performance. And Höttges has not been shy about calling out former Group Chief Financial Officer (and protégé) Thomas Dannenfeldt over misses on Germany-led efficiency targets ahead of his departure in 2018 (Deutsche Telekomwatch, #74).
Legacy, ego, tradition — no hiding place under Höttges
Many will note from Gopalan's appointment that it adds to a process of senior management "internationalisation" by Höttges since he took over as Group CEO in 2014 — a part-response to both the industry's need for renewal and the success seen at T-Mobile US under John Legere (an inspired recruit by Höttges predecessor René Obermann).
More significant and symbolic, however, is the fact that Gopalan is, to all extent and purposes, an 'outside' appointment at Telekom Deutschland. Equally, he moves up from a division less than half of its size, in terms of earnings contribution to DT (after leases) — and whose largest telco (Cosmote Greece) generates less than 14% that of the German NatCo.
The internal messaging is blunt: Michael Tsamaz, Chairman and CEO of Cosmote parent OTE called the appointment a "bold and daring move" in a comment on the CEO's LinkedIn post.
Eye is on post-2021 Grand Plan
In terms of Gopalan's mandate, Höttges was notably eager to talk up focus on infrastructure-strengthening projects around 5G and full-fibre. This is not just a fit with pressure on Telekom Deutschland to up its game and lay a few on key rival Vodafone Germany, and other competitors, in the broadband market — Höttges and DT are also clearly on manoeuvres in the shifting political landscape as German authorities work out how to get the economy moving again, post-coronavirus (Deutsche Telekomwatch, #94).
Not mentioned — but also clearly an area of focus — will be ongoing attempts to create greater agility within Telekom Deutschland in line with Gopalan's achievements at smaller European businesses. The NatCo is mandated to contribute more than half of DT's €1.5bn indirect expense reduction plan, covering the four years to 31 December 2021 — but the appointment of Gopalan really appears geared towards the period after that deadline, and how DT — now it has sorted out the Sprint merger in the USA — intends to recalibrate its European-based businesses during the rest of the 2020s.