TDE CEO Gopalan said broadband strategy paying off.
DT expects to build 60%–65% of Germany's fibre infrastructure.
Vodafone Germany's 5G+ dismissed as mere marketing.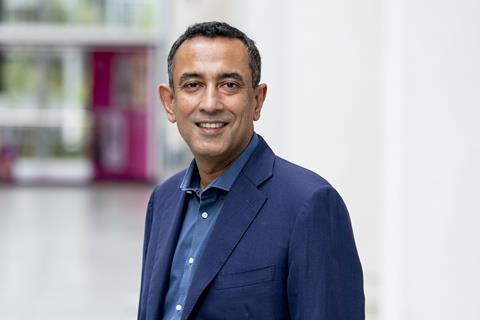 Srini Gopalan, Chief Executive (CEO) of Telekom Deutschland (TDE), made use of a wide-ranging press interview to again justify the Group's overriding focus on copper enhancement, including via vectoring, over the last decade, while insisting that Deutsche Telekom's (DT) German NatCo is now fully committed to fibre deployment.
In a Q&A for the t-online.de news portal, Gopalan declared that Germany "has more fibre optics than most European countries" because vectoring uses fibre optics up to the last 200–400 metres.
This had "helped a lot during the pandemic", Gopalan said, adding that "the networks were stable… our fibre-optic network alone already covers more than 650,000 kilometres".
Gopalan said TDE's broadband strategy is paying off, even though Germany is still positioned near the bottom in the February 2022 update of the Organisation for Economic Co-operation and Development's fibre broadband rankings. "If you look at the countries with which we are often compared, they have 35% to 40% fibre optics, maybe 50%. But in areas not served by fibre, they have an average bandwidth of less than 16Mbps", he noted.
Echoing the Group's traditional stance when criticised over slow full-fibre adoption, he added that "this is a real digital divide. And that's dangerous. I think we made the right decision… If we look at the same countries, but ask how many people have access to at least 75Mbps, then Germany suddenly performs significantly better".
Gopalan, as usual, reiterated calls for faster application and approval processes, and underlined the need for partnerships to achieve digitalisation and fibre-to-the-premises (FTTP) objectives.
He has previously indicated that he will draw on all the tricks he knows to help TDE speed up fibre deployment, noting that all premises in Germany should have a fibre-optic connection by 2030.
He said about 60%–65% of fibre infrastructure in Germany is likely to be built by DT, although he acknowledged that much will depend on factors such as the future competitive landscape, funding, and political support.
In December 2021, Gopalan said TDE had deployed 1.2 million FTTP connections in 2021 — double its performance in 2020. The NatCo is targeting two million connections in 2022, and aims to reach ten million connections by 2024. From 2024, the average run-rate on new connections is expected to be 2.5 million per year.
Gopalan provided FTTP deployment goals for some of Germany's biggest cities, noting that TDE now aims to cover two million premises in Berlin by 2030. About one million connections are targeted by 2026 — which Gopalan indicated is a year earlier than originally planned. The German NatCo is also aiming to cover 540,000 premises in Hamburg by the end of 2025, 375,000 in Frankfurt am Main by the end of 2025, 250,000 in Essen by 2026, and 160,000 in Düsseldorf within a similar timeframe. "We have also promised a large investment in Munich — we have such goals or plans for every large city in Germany", he highlighted.
In Hamburg, TDE recently signed a long-term wholesale agreement with Wilhelm.tel that will enable the NatCo to market its products via the regional broadband provider's fibre network from the end of 2022. Wilhelm.tel's FTTP network currently covers almost 205,000 households in the north German city, and is expected to reach about 350,000 premises by 2025.
In addition, GlasfaserPlus, DT's new German fibre joint venture with Australia's IFM Investors, aims to bring four million Gigabit connections to "rural and development areas" by 2028 (Deutsche Telekomwatch, #103, #105, and #108). Gopalan repeated DT's target to build a further eight million FTTP connections in communities with fewer than 20,000 inhabitants by 2030.
5G builds and 1&1 digs
In terms of 5G deployment, Gopalan took the opportunity to have a dig at rival 1&1, saying he would like to see the new mobile entrant "actually build" its network infrastructure, rather than continue to rely on a national roaming agreement with Telefónica Deutschland.
In March 2022, 1&1 reportedly signalled plans to accelerate construction of the market's long-awaited fourth mobile network, pledging to activate 1,000 5G base stations in 2022 and perform a wider switch-on across the country in mid-2023. Under the obligations attached to its licence terms, 1&1's 5G network is required to reach 25% of German households by the end of 2025 and 50% by the end of 2030, but the operator's management had committed to achieving these goals more quickly.
As well as the roaming arrangement with Telefónica, the newcomer has signed an agreement to rent space on up to 5,000 masts from Vodafone Group's Vantage Towers, and recently signed a construction deal with telecoms project management specialist GfTD for 500 antennae.
As for Vodafone Germany, Gopalan was clearly unimpressed by the rival operator's use of the '5G+' brand to market new 5G standalone (5G SA) services. "Let's not waste time talking about marketing promises. Let's talk about reality", he declared. Here, Gopalan pointed to the benefits that dynamic spectrum sharing (DSS) is already bringing to TDE's 4G and 5G customers (Deutsche Telekomwatch, #98 and passim).
Walter Goldenits, Chief Technology Officer at TDE, recently confirmed that the German NatCo is on course to launch 5G SA on a commercial basis in 2022. In April 2022, TDE said that more than 5,000 antennae in the 3.6GHz band are now geared up to support 5G SA. "We build our network according to the needs of the customers, and not according to the needs of our PR department", was Gopalan's parting shot.

Anne Morris is a freelance journalist, editor and translator. She has been working as a reporter and news analyst for TelcoTitans since 2016.