Positive set of figures from T-Mobile US as operator surpasses customer gain estimates.
NatCo more than keen to highlight 5G influence, claiming a 'two-year lead' on rivals AT&T and Verizon.
Cost of living crisis a "real opportunity" for T-Mobile to "serve more people as the value leader", says CEO Sievert.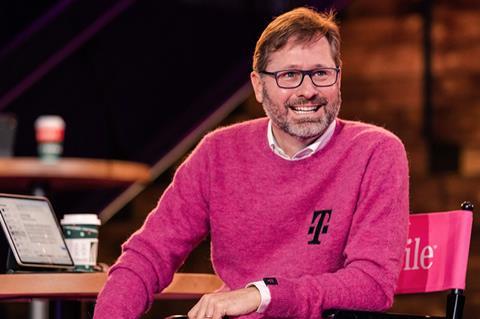 Chief Executive Mike Sievert was the very definition of the cat that got the cream as T-Mobile US delivered its earnings report for the quarter to 31 March 2022 (Q1 FY22).
Heavy investment in 5G networks helped the operator surpass estimates and deliver a net gain of 589,000 contract subscribers.
This was one of four headline figures the operator claimed as "best in industry", alongside contract net account additions of 348,000; contract net customer additions of 1.3 million (said to be T-Mobile's largest Q1 haul in eight years); and high-speed broadband net customer additions of 338,000.
The operator recorded service revenue of $15.1bn (£12.1bn/€14.4bn) — representing an increase of 7%.
Sprinting ahead
T-Mobile's execs were out in force, with seven key figures accompanying Sievert for the quarterly call.
The octet was in high spirits as it celebrated the second anniversary of the Sprint merger — a deal that has enabled T-Mobile to "lead the US into the 5G era", as Sievert put it.
Neville Ray, President of Technology at T-Mobile, claimed that 95% of the US population — 315 million citizens — can now access the operator's 5G network, "more than Verizon and AT&T combined".
"Where do we go from there?" he said. "I almost want to say we've got to give the competition a chance. We're so far in front."
Despite the evident confidence in its market dominance, the operator is not resting on its laurels.
" You've heard us say before that we're two years ahead in the 5G race. And two years from now, we'll be two years ahead in the 5G race. That's not a competitive quip. That's an aspiration that we take very seriously. "

— Sievert.
Moving forward, a primary focus will be expanding T-Mobile's Ultra Capacity 5G network, which currently reaches 225 million US residents and 85% of its customers in the country. Ultra Capacity combines the operator's faster mid-band service and mmWave signals and offers download speeds of about 200Mbps-plus.
Sievert said that, within a year, the service will reach 260 million people, while the shutdown of the Sprint network will be completed "well ahead of our schedule".
By the end of 2023, Sievert claims the Ultra Capacity network will reach 300 million citizens. "That's an aspiration that Verizon has by the end of 2024, except only 250 million", Sievert added.
Ray was keen to emphasise that T-Mobile's plans aren't all about premium 5G, however, explaining that "a lot more is coming" as it rolls out mid- and low-band 5G spectrum. This will ensure "we don't just have a great network", but "an incredibly strong network with 5G capabilities that our competition simply can't match".
Ray claimed that AT&T and Verizon have "no plans whatsoever" to bring mid-band 5G capabilities to "many" small markets and rural areas.
"We've always said 10,000 new sites is part of the plan as we combine [Sprint and T-Mobile] assets. We're eating into that in 2022. We're a couple of thousand in, and we'll be continuing to build as we move through this year and next," he said.
Inflation insulation
Sievert and his team inevitably fielded multiple questions regarding inflation, but the CEO was nonchalant, stating that T-Mobile will simply monitor "consumer sentiment" for the time being. "If it is a difficult time [for customers]. There's a real opportunity for us to stand up and serve more and more people as the value leader", he noted.
From a cost structure standpoint, the telco sector is "somewhat insulated", Sievert added. While it needs to keep an eye on labour and variable costs, the "vast bulk" of expense is in long-term agreements such as backhaul, technology, and tower contracts — all of which are generally "fixed, finite, and known" over a multi-year period.
"I think the larger question facing our society is 'what will be the impact of inflation beyond consumers?' We don't know," Sievert said.
" We like this market competitive. We know we're stewards of a healthy and vibrant marketplace that has room for all of us. But one thing is very clear. As it becomes less known whether there will be enough room for the Verizons, the new entrants, the cable companies, etc, it's very clear that our tailwinds of growth, driven by our rational and well-articulated growth strategy, is a real differentiator for us. "

— Sievert.
Bring me that Verizon
Sievert and his colleagues were certainly not shy in knocking the competition. "More than Verizon and AT&T combined" was slipped in six times throughout the call.
AT&T and T-Mobile have been chipping away at Verizon's market share for some time, and, so far, 2022 appears no different.
Verizon suffered its biggest drop in two years during Q1, losing 36,000 mobile phone customers and cutting its full-year sales forecast amid rising inflation and gas prices, alongside a decline in store footfall.
Asked if T-Mobile has witnessed similar issues regarding store traffic, Jon Freier, President of the operator's Consumer Group, simply stated, "we're not seeing any of that".
T-Mobile's shares have risen 7.7% this year, while AT&T is up 4%. Verizon, meanwhile, has slipped 5%.
Speaking in November 2021, Mike Katz, Executive VP of the operator's T-Mobile for Business enterprise division, claimed the operator had "outgrown" Verizon by more than 50% since the beginning of 2020 (Deutsche Telekomwatch, #110).