Average cost‑per‑premises passed dips below €1,000, with further efficiencies anticipated.
Agile IT and advance fibre planning supporting an accelerated rollout and streamlined back-office processes.
Höttges ready and willing to buy wholesale and collaborate to build fibre momentum with progress on EWE and Stuttgart partnerships flagged.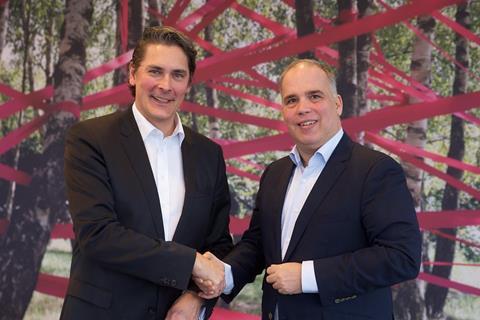 Timotheus Höttges, Chief Executive (CEO) of Deutsche Telekom (DT), emphasised that the operator is confident it can accelerate progress in the deployment of fibre‑to‑the‑premises (FTTP) services in Germany, with improving economics and streamlined systems helping counter intensifying competition in the sector.
Speaking on the Group's earnings presentation for the year to 31 December 2019 (FY19) — which saw further questions over the speed and scale of DT's FTTP programme (see separate report) — Höttges flagged that Telekom Deutschland (TDE) had dipped below the €1,000 mark on the average cost of passing each home with fibre, with expectations that this number will decline further. "We are still striving for significant further reductions in the way [that] we are deploying it", said Höttges.
At the same time as highlighting DT had broken this cost barrier, management downplayed the significance of the achievement. In particular Christian Illek, Chief Financial Officer at DT, acknowledged that "an average number doesn't tell you a lot." This is because TDE is calculating the average cost on roll out across all environments, with rural areas skewing the number upwards and deployments in more densely populated urban areas coming in substantially below average.
"If you go into dense urban areas, obviously you are seeing more towards €500 to €600. If you go into some urban areas, [the cost is] more in the vicinity of €1,000 to €1,500. And if you go to rural areas, it can go up to €30,000, [although] this is subsidised obviously. "

— Illek.
German rollout appears fast, relatively costly, but in budget
It is worth noting that even in the most densely populated areas, the costs outlined for TDE's rollout are relatively expensive compared to operators in other countries. In supporting his belief that build costs can come down further, Höttges cited the example of BT Group, in which DT is a strategic shareholder, and noted the experience the operator's Openreach access services division has garnered in fostering rollout efficiency.
Currently, Openreach expects to be able to pass more than half of all households in the UK within a capex envelope of £300 (€335)–£400-per-premises passed, with more remote rural areas hitting a rate of around £4,000-per-premises. Although this does not include the cost of final provision to the home, rollout in Germany appears considerably more costly.
At the same time, DT's planned rate of deployment is also relatively fast, and it is anticipated that by 2021 the annual rollout rate will reach two million sites, from 1.6 million in 2019. This compares favourably with BT's run rate that was at around 1.2 million premises-per-year at the end of 2019.
It is also expected that this rate of deployment can be achieved within the existing capex envelope for TDE, as funds that had previously gone towards deployment of supervectoring technology and creating a national network able to offer speeds of up‑to‑250Mbps, is now being redirected towards a fuller infrastructure upgrade.
TDE is mandated to accelerate FTTP rollout to enable passing of two million new households-per-annum by 2021, following a broadening of focus beyond expansion of fibre-to-the-cabinet lines and addition of vectoring/super-vectoring.
Creative construction: DT and BT's common ground on reducing fibre burden
BT's Openreach has been able to keep the cost of rollout low through taking on board the experience of other incumbent national operators that are more advanced in their fibre deployment programmes, while also embracing technology innovation. The division provides regular updates on its use of technologies such as micro‑ducting and micro‑trenching, upgraded kit including diamond‑edged cutting equipment, new tools for tackling ground conditions in rural areas, and the use of underground radar and mobile planning solutions (BTwatch, #308, #310, and passim).
With Höttges highlighting the success of the Openreach approach, TDE appears to be taking similar steps to bring down rollout costs.
In July 2019, the NatCo started testing a new fibre-laying method developed by Austrian supplier Layjet Micro‑Rohr (Deutsche Telekomwatch, #87). The trial, based in Nuremburg, had the aim of covering 400 households and was being conducted in collaboration with the Technical University of Vienna. Layjet Micro‑Rohr hailed the process as "revolutionary", claiming that operators can reduce costs by 30%–50% compared with traditional methods, depending on the nature of the soil into which they are laying the fibre. Planting of up to 3km of fibre-per-day is reportedly possible with Layjet, instead of the relatively slothful 300m found with existing cable‑laying techniques.
In October 2018, the NatCo teamed up with the Fraunhofer Institute for Physical Measurement Techniques (IPM) to apply artificial intelligence technology to the planning of FTTP rollout (Deutsche Telekomwatch, #76). In a pilot conducted in Bornheim, near Bonn, a measuring vehicle equipped with 360‑degree cameras, GPS, and laser scanners was used to collect detailed environmental data.
In November 2018, Huawei Technologies announced a localised FTTP contract with TDE, said to have been aimed at putting new technology and construction methods through their paces (Deutsche Telekomwatch, #81). The project was expected to cover 3,000 households in the rural Fuldabrück area of Hesse, and see Huawei provide its Smart Terminal Box, Smart Fibre Access Terminal, Easy Cables, and Smart Optical Network Terminal.
In parallel with radio access network reshaping moves in the mobile space, TDE continues to gestate its Access 4.0 disaggregation programme, supported by Reply Technology, Rtbrick, and other partners and geared towards stripping significant cost out of wireline network platforms (Deutsche Telekomwatch, #81 and passim).
Pursuing what it calls the FTTH Factory approach, TDE has been developing coordinated plans for a full fibre rollout for several years, and this automated planning process has contributed to a decline in the average cost of deployment, according to management.
Höttges further flagged progress in what he called the TDE "machine room" — read back office and operations support systems (OSS) — and growing use of DevOps to get IT projects and deployments out the door quicker than before. "Our OSS for [FTTP] was entirely developed in agile mode", said the CEO. In general terms — i.e. not exclusively a reference to FTTP as far as Deutsche Telekomwatch could tell — Höttges presented various stats to indicate that back-office refurbishment at TDE was starting to pay operational dividends. The percentage of software developed using agile techniques rose from 10% in 2017 to 60% in 2019, according to Höttges. IT time-to-market was reduced over the same period from 17 months to eight months. In parallel, the number of "reskilled" full-time employees — taught through academies for DevOps, scrum master, and design thinking — went from zero in 2017 to in excess of 400.
Collaboration's what you need (sometimes)
On a call where he had already sarcastically declared he "could give a shit" about rival mobile operators in Germany making what he considered inflated claims about the capabilities of their mobile data networks, Höttges also took aim at the Gigabit broadband ambitions of Vodafone, and its aggressive pricing, which he does not consider a serious threat to TDE's commercial offering or FTTP planning.
"My assessment is, why do they have to reduce their premium product by price cut of almost 50%? That seems to be that they have problems on selling their products. Is that [a] sign of weakness [that] we see there? "

— Höttges.
Elsewhere, DT management was more inclined to consider other operators in the fibre field as potential partners, rather than enemies. After several years as something of an international laggard on full fibre, TDE is now looking at a range of ways of playing catch‑up quickly, without overburdening capex budgets, through a focus on collaboration.
Höttges said that a co‑investment FTTP deal with authorities in the Stuttgart region was "successfully under way", and that the target was around 100,000 homes passed by the end of 2020 (Deutsche Telekomwatch, #75, #82, and passim).
The CEO also noted the recent launch of TDE's long awaited FTTP joint venture (JV) with energy, IT, and telecoms group EWE. The target is 300,000 homes passed by 2023, and 1.5 million homes passed by 2030. Germany's Bundeskartellamt (Federal Cartel Office) gave the go‑ahead for establishing Glasfaser NordWest — the name of the JV — in December 2019 (Deutsche Telekomwatch, #90.)
The plans of emerging altnet Deutsche Glasfaser, which currently reaches around 600,000 premises, to add six million sites to its fibre network in the medium‑term were acknowledged by Illek, although he did say the plans sounded "like quite a challenge". Nevertheless, Höttges expressed a willingness to wholesale services from the upstart, which was recently acquired by infrastructure investment firms EQT and OMERS, should it offer reasonable terms. TDE formed a provisional fibre infrastructure-sharing agreement with Glasfaser earlier in 2020 (Deutsche Telekomwatch, #91).