Development team spans Croatia, Germany, Hungary, India, and Russia.
Self-care app now present in ten European markets.
No plans for a US rollout as yet.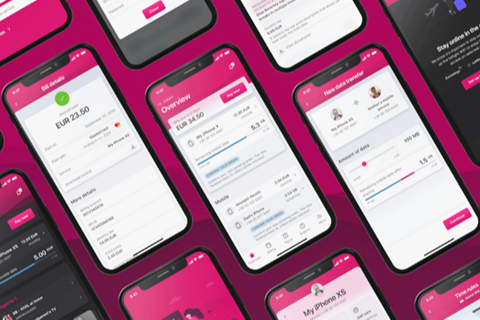 Deutsche Telekom (DT) brought its OneApp customer self-service application to Germany, marking the tenth market where the self-care customer service app has been deployed.
The centrally developed app has already been rolled out across nine of DT's ten NatCos in Europe and the deployment in Germany had been expected by the end of 2021. The latest launch was flagged by Jonathan Abrahamson, Senior Vice-President of Product & Digital at DT, who remarked that the app is used by two-thirds of customers every month. DT also referenced the more precise figure of 65% of all customers.
"A truly massive thank you to the core team, which spans Germany, Hungary, Croatia, Russia, and India, that worked tirelessly over the past months to make this a reality. Cross cultural, cross functional and cross continental — a successful launch was never in doubt", Abrahamson wrote on LinkedIn.
"Telekom Deutschland joins Magenta Telekom, T-Mobile Czech, Hrvatski Telekom, Magyar Telekom, Makendonski Telekom, Crnogorski Telekom, T-Mobile Polska, Telekom Romania, and Slovak Telekom in deploying our single-code based self-service and customer engagement application", he said, noting that DT customers in Germany should receive an update in the coming weeks.
Abrahamson did not respond to one LinkedIn comment, which asked if OneApp would be introduced to the US market next. T-Mobile US does already provide a self-care customer service app in English and Spanish.
A DT spokesman told TelcoTitans: We're always in discussions with our US colleagues to share best practices, ways of working et cetera. At this time, there are no specific discussions on bringing the OneApp to the US market".
OneApp was launched in May 2018 and is one of the products DT has developed based on the Group's harmonised application programming interface layer (also known as 'HAL'), which is linked in with the TM Forum's Open API scheme.
During DT's Capital Markets Day in May, one of the video presentations highlighted OneXP, described as a "centrally developed experience ecosystem" of products, capabilities, and platforms, which appears to be the latest evolution of the programme. OneXP is built on a "harmonised set of APIs and microservices" connected to various NatCo systems. Products include OneApp, OneShop, OneBB (broadband), OneTV, OneCampaign, and OneMind. This ecosystem was said to "power 30% of new products and services activations".

Anne Morris is a freelance journalist, editor and translator. She has been working as a reporter and news analyst for TelcoTitans since 2016.