Two groups firm up relationship following a long courtship.
Dutch unit T-Mobile Infra to be DT's anchor investment in new Digital Infrastructure Vehicle.
Move releases DT to join European TowerCo gold rush, but while keeping options open on future ownership of its own infrastructure assets.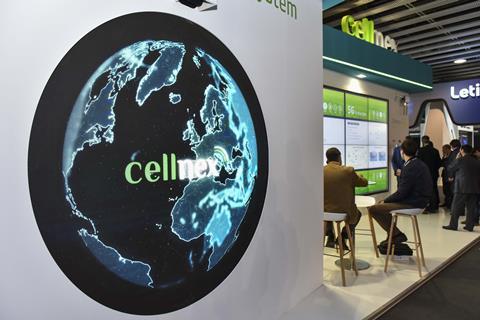 Deutsche Telekom (DT) is joining forces with Spanish tower company Cellnex Telecom to create an independent mobile tower venture in the Netherlands and establish a joint fund to invest in digital infrastructure in Europe.
DT and Cellnex have agreed to merge their respective Dutch mobile tower businesses into Cellnex Netherlands BV (Cellnex NL). At the same time, the two providers will become anchor investors in the new and independently run Digital Infrastructure Vehicle (DIV) investment fund.
DIV is to be managed by a team led by Vicente Vento, co-founder of Deutsche Telekom Capital Partners (DTCP), and will focus on investments in fibre, mobile tower, and data centre assets across Europe.
No details have been provided on potential targets as yet, although Vento indicated that DIV has an "exciting pipeline of projects". "Our focus will be on investments that offer attractive risk-adjusted returns to investors by bringing together a lean and disciplined investment approach with the strengths of our corporate partners", he said.
Timotheus Höttges, Chief Executive of DT, said DIV "opens an innovative way to finance telecoms infrastructure in partnership with institutional investors". "The [coronavirus] crisis has shown stable broadband connections are essential for people to communicate, both professionally and privately. That is why we are once again strengthening our commitment to digital infrastructure in Europe", Höttges added.
Cellnex indicated that it has signed a "dealflow agreement" with DIV that will allow the pair to partner on future transactions in the European tower sector, "in which Cellnex will have the right to co-invest with a stake of 51%".
It's complicated
The creation of the Dutch tower venture and European DIV fund involves a certain amount of manoeuvring to get all the pieces in place.
In a first step, DT is transferring T-Mobile Infra to DIV and will receive €250m (£220m) in cash and a shareholding in DIV in exchange. This translates into a capital commitment by DT of around €400m to the fund. Cellnex has also agreed to commit €200m in capital to DIV.
In a second step, DIV will contribute the T-Mobile Infra business to Cellnex NL, providing DT with a 38% stake in the TowerCo. Cellnex is to hold the remaining 62% stake.
As noted by Höttges, DIV will be "open to institutional investors"; DT indicated that it ultimately expects to hold a stake of around 25% in the fund.
The new and enlarged Cellnex NL will incorporate the 3,150 towers and rooftop sites owned by T-Mobile Infra and 984 Cellnex mobile sites in the Netherlands, largely inherited through a series of acquisitions in 2016 and 2017. The partners said Cellnex NL will then be the largest independent TowerCo in the Netherlands, with a total of about 4,314 sites, although this includes 180 that are expected to be deployed over the next seven years.
Once the transaction is completed, DT will deconsolidate T-Mobile Infra, which it said generates around €60m in revenue and €30m in EBITDA after leases (EBITDA AL).
T-Mobile Netherlands (TMNL) will have full access to the towers through a 15-year service agreement, which is automatically renewable for ten-year periods.
Although T-Mobile Infra had already been separated from TMNL by DT, as part of the 2019 Tele2 Netherlands merger, firming up of the local Cellnex relationship could help smooth the path for a sale or flotation of the Dutch NatCo. Recent reports have suggested that DT is actively preparing for a sale of the business, with price estimates ranging from €4bn to €5bn.
Part of a bigger picture
While the deal is highly convoluted and sees DT getting into bed with Cellnex for the long term, it could be seen as increasing DT's options with regard to European infrastructure monetisation — an area it has been studying for several years, but without committing to a particular strategy (Deutsche Telekomwatch, #74 and passim).
The creation of DIV as an independent fund gives DT a vehicle to pursue growth in the rapidly evolving telecoms infrastructure market in Europe.
At the same time, DT does not appear to have committed to furnishing the new vehicle with in-house assets, other than T-Mobile Infra — so ostensibly, could retain control of infrastructure where it is seen as particularly key to driving network advantage, having lower commercial potential, or could be the focus of other, more attractive (or ambitious) partnership opportunities.
Notably, Stéphane Richard, Chief Executive of Orange, recently raised the possibility of involvement in a pan-European TowerCo with other operators and suggested a tie-up with DT or Vodafone could be an "interesting opportunity". Richard also seemed to be of the view that there is "something smarter to do than just selling your towers to Cellnex".
It is yet to be established what will happen to Deutsche Funkturm, DT's German tower unit. In 2019, both Funkturm and T-Mobile Infra were brought under the oversight of central management company GD Towers. Furthermore, DT has established Magenta Telekom Infra to manage its tower assets in Austria.
Swiss partnership question mark
DT and the aggressively expansive Cellnex have been circling each other on towers for a few years. The partners already have a joint investment in Switzerland that dates back to 2017, when a consortium comprising Cellnex, DTCP, and Swiss Life Asset managers agreed to acquire Swiss Towers AG from Sunrise Communications International.
In February 2018, Cellnex Chief Executive Tobías Martínez made some positive noises around a wider tie-up with DT, intimating that the Swiss partnership was "strategic" and could pre-empt a managed services relationship with the Group.
It's not clear as yet whether the Swiss tower investment will be brought into DIV.

Anne Morris is a freelance journalist, editor and translator. She has been working as a reporter and news analyst for TelcoTitans since 2016.