Move might hint at a broader refresh of Group–US links.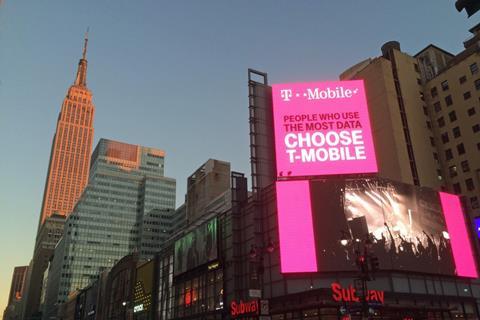 Deutsche Telekom (DT) put a freeze on a reworking of its royalty agreement with T‑Mobile US (TMUS) for use of the T‑Mobile trademark, as the effort to firm up the Sprint merger plays out.
The Group was due to enact a "royalty rate adjustment mechanism" in 2018, enabling it and TMUS to tweak the current fee level imposed on TMUS (0.25% of net revenue linked to use of the brand). However, the American NatCo's latest Annual Report indicates it and DT have agreed to postpone the change until regulators' merger review is wrapped up.
New charge levels will be applied retroactively if the deal is knocked back, and TMUS continues life as normal. However, this will not seemingly apply if the merger succeeds — perhaps suggesting a new, separate agreement could be thrashed out, and recognising the power shifts that have accompanied TMUS' massive expansion in recent years, as well as the prospective dilution of DT's ownership position (to a controlling minority) through the Sprint deal.
DT, for its part, might be keen to expand supply of other central services, such as procurement to TMUS, after the Sprint review is completed — not an area where the arms-length American NatCo obviously collaborates with the Group.
The royalty arrangement is a nice earner for DT, gaining the Group $84m (€75m) in the year to 31 December 2018 (FY18), up from $79m a year earlier — reflecting TMUS' ongoing success in driving top line growth. This suggests the T‑Mobile brand was seen as driving $33.6bn in net revenue for TMUS in FY18 — around 78% of its total sales.
Group branding at a T-junction
The decision's reasoning was not made clear, but the move will give TMUS more space to consider options for its brand line‑up at a time when the relevance of the T‑Mobile brand seems to be dwindling on both sides of the Atlantic.
In Europe, the marque is now being phased out in Austria — one of only four remaining markets where it is still used by DT (alongside Czech Republic, the Netherlands, and Poland) — and it was notable that Group executives tended to refer to "T" rather than "T‑Mobile" when touching on branding during DT's last Capital Markets Day, in May 2018 (Deutsche Telekomwatch, #73 and #74).
In the USA, similar questions could also be posed over the brand's future, as TMUS prepares a 5G‑fuelled push in fixed‑mobile convergence.
In the event of a Sprint combination, the operator has confirmed that the new entity will be called T‑Mobile, but will have a wide range of brand choices to deploy commercially. As well as Sprint and T-Mobile, these include sub-brands Boost Mobile, MetroPCS, and Virgin Mobile (assuming a related side business sell-off is not mandated by regulators). TMUS does not clarify what will happen to the licensing agreement if the Sprint combination gets a green light.