Telco playing the field of infrastructure, technology, and services within its developing e‑mobility play.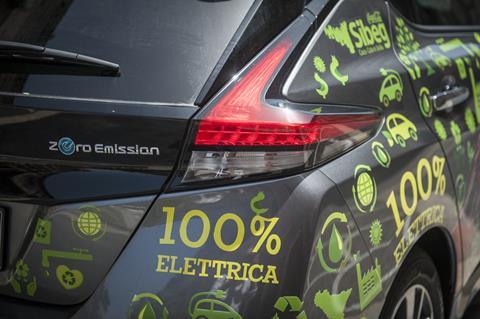 Deutsche Telekom (DT) has extended its e‑mobility business by taking a stake in Austrian charging infrastructure enabler ENIO, Deutsche Telekomwatch can reveal.
Deutsche Funkturm, the Group's infrastructure arm in Germany, is understood to have acquired a 34.1%‑holding in the Vienna-based company, which offers software and services to help charging station owners and operators run their sites.
The move builds on existing ties between DT and ENIO, whereby ENIO‑managed charging points are available to users of Telekom Deutschland's (TDE) GET CHARGE e‑mobility application for electric car drivers in Germany, launched in 2018.
T‑Mobile Austria is also a commercial partner of ENIO, jointly marketing machine-to-machine communications connectivity and management software to charging station owners (Deutsche Telekomwatch, #58).
DT charging ahead with retail side…
The deal comes with TDE continuing to expand the footprint of GET CHARGE, which offers access to more than 13,400 public charging points in Germany. "About 5,000" constituents of the GET CHARGE network are said to be provided by "preferred partners" — for which TDE offers discounted, per-kWh rates — and the remainder by other tie‑ups. ENIO is a preferred partner.
A report recently issued by Germany's Bundesverband der Energie- und Wasserwirtschaft (Federal Association of the Energy and Water Industry) indicated that there are now 17,400 charging stations across Germany.
… but e‑mobility infrastructure venture yet to create buzz
DT's ventures in e‑mobility tend to direct thoughts towards Comfortcharge, the ambitious vehicle it launched in 2018 to hook charging columns onto TDE's distribution cabinets and become an e‑mobility infrastructure player in its own right.
Comfortcharge is on TDE's list of around 15 GET CHARGE preferred partners, but still appears only a minimal contributor to the service's reach. In November 2018, the unit reported that it had commissioned its first charging stations in Bonn and Darmstadt, but has not updated in detail since. It says on its website that it is "concentrating on the construction of our first 100 fast-charging stations" — locations where there is potential to deliver up‑to‑150kW in charging power, thus enabling cars to be topped up much more rapidly than standard, so‑called "destination charging points".
After an initial publicity blitz at February 2018's Mobile World Congress, where a potential footprint of 12,500 charging stations was mooted, Comfortcharge appeared to re‑assess ambitions in 2018, scaling back focus to deploying columns at 500 of the most suitable TDE sites over three years (Deutsche Telekomwatch, #71 and #78). Competition from other e‑mobility players remains a key challenge for the venture, and there have also been suggestions that fewer TDE sites have turned out to be appropriate for rollout than first anticipated. Regulatory restrictions around installation work have also reportedly proved a barrier.