Four chipset makers have started nuSIM security certification process.
LTE-M now deployed in four markets, with more to come in 2022.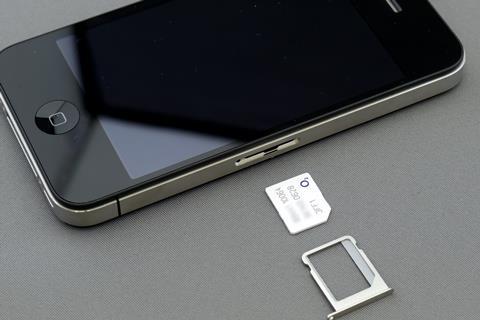 Deutsche Telekom is still waiting for the first chipsets and modules to arrive that will enable the commercial launch of nuSIM, an integrated SIM-based ecosystem play through which DT is seeking to cut mobile IoT device costs (Deutsche Telekomwatch, #81).
A DT spokesperson told Deutsche Telekomwatch that "technical activities were delayed and the parties were not able to start the security certification process on time" owing to the coronavirus pandemic.
DT still indicates on its nuSIM website that chipsets and modules were expected to be available from the third quarter of 2021 — which now seems to point to further slippage in the timeframe.
The spokesperson insisted that infrastructure provided by DT and eSIM management partner Giesecke+Devrient (G+D) has been ready for a year, while commercial approval was achieved a few months ago.
The nuSIM initiative has a long list of backers focused on hardware and software. Currently, four chipset vendors — Commsolid, HiSilicon, Mediatek, and Qualcomm — have "achieved/started [the] security certification process", the spokesperson said, noting that the Qualcomm chipset-based Quectel BG95 module is expected to be the first nuSIM module to hit the market. DT already announced in June 2020 that its first joint implementation of nuSIM would comprise a nuSIM operating system from Redtea Mobile in a Quectel BG95-M3 module containing a Qualcomm 9205 LTE modem.
nuSIM ecosystem
Chipsets: Advanced Circuit Pursuit; Altair Semiconductor; Commsolid/Goodix; HiSilicon; Mediatek; Nordic Semiconductor; Qualcomm Technologies; Samsung Electronics; and Sequans Communications.
Modules: Fibocom; Murata; Nordic Semiconductor; Quectel Wireless Solutions; Sierra Wireless; SIMCom; Telit; Tiempo Secure; and u-blox.
Security and software: Brightsight; Comprion; eShard; G+D; Irdeto; Kigen; Nagra/Kudelski Group; Redtea Mobile; Riscure; Scoop Software; Tiempo; Truphone; and TÜViT.
DT previously said nuSIM would be commercially available in the second half of 2019, indicating that the pandemic is not the sole reason for the delay.
The intervening period has also seen a reorganisation of IoT operations within the Group. For example, in 2020 Deutsche Telekom IoT was carved out as a legally independent entity and moved from T-Systems to German NatCo Telekom Deutschland (Deutsche Telekomwatch, #99). Then, in April 2021, Dennis Nikles took over as Managing Director from Rami Avidan, who had led the IoT business for two years.
Two-pronged approach
nuSIM is optimised for Narrowband IoT (NB-IoT), which DT began rolling out in 2017, to address low-touch use-cases such as metering, remote monitoring, and 'smart-buttons'. DT's NB-IoT footprint includes Austria, Croatia, Czech Republic, Germany, Greece, Hungary, Netherlands, Poland, Slovakia, and the USA, with nationwide coverage now achieved in seven markets.
DT has also now secured NB-IoT roaming agreements with operators in:
Austria (A1 Telekom Austria)
Belgium (Orange and Telenet)
Denmark (Telia)
Finland (Telia)
France (SFR)
Germany (Vodafone)
Italy (Telecom Italia and Vodafone)
Liechtenstein (Swisscom)
Netherlands (VodafoneZiggo)
Norway (Telia)
Spain (Vodafone)
Sweden (Telia)
Switzerland (Swisscom)
Taiwan (Chunghwa Telecom)
The UK (Vodafone).
In terms of the cost of NB-IoT modules, DT explains on its nuSIM site that the total cost of ownership for a classical SIM component is usually about $1 (£0.73/€0.86) per device for SIM hardware, related logistics, and handling during device production. "With nuSIM … expected module costs for NB-IoT [are] below the $5 threshold and trending downwards", it says.
Machine learning
DT has also launched LTE-for-Machines (LTE-M) technology in some territories, as it builds out its IoT 'layer cake'. The Group has previously indicated that LTE-M will "gradually take over" IoT deployments that are currently supported by 2G- and 3G-based modules, which is why DT chose to debut NB-IoT before LTE-M.
So far, LTE-M has been launched by DT NatCos Magenta Telekom, Magyar Telekom, T-Mobile Netherlands, T-Mobile US, and Telekom Deutschland. The DT spokesperson said additional LTE-M deployments are planned for the Group's footprint during 2022.
LTE-M roaming agreements have been formed with operators in:
Belgium (Orange)
Canada (Bell Mobility)
Denmark (Telenor and Telia)
Finland (DNA)
France (Orange)
Germany (Vodafone)
Japan (NTT DoCoMo)
Latvia (LMT)
Luxembourg (Post Luxembourg)
Netherlands (KPN and VodafoneZiggo)
Norway (Telia)
Sweden (Tele2 and Telia)
Switzerland (Swisscom)
Taiwan (Chunghwa Telecom)
The USA (AT&T).
Further LTE-M roaming agreements are also in the pipeline for Finland, Jersey, and New Zealand but are yet to be announced.
According to a July 2021 update from the GSMA, 106 NB-IoT networks have been launched around the world, compared to 53 LTE-M networks.

Anne Morris is a freelance journalist, editor and translator. She has been working as a reporter and news analyst for TelcoTitans since 2016.