Deutsche Telekom trials solid oxide fuel cells from Bosch in drive to generate its own electricity for network systems.
Tests in Berlin are overseen by DT subsidiary Power and Air Condition Solution Management.
Project feeds into Group agenda to reduce costs and be carbon neutral by 2040.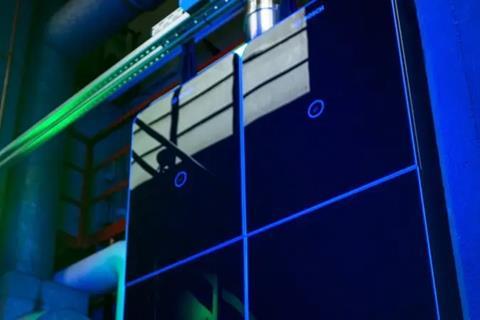 Deutsche Telekom flagged trials of new forms of energy supply as part of ongoing efforts to find more efficient and cost-effective ways of powering its operations, while advancing its #GreenMagenta and sustainability agenda.
Power and Air Condition Solution Management GmbH (PASM), a 100%-owned DT subsidiary, is currently testing two solid oxide fuel cells (SOFC) from Bosch at the Group's offices in Winterfeldtstraße in Berlin. The pilot project aims to test how the systems could be used to generate the electricity required to power operating centres for network systems, for example.
Bosch explained that the two stationary SOFCs were installed in February 2022 and use an electrochemical process to generate electrical energy from natural gas or biomethane, optionally with an admixture of hydrogen. This reaction also produces heat, the German engineering and technology group said.
Bosch claims that 85% overall efficiency can be achieved when using both the power and heat generated by a decentralised fuel-cell system. In the Berlin pilot project, PASM is currently using natural gas as there is no local hydrogen infrastructure in place.
PASM has a 140-strong workforce and is responsible for energy procurement and ensuring that DT's centres used to operate network systems receive a constant supply of power in order to provide continuous mobile and internet services.
In a post on the Bosch website, Bernd Schulte-Sprenger, Managing Director of PASM, explained that SOFC technology enables DT to reduce costs by generating its own power and eliminate losses typically seen when electricity is transmitted via cable and the overhead power lines of the public grid.
The two SOFC units in Berlin each generate about ten kilowatts of electricity and three kilowatts of heat and provide only a fraction of the energy required there. "But, after a successful pilot phase, we can readily imagine installing SOFC systems as a key technology at our core sites", noted Schulte-Sprenger. "Ideally, they would run on green hydrogen."
Bosch indicated that it intends to ramp up mass production of SOFCs in 2024. DT's previous collaborations with Bosch include work at the Trusted IoT Alliance with Telekom Innovation Laboratories on e-mobility software, along with Fetch.AI (Deutsche Telekomwatch, #85). The partners also cooperate on autonomous driving and vehicle-to-vehicle technology (Deutsche Telekomwatch, #57).
Group engagement with fuel cells stretches back some years. For example, in 2011 the now-erstwhile venture capital unit T-Venture invested in FutureE Fuel Cell Solutions, a German vendor of fuel-cell-based uninterruptible power systems (Deutsche Telekomwatch, #1). FutureE Fuel Cell Solutions was acquired by Heliocentris, which later filed for bankruptcy. It seems that the supplier's assets were then acquired by telecoms and energy technology specialist adKor, formerly Kordus Kommunikationssysteme. In 2021, DT signed a deal with GenCell, an Israel developer of fuel-cell technology, to trial the latter's hydrogen-cell system in parts of its network (Deutsche Telekomwatch, #106).
Like many telcos, DT's work on emissions reduction has so far been largely in-house-focused — most notably, with a wide-scale transition to renewable energy sources that was said to have been completed in 2021. According to a note in the Group's latest Annual Report, in 2022 the Group plans to begin testing hardware vendors' sustainability commitments when deciding on which partners to use. DT, which is targeting carbon neutrality by 2040, indicated it will test kit suppliers on various criteria when considering whether to buy their technology, including product performance on emissions, energy efficiency, and waste avoidance.
DT launched the GreenMagenta environmentally conscious campaign in 2021 (Deutsche Telekomwatch, #106).