Group places focus on ensuring sustainability throughout the supplier chain.
Nemat emphasises need to retire legacy equipment to save energy and become more economically viable.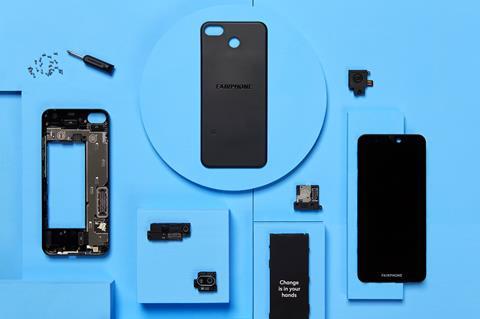 Deutsche Telekom (DT) announced an expansion of existing partnerships with Dutch sustainable smartphone group Fairphone and Samsung Electronics in order to advance its #GreenMagenta and sustainability agenda.
During presentations at Telekom Tech Grounds — DT's alternative to a physical stand at Mobile World Congress (MWC) 2021 — the Group said it plans to collaborate with Samsung on the development of a sustainable "green smartphone" that supports 5G and is suitable for the mass market.
Few details have been provided so far, although DT did say that the device is expected to be available at the end of 2022. DT added that the smartphone will be easy to repair and come with a removeable battery, in order to extend the lifecycle of the product and promote circular economy business models that focus on recycling and reducing waste.
Refurb scheme set to expand
DT noted that Samsung is already an integral part of its circular economy for smartphones in Germany and Poland, where DT buys back used phones, refurbishes them, and puts them back into circulation.
The Group said this concept is currently being expanded and is expected to be relaunched in October 2021. For example, Samsung is to supply used smartphones, while the circular economy concept is to be extended to other NatCos. Furthermore, DT and Samsung plan to develop a scheme that aims to compensate for costs incurred in recycling used devices. "For example, a donation is to be made to an NGO with every device sold", DT said.
As the "fourth pillar" of the collaboration, Samsung is to play a major role in ensuring the overall sustainability of DT's device portfolio.
Claudia Nemat, Member of the Board of Management for Technology & Innovation at DT, said the partnership with Samsung is now reaching "the next level" after several years of collaboration. "We are convinced that a sustainable phone can also be attractive for the mass market", she said.
Nemat also pointed to Samsung's involvement in the pan-industry Eco Rating labelling scheme for mobile phones. The scheme was launched in May 2021 by DT, Orange, Telefónica, Telia Company, and Vodafone, and went live in June. Other launch partners include Bullitt Group (CAT and Motorola rugged phones); Doro; HMD Global (Nokia phones); Huawei Technologies; MobiWire; Motorola/Lenovo; OnePlus; OPPO; TCL/Alcatel; Xiaomi; and ZTE.
"Samsung is already rated very well when it comes to the evaluation of their devices", Nemat said. "And we are already working on another topic… we want to have sustainable packaging on the device. And we have set targets at Deutsche Telekom. So, by 2021… all new released devices need to be in sustainable packaging, and by 2023, we want to do that as well with third party devices. We have already started [with Samsung]. That's already a very good foundation for the further joint activities that we will see in the future".
Fair use
The expanded collaboration with Fairphone, meanwhile, is aimed at raising consumer awareness of sustainability in the electronics industry.
Indeed, Nemat had pointed to the fact that it is "not so easy to get devices back" in order to recycle them and redeploy materials. Birgit Klesper, Senior Vice President, Corporate Responsibility at DT, also noted that "worldwide, millions and millions of devices are lying idle in drawers and are no longer used. They should definitely be brought back into the cycle, because they contain rare [metals] such as platinum, silver, gold, and many more".
DT and Fairphone plan to market sustainable products and offerings in Austria and Germany initially, with other markets expected to follow over time. DT currently sells the Fairphone 3+ smartphone in both markets and noted that Fairphone meets Group requirements for sustainable devices including durability, repairability, and sustainable and recycled materials in both the device and packaging.
Klesper pointed to the fact that DT has achieved its group-wide goal of 100% use of electricity from renewable energy sources in 2021. However, she noted that 80% of emissions in the lifetime of a smartphone occur during the production phase. "With Fairphone as a partner, we are taking an important step towards achieving our climate goals throughout the supply chain. That is why we are expanding our cooperation", Klesper said.
Switching off to move ahead
As well as using only renewable energy sources by 2021, the Group has also committed to targets such as achieving net-zero in-house emissions by 2025; and completely eliminating its carbon footprint by 2040. To achieve the latter, the Group said it is anchoring higher-priority emissions targets in contracts with partners.
Nemat added that relying on renewable energy is not enough because of the rapid rise in data usage and network traffic. "Therefore, we also said we want to at least double energy efficiency in the next two years", she said, pointing to the fact that energy efficiency equates to being more economically viable.
"For us that means… boring things like switching off… legacy platforms at high speed and saying, guys, it's fantastic to retire legacy, it's not a boring task because that increases energy efficiency. I'm a very big fan on getting things done which really move the needle, and it's specifically cool if it's also economically viable", she said.
Nemat pointed to DT's collaboration with the Solar Impulse Foundation as a further example of efforts to try and find innovative ways to be more sustainable in future (Deutsche Telekomwatch, #97, #100, and #104). However, Nemat admitted that much more needs to be done — and at a faster pace.
"On innovation, from my point of view, we are never fast enough yet. Currently, especially the topic around local storage, and the question, how to make sure that you get wind energy and solar energy at the point where you want to have it… is still a challenge, when you look at it from an economic perspective", she said.
However, she also said that it is essential to have short-term targets "to make sure that we are on the right way and take it as a source of inspiration".
The Telekom Tech Grounds was host to the second edition of the Sustainability Award event organised by DT's technology incubator hubraum. The focus this year was on network sustainability, and was run in partnership with Solar Impulse Foundation with support from Microsoft, Orange, and SK Telecom (Deutsche Telekomwatch, #104). According to Axel Menneking, Managing Director of hubraum, more than 200 applications were received. The winner was Germany-based Sunfire, which submitted an idea for scalable and clean electricity from fuel cells with BioLPG or e-propane to support photovoltaic and battery solutions. French startup Inergys was in second place for systems that use wind and solar power to generate renewable energy. US-based Verdigris was in third place for its artificial intelligence-controlled energy management systems for intelligent buildings and data centres. A special prize was awarded to German startup phelas, which developed an energy storage system for operators of renewable energy, grid operators, and the energy sector.

Anne Morris is a freelance journalist, editor and translator. She has been working as a reporter and news analyst for TelcoTitans since 2016.