Deutsche Telekom JV wants to become Germany's first U-Space provider.
EU U-Space regulation set to apply from January 2023.
Droniq and Deutsche Funkturm are applying for a joint licence for aerial tower inspections.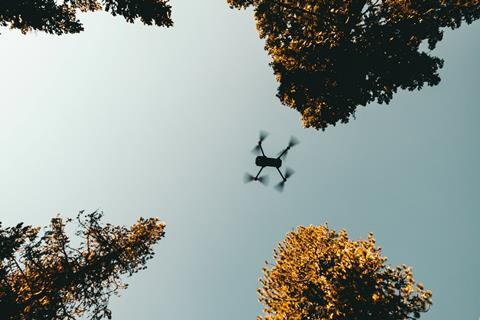 Droniq, the joint venture (JV) between Deutsche Telekom (49%) and German air traffic control operator Deutsche Flugsicherung (51%), took a further step forward in its mission to set up an air traffic control system for drones with the conclusion of first U-Space tests in Germany and the submission of its findings to the Federal Ministry of Transport and Digital Infrastructure (BMVI).
According to Droniq, a key finding is that the European Union's U-Space concept works in practice and paves the way to the creation of the first U-Space in Germany from January 2023 — when European U-Space regulations become applicable and will be transposed into German law.
The trial also established that processes must be automated for the most part in order to ensure the fast and efficient handling of drone flights in a U-Space — an area in which drones and manned air traffic operate on a shared air traffic management system. Specific U-Space services mandated by the EU include drone traffic information; flight authorisation; geo-awareness; and network identification.
First announced in April 2021, the Droniq U-Space Sandbox was located in airspace above the Port of Hamburg and allowed testing of drones for use in logistics. The BMVI provided funding of around €500,000 to support the project. As well as Droniq and DFS, other partners included the Hamburg Port Authority, HHLA Sky GmbH, the Hamburg Ministry of Economy and Innovation, Hamburg Aviation, and the UDVeo project consortium.
In early November 2021, Droniq said the test site was "entering the home stretch" and indicated it would be closed down by the beginning of December. Andreas Scheuer, Federal Minister of Transport and Digital Infrastructure, said the ministry "is currently evaluating" the recommendations.
Droniq CEO Jan-Eric Putze said the trial had shown that a "U-Space can be set up anywhere, even in such a challenging environment like the Port of Hamburg. Droniq is already U-Space-ready. This underlines our claim to become Germany's first U-Space service provider".
Building up momentum
Droniq has already implemented a fully operational unmanned aerial systems (UAS) traffic management (UTM) platform capable of integrating drones in airspace structures. Developed by DFS, Droniq used this system to coordinate drone traffic in the Hamburg U-Space.
In other developments this year, Droniq launched a mobile application for the validation of drone flights in Germany. Droniq is targeting the app primarily at hobby and recreational pilots.
The JV also partnered with DT's own infrastructure unit Deutsche Funkturm to apply for a licence – a light UAS operator certificate (LUC) — to carry out aerial tower inspections in Germany. While the certification process was expected to take several months, the pair carried out their first joint survey, of the Colonius TV tower in Cologne, at the end of April.
Although Deutsche Funkturm already uses drones to inspect and plan radio sites, Deutsche Funkturm CEO Bruno Jacobfeuerborn said at the time that the LUC "will help us to accelerate the further digitisation of our site management".
In October, Droniq launched new beyond visual line of sight (BVLOS) routes in Lower Saxony using a drone from Hanseatic Aviation Solutions. Then in November, the JV flagged its involvement in the BMVI-funded SkyCab II research project into air taxis.
Droniq and DFS Aviation Services (DAS), together with Mönchengladbach Airport (MGL) and supplier Germandrones, said they had developed a procedure for the integration of air taxis into current airspace architecture.
In April, the European Commission adopted the U-Space package, which comprises three regulations that, together, create the conditions necessary for both drones and manned aircraft to operate safely in U-Spaces. The U-Space is included in the Sustainable and Smart Mobility Strategy, unveiled in December 2020. The regulatory package will become applicable as of 26 January 2023. The European Union Aviation Safety Agency (EASA) is preparing the technical specifications to allow the industry and competent authorities to prepare for implementation. The package forms part of the legal framework for safe drone operations in the EU.
Droniq was formed in 2019 and lists clients in Germany such as ABGnova, Evonik, Flynex, Project Larus, Thyssengas, Wingcopter, in addition to Deutsche Funkturm (Deutsche Telekomwatch, #83, #94, and #97). As well as the U-Space Sandbox, the JV is involved in the SAFIR-Med project within the EU's Horizon 2020 programme that is investigating the use of drones in the healthcare sector. The project began in December 2020 and is due to end in November 2022. Partners include flyXdrive, Helicus, Unifly, and RWTH Aachen University.

Anne Morris is a freelance journalist, editor and translator. She has been working as a reporter and news analyst for TelcoTitans since 2016.