Deutsche Telekom JV looks to widen customer base with app for drone hobbyists.
App provides a visual tool for drone flight validation.
Early teething problems highlight the project's complexity.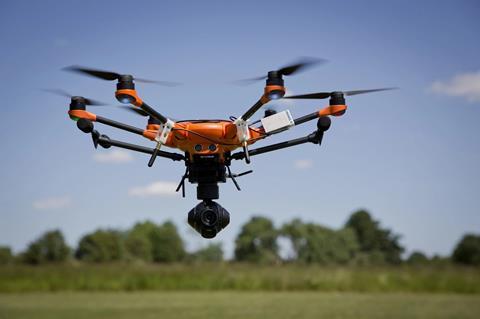 Droniq, the joint venture between Deutsche Telekom (49%) and German air traffic control operator Deutsche Flugsicherung (51%), took a further step forward in its mission to set up an air traffic control system for drones with the launch of a mobile application for the validation of drone flights in Germany.
Droniq, which has already implemented a fully operational unmanned aerial systems (UAS) traffic management (UTM) platform capable of integrating drones in airspace structures, is targeting the app primarily at hobby and recreational pilots. The aim is to enable them to comply with applicable laws and regulations when planning and executing flights.
Controlling the fun
The new Droniq app replaces the JV's former DFS‑Drohnen app, and comes with a number of additional functionalities. One of the primary new elements is support for new European drone regulations that came into force on 31 December 2020. The regulations, published by the European Union Aviation Safety Agency, are designed to ensure that drone operations for commercial or leisure purposes are subject to the same conditions across Europe.
A further difference is that the DFS‑Drohnen app was a standalone product, while the Droniq app is connected to the UTM.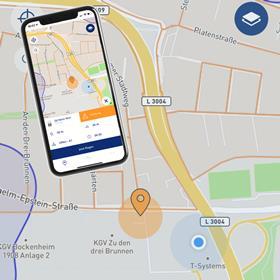 Early rush brings capacity crunch
The initial rollout of the app has not been without its challenges, as explained by Jan‑Eric Putze, Chief Executive of Droniq, and Ralph Schepp, the former Vice‑President of Programme & Project Management at DT who is now Droniq's Chief Operating Officer.
The two executives indicated that there had been a difference of opinion over whether or not to launch the new app so soon after the introduction of the new European regulations. "We could have waited another one or two weeks", said Putze. It seems that Schepp, confident that the system worked well, pushed for a launch on 1 January 2021.
On the first day, the application was downloaded almost 5,000 times. Putze said the first few downloads came within the first ten minutes of the new year. "It was phenomenal. We had not expected that", he admitted.
However, this initial success came at a price. Droniq quickly ran out of capacity and was forced to create additional resource to meet demand. Schepp also noted that there were some early teething problems with validation and registration, although these have largely been resolved.
Both Putze and Schepp stressed that user feedback via social media channels and on app stores has played an extremely important role in ironing out some of the initial road bumps.
Future plans
The first update of the app has already been released, and more updates are expected in the coming months. For example, it may be necessary to implement further changes in both EU and German drone regulation. In addition, the app development team is working on improving aspects such as display and usability, the application of weather data, and interaction with the UTM.
The essential purpose of the tool is to indicate when and where it is safe and legally possible to fly a drone in the "open category" — that is, where drones can be flown without a permit and away from residential, commercial, industrial, and recreational areas.
Both Putze and Schepp conceded that there are certain limitations to the app. For example, Droniq is only able to guarantee the legal security of aeronautical data provided by DFS that is updated every 28 days.
Other data, such as geodata, is provided by external suppliers and can sometimes be difficult to obtain. Worth noting here is that DFS, in May 2020, initiated a three‑year project to develop a geodata platform based on open standards. Partners in the fAIRport project include wetransform, which is to operate the geodata platform, and the Fraunhofer Institute for Computer Graphics Research in Rostock.
The app still lacks a tracking function, although this is an element that is expected to be added in future. Schepp also noted that there have been problems with correctly identifying and distinguishing between industrial zones and industrial plants.
The Droniq app is currently free, although it is possible that paid‑for versions will become available in future. Schepp also stressed that the app should remain 'light' and not become too cumbersome to use.
Droniq was formed in 2019 and has previously flagged clients in Germany such as ABGnova, Thyssengas, as well as DT's own infrastructure unit Deutsche Funkturm (DFMG — Deutsche Telekomwatch, #83, #94, and #97). It also says it is currently collaborating with "multiple stakeholders across the ecosystem", including DFS Aerobits, Sky Drone, Wingcopter, and Yuneec.
Beyond visual line of sight (BVLOS) has become something of a holy grail for drone flight. Safe, regulated BVLOS operation promises to enable a new range of use‑cases for drones, from the transport of payloads over long distances to surveillance missions across large areas, while enabling safety improvements and a reduced need for on‑premise manpower. In an interview with TelcoTitans last year, Schepp said that "there are two things needed for BVLOS flight: tracking and command control. Hook‑on‑devices [HoD] enable this", whereby HoDs provide LTE connectivity as a bridge technology.
In Germany, regulations such as the Luftverkehrsgesetz (Air Traffic Act) and Luftverkehrs‑Ordnung (Aviation Ordnance) cover discrete areas of UAS operation, but have effectively limited testing within the country's borders, while standing separate from neighbouring nations' norms. In July 2020, the European Union Aviation Safety Agency published proposals to relax and simplify drone legislation across the bloc, allowing pilots to fly in designated zones with a permit and opening up opportunities for regulated, cross‑border trials. Ostensibly, the new (EU) 2019/947 rules make it easier to conduct BVLOS test flights, and aim to "stimulate new design and certification initiatives". The rules came into force at the end of 2020.
In an interview with the Global UTM Association in January 2021, Putze said Droniq's three main goals are to become: the first European air traffic control for unmanned systems; the first European U-Space service provider; and the leading digital platform for unmanned aviation in Germany and across borders.

Anne Morris is a freelance journalist, editor and translator. She has been working as a reporter and news analyst for TelcoTitans since 2016.