Ralph Schepp talks regulatory hurdles, market potential, and use‑cases.
DT‑DFS JV sets high ambitions for traffic management platform.
Partners brought in, with DT staying close.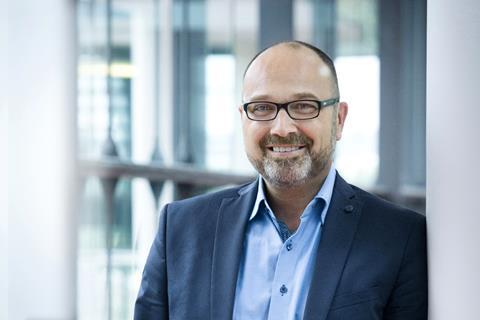 "The technology is there", says Ralph Schepp, Chief Operating Officer at Droniq, regarding the future of drone flight. "But we need to have proper regulation in place".
Speaking to TelcoTitans from the Droniq HQ in Frankfurt, Schepp concedes that legislation and public opinion are tracking behind the progress being made towards enabling commercially-viable unmanned aerial systems (UAS). "We want to accelerate the drone market, but we want [to do] it in a safe manner", he adds.
Droniq, founded as a joint venture between Deutsche Telekom (49%) and German air traffic control operator Deutsche Flugsicherung (51%), aims to do this by providing a UAS traffic management (UTM) platform capable of integrating drones in airspace structures.
Droniq's formation in 2019 came with plans for the JV to get up to speed in Germany before "gradually" expanding to other European markets. It launched a "fully operational" UTM earlier this year, and has flagged clients in Germany such as ABGnova, Thyssengas, as well as DT's own infrastructure unit Deutsche Funkturm (DFMG — Deutsche Telekomwatch, #83, #94, and #97).
Formerly Vice‑President of Programme & Project Management at DT, Schepp left for Droniq when it was founded. Chief Executive Jan‑Eric Putze hails from DFS, where he was a Senior Aviation Manager.
Bridging the gap
Beyond visual line of sight (BVLOS) has become something of a holy grail for drone flight. Safe, regulated BVLOS operation promises to enable a new range of use‑cases for drones, from the transport of payloads over long distances to surveillance missions across large areas, while enabling safety improvements and a reduced need for on‑premise manpower. "For the time being", says Schepp, "there are two things needed for BVLOS flight: tracking and command control. Hook‑on‑devices [HoD] enable this".
HoDs are a "bridge technology". As standard, drones are not equipped with LTE connectivity, but this is a key requirement for safe operation and situational awareness — without connectivity, it is difficult to know what airspace is occupied and by whom.
Droniq's HoD solution, connected to Telekom Deutschland's network via a machine‑to-machine communications (M2M) SIM card, continuously broadcasts the drone's position to the DFS‑provided UTM system. It can also receive and send signals from other airspace occupants to enable collision avoidance. In essence, the HoD provides a view of activity in the surrounding airspace, and ensures drones communicate with other and more traditional aircraft — a "central step towards safety for all airspace users", according to Putze.
Regulation remains an obstacle
It is this safety aspect that is central to the regulatory obstacles drone manufacturers and UTM providers face. "The technology is there", Schepp repeats, "and the segregation of airspace will be feasible for most countries". This will allow regular drone flights within regulated airspace. By "most countries", however, he is not including those with particularly heavy air traffic, including Germany and the UK. Segregation is the first step, but only one of several, towards full integration of drones into overall air traffic.
"There isn't a single big company that doesn't have a couple of drones in the garage. But they simply do not fly — they feel insecure; it is not their ballpark. There are a lot of use‑cases that are proven, though, if the infrastructure was in place. We aim to provide an infrastructure that ensures security so these use‑cases can take place in line with regulation."

— Schepp.
The broader BVLOS picture
Historically, European Union (EU) laws have not covered UAS production or operation, which led to national legislators building out local legislation. In Germany, regulations such as the Luftverkehrsgesetz (Air Traffic Act) and Luftverkehrs‑Ordnung (Aviation Ordnance) cover discrete areas of UAS operation, but have effectively limited testing within the country's borders, while standing separate from neighbouring nations' norms.
In July 2020, the European Union Aviation Safety Agency published proposals to relax and simplify drone legislation across the bloc, allowing pilots to fly in designated zones with a permit and opening up opportunities for regulated, cross‑border trials. Ostensibly, the new (EU) 2019/947 rules make it easier to conduct BVLOS test flights, and aim to "stimulate new design and certification initiatives". The rules are set to come into force at the end of 2020.
The complex regulations governing unmanned flights in Germany and the EU opens up another market to Droniq, which also offers training and "drone pilot licences". Putze said BVLOS flight was being held back by "very high regulatory hurdles for approval", speaking to Business Geomatics.
Market primed for take‑off, but Asia has opened up a lead
Germany's Bundesverband der Deutschen Luftverkehrswirtschaft (Federal Aviation Association/BDL) estimates there are 500,000 drones in circulation in the country, with 19,000 registered for commercial use and being used by enterprise and the public sector. It claims that since 2012, $170m (£127m/€145m) has been invested in the market, and 400 businesses have been established with a specific drone‑focus. It values the German drone market at €574m, with only €169m of that accounted for by private use. As such, growth is expected to be driven by the commercial market: by 2030 the BDL estimates one in six drones will be operated commercially, up from one in 24 at present, and the market will have grown to be worth €3bn. Further, 2018 figures suggest the services part of the market is already larger than the hardware and software segments combined. Droniq sits in this more lucrative commercial services space.
Compared with China and Singapore, though, Germany and other European markets have some catching up to do. Schepp suggests this is a reflection of cultural differences, giving the example of UAS deployments in farming. "In China, agricultural drones are very common. In Europe, very traditional farmers are unlikely to invest in new drones or software. They're more likely to buy a new tractor", he says.
No flight of fancy
Schepp splits the drone market into two use‑case categories: data and transport.
While the prospect of drones being used for delivering goods — and even people — is often seen as the more exciting future application for UAS flights, drones' use for surveying and other forms of data-gathering is already relatively well established.
Droniq currently has various customers using its technology to inspect and survey infrastructure, such as gas pipelines, railways, and telecoms towers. Notably, a trial with DFMG saw Droniq services leveraged to create a 3D digital twin of Berlin's landmark Television Tower. "DFMG is a natural partner for us", says Schepp.
Schepp sees drones having the potential to play a significant role in infrastructure planning, providing line of sight for radar installations and reducing the manpower needed for terrestrial surveying. He adds that, for telcos, infrastructure surveillance for maintenance and planning would be another obvious application.
For more data‑hungry applications such as autonomous drone taxis, LTE bandwidth would not cut it and a lower-latency and higher-bandwidth network would be needed. Schepp mused that "mmWave [millimetre wave] could be very interesting".
Germany's Bundesnetzagentur (Federal Networks Agency) has indicated it is making preparations to release 26GHz band spectrum for use in 5G services, while suggesting it will open up rights for national and local deployments (Deutsche Telekomwatch, passim). There have been suggestions rights in the band will be awarded from 2022 or 2023.
Though Schepp pegged the DFS relationship as Droniq's strongest, the DT partnership is also beneficial. Beyond providing connectivity and M2M SIMs, it also operates the inflight services-focused European Aviation Network (EAN) alongside Inmarsat, a project that has had its fair share of legal and technical speedbumps but heralds a connected airspace future (Deutsche Telekomwatch, passim). Schepp described the potential for a combination of LTE capabilities in lower airspace with the EAN's 4G network at higher altitudes. "There is huge cost effectiveness if we can digitise airspace and provide infrastructure that ensures highly secure access", he says.
The Droniq crew: tech and commercial partnerships
As a systems integrator, Droniq has established partnerships to market what it describes as a complete, centralised BVLOS flight management system.
On the connectivity and software front, there are three players collaborating with Droniq. Schepp also flagged commercial relationships with scarabot, Wingcopter, and Yuneec.
Droniq connectivity, hardware, and software partners
Partner
Partnership focus
Sources: Companies; TelcoTitans.

Aerobits

Polish air traffic technology specialist co‑developing tracking hardware with the aim of establishing Europe's first technical standard in UAS tracking.

DFS

German air traffic control operator and Droniq majority owner, providing its multi‑radar Phoenix tracker to support Unifly's UTM.

DT

Minority owner and provides M2M SIM cards and access to its network.

Skydrone

Signed a strategic partnership in June 2020 to add low‑latency telemetry transmission from a drone to the ground over DT's network, enabling real‑time command and control over long distances (Deutsche Telekomwatch, #95).

Unifly

Belgian UTM platform provider in which DFS is the largest shareholder.
DT's aviation flight path
Droniq is not DT's only exploration into unmanned flight, nor are drones DT's only interest in the aviation vertical: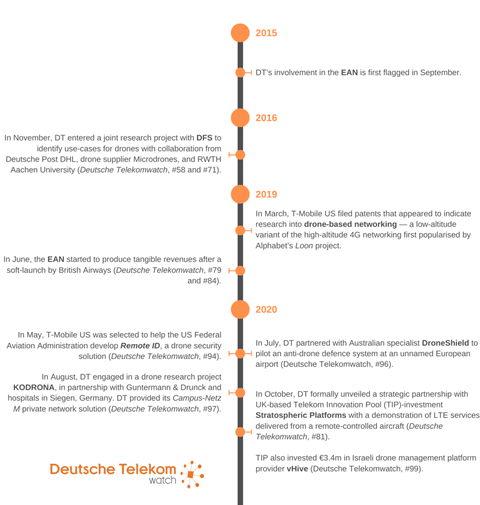 Joseph Purnell is a Staff Reporter for TelcoTitans, contributing telecoms news analysis since 2019 as part of the TelcoTitans Editorial team.