Segment on track after another quarter in growth.
Converged Challenger second-tier haven't yet got with the multi-play programme.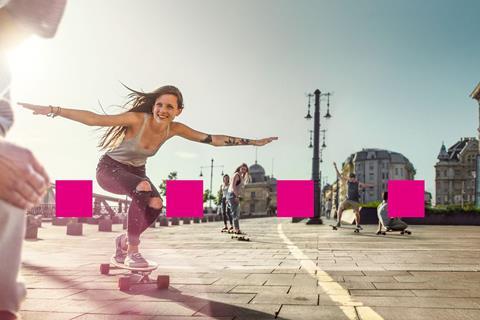 Deutsche Telekom's (DT) Europe operating segment continued a quiet revival in performance in the quarter to 30 June 2019 (Q2 FY19), although recovery was still not universal, and it remains clear that the area is not entirely in vogue with DT's corporate leadership.
As in Q1 FY19, DT's collective of European NatCos produced growth in both revenue and core earnings, having finally regained forward momentum on both fronts, following the region and industry's downturn, in FY18 (Deutsche Telekomwatch, #81 and #83). Excluding the one-off boost of July 2018's UPC Austria buyout, sales crept forward by 0.4%, to €3bn, and adjusted earnings before interest, taxation, depreciation, and amortisation (EBITDA) progressed 2%, to €991m.
Euro-scepticism still evident
This mild EBITDA and revenue growth trajectory is in line with the modest mandate handed to the Europe segment for both FY19 as a whole, and longer-term FY17-FY21 targets laid down at DT's last Capital Markets Day in May 2018 (Deutsche Telekomwatch, #74).
However, DT's caution in its Europe markets remains evident. Across H1 FY19, cash capital expenditure before spectrum investment dropped slightly (-1.2%, to €822m), in line with Group plans for a "slight decrease" in investment during the current FY, and chiming with leadership's current preference for spending cash in the USA.
Deutsche Telekom, Europe area financial summary (as reported), Q2 FY19

 

Q2 FY18

Q2 FY19

Change

Note: DT completed the takeover of UPC Austria on 31 July 2018 and sold Telekom Albania on 7 May 2019. Prior numbers have not been restated in either case.
Sources: DT and Deutsche Telekomwatch.

Total revenue

€2,896m

€2,978m

2.8%

EBITDA

€907m

€1,038m

14.4%

EBITDA margin

31.3%

34.9%

3.6pp

Depreciation, amortisation, impairment

-€550m

-€681m

23.8%

Operating profit

€357m

€357m

–

Cash capex

€398m

€469m

17.8%
Romania an ongoing headache
While key dials continued to move in the right direction, not all NatCos contributed to the revival story.
Long-time problem-business Telekom Romania (TR) was again a standout for the wrong reasons, recording a 2.9%-drop in sales during Q2 and 21.6%-fall in EBITDA. The NatCo's EBITDA was down 21.4% across H1 FY19, and despite optimistic talk regarding a Converged Un-Carrier-themed turnaround strategy at the Capital Markets Day, both of TR's mobile and wireline bases remain in contraction.
With public policy concerns rising, the expense of a 5G auction looming, and DT selling peripheral assets such as Telekom Albania and T-Systems Hungary, there have been several signs suggesting that TR will be next out of the Group exit door (Deutsche Telekomwatch, #84). Recent local reports have suggested DT could be close to offloading the fixed-line rump of TR to mobile market-leader Orange Romania, while Bulgarian businessman Spas Roussev – part of the grouping that bought Telekom Albania earlier in 2019 – remains among mooted buyers of wireless arm Telekom Romania Mobile Communications (Deutsche Telekomwatch, #80 and #84).
Michael Tsamaz, Chief Executive (CEO) of TR immediate parent OTE Group, appeared to play down the prospect of a sale during its Q2 call, saying that the "situation is now under control" in Romania, and TR's transformation plan was working. "Of course, [the] headline numbers are not yet where we would want them to be, but the progress we were expecting is steadily materialising and should become more visible in the coming quarters", he added. Charalampos Mazarakis, Chief Financial Officer at OTE, assured that "the second half will be much better than the first half".
Deutsche Telekom, Europe area revenue by territory (adjusted), Q2 FY19

Q2 FY18

Q2 FY19

Change

Notes: * The Austrian revenue line was boosted by the UPC Austria buyout in Q3 FY18. DT has not restated data for previous periods.
DT's "Converged Leader" bracket also includes Cronogorski Telekom and Makedonski Telekom, but DT does not detail the financial contribution of either NatCo.
T‑Mobile Netherlands is excluded from the table as it is managed centrally by DT.
Sources: DT, Deutsche Telekomwatch.

Total revenue *

€2,896m

€2,978m

2.8%

"Converged Leader" markets

Greece

€711m

€720m

1.3%

Hungary

€488m

€455m

-6.8%

Austria *

€214m

€315m

47.2%

Croatia

€233m

€239m

2.6%

Slovakia

€185m

€190m

2.7%

"Converged Challenger" markets

Poland

€368m

€366m

-0.5%

Czech Republic

€258m

€265m

2.7%

Romania

€238m

€231m

-2.9%
Counter-measures deployed in Poland
T-Mobile Poland (TMPL) remains another NatCo in the spotlight, sitting alongside TR in DT's second-tier Converged Challenger category and pursuing expansion in wireline without the benefit of a UPC Austria-style M&A boost (Deutsche Telekomwatch, #85 and passim). Like TR, it saw revenue and EBITDA erosion across H1 (-4% and -1%, respectively), although the latter figure is unlikely to be setting off alarm bells at the same volume as the Romanian NatCo, especially as TMPL's EBITDA grew (+1%) in Q2.
There were suggestions that TMPL is planning a fresh business overhaul, incorporating further job cuts, in a bid to regain form.
TMPL said in its individual Q2 announcement that rising labour and energy costs were among the challenges facing it in the coming quarters. Further, just after DT's results were announced, Polish technology website Spider's Web published a letter apparently sent by Andreas Maierhofer, CEO of TMPL, to employees. While initially hailing recent progress made by the NatCo to improve its financial and operational performance, the letter ended on an apologetic note, with the announcement that details of an employment reduction programme will be unveiled in September 2019.
Maierhofer signalled the need to change the NatCo's operating model, with emphasis on agility. "Looking to the future, we see that one of the fundamental challenges of the upcoming quarters are costs: costs related to upcoming investments, financial burdens, rising energy prices or market environment, which gives us new challenges – long-term development is not possible without reducing expenses in other areas", Maierhofer was quoted as saying.