CEO Gopalan given till 2024 to progress business revival plan.
DT remains cautious, though, with brake held on spend.
Outgoing M&A still on agenda, to help turnaround.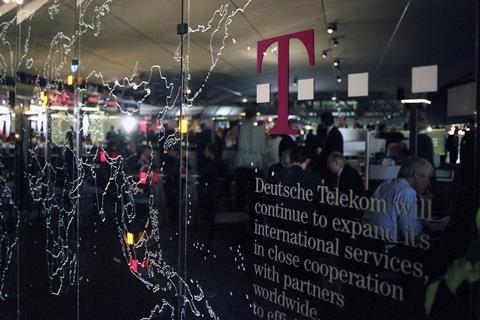 Deutsche Telekom's (DT) Europe segment was given another slap on the back by Group leadership in recognition of its ongoing, slow-motion revival, built on increased commercial aggression and "radical simplification" plans instituted by regional Chief Executive (CEO) Srini Gopalan.
Speaking during DT's results presentation for the year to 31 December 2019 (FY19), Group CEO Timotheus Höttges said Gopalan and his team were doing a "terrific job" in converting the challenged division — acknowledged as "one of our problem children" — into a "real gem". "I'm very happy", he added.
The Group's accompanying FY19 Annual Report disclosed that Gopalan — brought in from Bharti Airtel at the start of 2017, to add some spice to harmonisation of the operator's disparate regional telco network (Deutsche Telekomwatch, #54) — has been handed a four‑year extension to his contract, taking his mandate up to 31 December 2024.
(Modest) targets hit with room to spare
The segment's headline FY19 numbers were boosted by a strong end to the year.
Collectively, the Europe NatCos delivered a 3%‑rise in net revenue in Q4 FY19, to €3.2bn — feeding into a 2.4%‑growth rate over the course of FY19. This cemented the division's long-awaited return to forward gear on sales, achieved in FY17 and continued in FY18 — as well as comfortably surpassing the 1%‑compound annual growth target it has been mandated to deliver in the Group's current strategic cycle, from FY17 to FY21 (Deutsche Telekomwatch, #71, #74, and #81).
On an "adjusted" basis, earnings before interest, taxation, depreciation, and amortisation were up 5% in both Q4 and FY19. Again, this was well ahead of the Group's target (1%–2% across FY17–FY21).
At NatCo level, the forward momentum was relatively consistent. Hrvatski Telekom was the only country unit to see revenue step back in Q4 FY19, seeing a minor 0.4%‑decrease.
Deutsche Telekom, Europe area financial summary (as reported), Q4 FY19

Q4 FY18

Q4 FY19

Change

Note: DT sold Telekom Albania on 7 May 2019 (i.e. during Q2 FY19), thus discontinuing its mobile business in Albania. Historical figures have not been adjusted for purposes of comparison.
Sources: DT and Deutsche Telekomwatch.

Total revenue

€3,132m

€3,225m

3.0%

29

EBITDA

€904m

€1,069m

18.3%

178

EBITDA margin

28.9%

33.1%

4.3pp

Depreciation, amortisation, impairment

-€1,287m

-€1,059m

Operating profit

-€383m

€9m

102.3%

1000

Cash capex

€634m

€522m

-17.7%

-173
Job not done yet
It did not appear, however, that the segment's progress has yet prompted Höttges to change his mind about the attractiveness of Europe as an investment destination.
The CEO's scepticism towards the European macro picture has risen over the course of the regional economic slump, and as regulatory frustrations have pervaded — and FY19 saw DT lower Europe capital expenditure (capex) by a further 3.3%. This came against a small rise (+2.6%) in Germany and huge jump in the USA (+36.6%, in euro terms). Although the other segments' spend was boosted by outsized, 5G-focused spectrum rights acquisition, this is not unconnected to the weaknesses of the European macro environment where regional and national authorities have — as feared — made painfully slow progress in freeing up 5G licences for purchase (Deutsche Telekomwatch, passim).
Nor is a mind‑set shift imminent. Excluding spectrum investment, the Europe division's capex is projected to remain stable in FY20 and see a slight decrease in FY21, in line with guidance laid out at DT's May 2018 Capital Markets Day (Deutsche Telekomwatch, #74). The Group also continues to increasingly project itself as "Trans-Atlantic", overriding the "Leading European Telco" mission stressed during the early years of Höttges' leadership.
Romanian revival appears too late to preserve future in DT
DT's expected exit from problem-market Romania remained high on the agenda, despite a spectacular revival in Telekom Romania's (TR) results during Q4 FY19.
The NatCo ended a long slump by producing a 19.4%‑increase in revenue during the quarter, to €289m — as well as more than doubling "adjusted" EBITDA, to €51m. This was enough to erase previous quarters' backwards steps and put TR into growth territory for FY19 on both lines (+5% on revenue and +4.4% in EBITDA).
TR's immediate parent OTE Group indicated the jump was driven by a "sharp increase" in ICT services billing, led by public sector contracts — suggesting the boost is temporary. Nonetheless, it assured that TR's revenue would have been at least flat (i.e. a trend improvement) if the ICT growth was excluded. Michael Tsamaz, CEO of OTE, described TR's figures as "showing that our initiatives to stabilise our operations are on the right track".
Despite the strong uptick, and Tsamaz' continued focus on internal reshaping at TR, local newspaper Ziarul Financiar claimed DT was keen to move forward with a deal to sell the operator and mobile arm Telekom Romania Mobile Communications (TRMC) in the coming weeks, with aim to fully wrap up its exit by the end of 2020. Orange and Digi Communications continue to be presented as the most likely buyers of TR and TRMC, respectively, to bolster their existing local businesses (Deutsche Telekomwatch, #90 and passim).
Q4 FY18
Q4 FY19
Change
Notes: DT's "Converged Leader" bracket also includes Cronogorski Telekom (Montenegro) and Makedonski Telekom (North Macedonia), but DT does not detail the financial contribution of either NatCo.
T‑Mobile Netherlands is excluded from the table as it is managed centrally by DT.
Sources: DT, Deutsche Telekomwatch.


Total revenue

€2,896m

€2,978m

2.8%

146

"Converged Leader" markets

Greece

€736m

€756m

2.7%

140

Hungary

€498m

€502m

0.8%

41

Austria

€334m

€337m

0.9%

46

Croatia

€249m

€248m

-0.4%

-21

Slovakia

€206m

€211m

2.4%

125

"Converged Challenger" markets

Poland

€390m

€399m

2.3%

119

Czech Republic

€274m

€292m

6.6%

338

Romania

€242m

€289m

19.4%

1000