Another engagement for familiar multi-sided IT partner.
Project aims to give DT better speed, including on 5G and fibre rollout.
No rip and replace — project focuses on standardisation.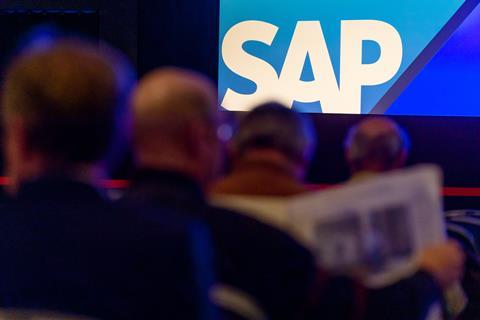 Deutsche Telekom (DT) selected close IT partner SAP's S/4HANA enterprise resource planning (ERP) software as the foundation for another "massive" attempt at joining up business systems.
The Group said it was using S/4HANA as the basis for a phased project to "transform", "standardise", and "consolidate" legacy planning architecture. DT's existing systems will apparently not be "discontinued" under the project — but the operator aims instead to create a "uniform platform of data" to underpin them. As well as allowing better access to data, this will enable creation, via S/4HANA, of "new models for data analysis, artificial intelligence, and predictive planning", said DT.
Benefits DT hopes to reap from the project include faster and deeper planning. The operator is particularly emphasising finance, network build‑out, and customer logistics as areas it hopes will gain from these improvements. "We are driving our own digitalisation forward massively. It's all about getting more from the data we already have", said Peter Leukert, Chief Information Officer of DT.
Some signs of trepidation
DT has been stung by multiple mega-project slippages in recent years, including with the flagship Pan‑European Network and All‑IP Transformation pushes (Deutsche Telekomwatch, passim). With the ERP revamp, it was clearly wary of giving out deadlines for a potentially highly complex project, and one with a mandate (joining up disparate data sources) that remains a major headache for many telcos and other enterprises.
DT offered notably little detail regarding roadmap or timetable. The Group merely said it was planning to standardise a total of 55 systems via a series of "sub‑projects", but without saying when. Eleven of these applications are being addressed as a "first step". Among these areplanning systems relating to 5G and fibre network build‑out. The project appears likely to be run by internal services and technology arm Deutsche Telekom IT.
The default option
The choice of SAP as DT's technology partner is not a surprise, given the German vendor is already a multi-sided and close partner of DT. As well as offering DT a trusted guide for a complicated mission, the selection means the operator will be able to turn to internal expertise for the project, as T‑Systems (T‑Sys) is a major commercial partner of the vendor for S/4HANA and other enterprise applications.
DT's battle with legacy goes on
In reality, DT has been talking about transforming and integrating its morass of ERP systems for several years — so it is not clear whether the S/4HANA standardisation project represents a progression, evolution, or a complete change of course in this historical effort.
The project clearly represents a move beyond DT's One.ERP project, which was instigated around 2014, with similar harmonisation-focused aims. Like the latest update, One.ERP was geared towards bringing together planning processes and ERP master data on a Group‑wide basis, although perhaps with more of a geographical standardisation leaning than the vertical meld underpinning the S/4HANA deployment (Deutsche Telekomwatch, #34 and passim). Finance, infrastructure rollout, and logistics were also highlighted at the time as areas that could benefit, alongside human resources, partnering, and procurement.
DT's eagerness to emphasise it is not discontinuing existing systems suggests One.ERP applications are not now being written off as unwanted legacy, and the newest project 'builds on' rather than supplants One.ERP.
A further question relating to broader plans is how closely the project is linked with recent ERP transformation at T‑Sys. The enterprise services division is understood to have implemented a new ERP system in 2018, as part of its ongoing business overhaul, but has not discussed the project publicly.