Super-sized by Sprint deal, Group now dwarfs European competitors in terms of sales, spend — and debt.
Management attention now firmly on European puzzles that have sat unsolved for years, including teaser of pro‑investment regulations.
Switch-around of Europe-side executives could bring in fresh ideas and approaches to key strategic challenges.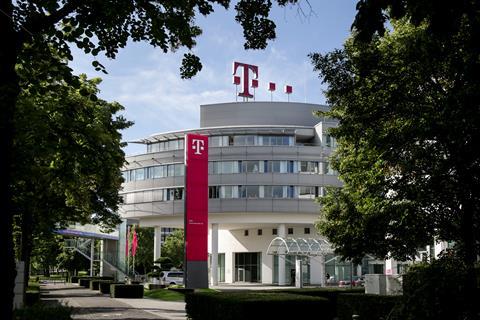 If you've got it, you might as well flaunt it. As Deutsche Telekom (DT) laid out its results for the quarter to 30 June 2020 (Q2 FY20), the optics once again differed dramatically from those of its European rivals.
While DT's challenged regional peers have been withering away over recent years, with asset sell‑offs and footprint retrenchment, the German operator has been running a sustained and highly productive hypertrophy block, centred on the US and culminating in April's Sprint takeover.
DT has got lucky with the accidental retention of its US presence, having seen previous sale attempts to AT&T and Sprint shorted out — but has also been prepared to spend aggressively, to fuel growth stateside, and has studiously avoided the emerging markets expansion that is now coming back to bite key rivals Telefónica and Vodafone.
It used the results for Q2 — its first quarter since the Sprint deal — to put its gains on display. The inclusion of Sprint boosted DT's revenue by 37.5%, to €27bn — well beyond the combined sales base of Telefónica and Vodafone (€20.8bn). The acquisition also helped boost core earnings after leases (EBITDA AL) by 56.4%, and cash flow by 56.9%. Group Chief Executive (CEO) Timotheus Höttges said it had put DT into a "totally different league".
He called Q2 a "very special quarter", noting that DT is "now a €100bn turnover company". Both he and Chief Financial Officer Christian Illek repeatedly took opportunities to contrast DT's performance, footing, and strategy with that of Vodafone (or "the guys in Düsseldorf" as Illek dismissively described them).
European telecoms majors, market capitalisation, 14 September 2020
Group
Market capitalisation
Source: Bloomberg.

Deutsche Telekom

€72.5bn

Vodafone

€31.9bn

Orange

€25.3bn

Cellnex Telecom

€25.1bn

Telefónica

€17.6bn
European headaches now appear genuinely at the top of Höttges' to-do list
With DT's long-time American scale shortfall now well and truly tackled, and the Sprint integration process in train, it is clear that Höttges and his management team now have greater bandwidth to focus on issues nearer home.
This does not appear to be generating any new areas of focus, however — instead, it appears the main emphasis will be on finding lasting solutions to problems that have either not yet been fully solved, or given a temporary plastering over.
Höttges raised four issues — all of which have long dogged DT — that he sees as central to the Group's business in Europe:
Lobbying for a more amenable regulatory framework (a clear key consideration behind the appointment of Dominique Leroy as new Europe segment CEO).
"De‑risking" T‑Systems — where a new phase of reorganisation is now being mooted.
Devising an efficient model for full-fibre rollout — something being tasked to incoming Telekom Deutschland (TDE) CEO Srini Gopalan.
Pushing through digital-infused efficiency measures, in part to "save for fibre".
"Digitise, digitise, and digitise… when something is unclear in the company we should digitise. "

— Höttges.


Richard Agnew is Group Editor at TelcoTitans and Market Mettle.
Deutsche Telekom Q2 FY20
1

Currently reading

Deutsche Telekom's bulging P&L puts European rivals in shade

2

3

4

5

6

7

8