Upbeat executives comfortable enough to keep guidance and dividend unchanged, despite some COVID‑19 impact on B2B projects and consumer sales.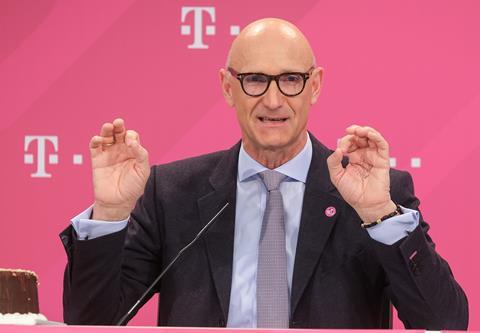 Deutsche Telekom (DT) put another one over many of its European telco rivals by leaving its dividend and outlook untouched in the face of the COVID‑19 pandemic.
The Group's results for the quarter to 31 March 2020 (Q1 FY20) — headlined with the bold assurance that DT "continues to deliver" — saw it reiterate the FY20 guidance it laid out when it reported its annual figures a few weeks ago, as well as confirming mid-term expectations for the FY17–FY21 period derived from its last Capital Markets Day back in 2018. It also left its proposed FY20 dividend unchanged (Deutsche Telekomwatch, #74 and #92).
The tone of DT's presentation was strikingly upbeat, given the current environment, and there was no dampening of the boxing promoter-esque patter by Chief Executive (CEO) Timotheus Höttges, who continues to appear increasingly riled by competitive uplift around high-speed broadband in Germany.
Pointedly referencing the lack of clarity being provided by other telcos in their Q1 announcements, Höttges declared DT to be an "anchor of stability in a global crisis". Trumpeting the operator's rollout of new services and offers to help worried customers in Europe, he said DT had received numerous thankyous from politicians and big enterprise customers, and noted that "our critics are very, very quiet".
Zero touched outlook
Overall, DT expects the COVID‑19 impact on its top-line to only translate into a "small negative" blow to earnings, ex‑US, and to be "neutral" on free cash flow.
However, it remains to be seen whether DT — whose US presence has allowed it to shrug off many of the difficulties facing European peers — is in a completely unshakeable position in light of the crisis.
Its FY20 guidance is actually somewhat temporary, as when it reports Q2 results in late‑June 2020, DT is set to rework its reporting and outlook, after completing the mammoth task of amalgamating numbers from recent acquisition Sprint (whose takeover was completed just after the close of Q1).
As noted previously, the transformative deal's impact on overall DT debt levels, when including those of the consolidated Sprint and T‑Mobile US (TMUS), will come into the spotlight, with the Group saying back in 2018 that the transaction would take it briefly outside its leverage "comfort zone", but back into its window as and when the enlarged TMUS' cash flow ramps up. Economic trends in the USA are therefore of particular significance for the Group.
While pro forma forecasts are apparently cosseted, DT is not claiming financial immunity from the virus and its decision to maintain guidance was based only on its view of "foreseeable consequences of the pandemic".
Largest business TMUS reported its Q1 figures before DT, and accepted the pandemic had majorly clouded its expectations, and (somewhat ironically, given Höttges' comments) postponed delivery of FY20 guidance. It said the lockdown measures could wipe out branded postpaid customer growth in Q2 and revealed a major review of its cost base, as well as mooting a further squeeze on suppliers.
DT echoes roaming, B2B drags
Back in Europe, DT is also on alert for shorter- and longer-term dangers. It followed other operators by conceding roaming revenue had taken a major hit from travel restrictions (dropping 80% between mid‑March 2020 and the end of April 2020).
Handset sales naturally slowed down (‑20%) when its shops were shut, although fixed-line calling revenue rose by a third and churn is said to be falling in the mobile space (‑20bp among German contract users during Q1). As at TMUS, and other operators, DT is keeping a watch on customer debt as the crisis morphs into economic downturn.
T‑Systems (T‑Sys) has already warned that European clients are cutting spending — and DT confirmed it was seeing "some IT project delays" in the corporate sector. T‑Sys' order entry slid 13.4% during the three months, although this was said to be at least partly down to an especially strong quarter in Q1 FY19. On the positive side, Christian Illek, Chief Financial Officer of DT, echoed recent comments by T‑Sys CEO Adel Al‑Saleh, describing the pandemic as an "eye-opening event" for corporate customers, in terms of their reliance on digital services.
Other takeaways from the call and report included:
TMUS still in driving seat: as per other recent quarters, DT's forward movement in Q1 was primarily — but not completely — driven by its American powerhouse. Including TMUS, it recorded a 10.2%-rise in earnings before interest, taxation, depreciation, and amortisation after leases, but this dropped to 3.8% if excluding the NatCo's numbers (why DT continues to feel the need to report copious ex‑US figures is probably part-habit, stemming from back when TMUS was an unwanted under-performer — but also shows its eagerness to show European businesses are contributing too).
Höttges not a cable guy: Germany got in on the act too, with Telekom Deutschland (TDE) maintaining its slow-and-steady revenue growth (+0.9%) and accelerating net broadband customer expansion to +83,000 — avoiding another awkward call-out by Group management during the Q1 session (Deutsche Telekomwatch, #92). Never one to underplay some encouraging figures, Höttges made a tectonic shift in tone from its last presentation by launching into a told-you-so regarding DT's decision to invest in vectoring and super-vectoring, before ramping up fibre, and denouncing "Gigabit" cable services (including those of main rival Vodafone Germany) as "fake news". Illek was more circumspect, saying TDE was benefiting from a tendency among customers to opt for incumbent providers in times of crisis.
Another backslap for Gopalan: there continued to be measured positivity in DT's reviving Europe segment, which delivered a 2% "organic" revenue increase, slightly below FY19 trend. Illek highlighted the division's "continuous cost reduction" progress. Europe CEO Srini Gopalan — recently handed a new contract (Deutsche Telekomwatch, #92) — was again singled out for praise by Höttges, who said he had created a "flying wheel" that was now benefiting Group free cash flow.
Squeeze on suppliers?: there were no obvious warning signs for suppliers in terms of spend plans, and DT said COVID‑19 would only have a "limited" impact on capital expenditure. Ex-spectrum, capital outlay is forecast to be fairly steady in FY20, at €13bn.
DT getting less physical: DT had already flagged a reduction of its German store network before the worst of the pandemic hit, and Höttges flagged that its approach to industry events and its real estate assets could be reviewed too, with the business adopting a "hybrid structure" for working. "I can tell you one thing: I will travel less", said Höttges.