Anti-churn focus dialled up as competitive performance dips.
TDE seeing next-gen service success and still on to meet targets.
No hard evidence of mooted spend rowback.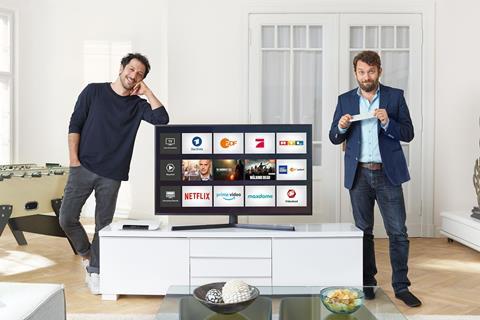 Deutsche Telekom (DT) flagged keeping up with the competition on broadband user acquisition and retention as an ongoing pain-point in Germany, as it reported its results for the quarter to 30 June 2019 (Q2 FY19).
In general, Q2 was stressed as having witnessed a steady performance from Telekom Deutschland (TDE), with the home market NatCo remaining on course to hit targets of marginal profit and revenue growth for FY19 (Deutsche Telekomwatch, #81). However, a concession of "softness" in the wireline broadband market appeared to give Group stakeholders pause, causing a slight share price dip on the day of the announcement.
Deutsche Telekom, Germany area financial summary (as reported), Q2 FY19

Q2 FY18

Q2 FY19

Change

Sources: DT and Deutsche Telekomwatch.

Total revenue

€5,322m

€5,388m

1.2%

EBITDA

€1,941m

€2,036m

4.9%

EBITDA margin

36.5%

37.8%

1.3pp

Depreciation, amortisation, impairment

-€988m

-€1,144m

15.8%

Operating profit

€954m

€892m

-6.5%

Cash capex

€963m

€1,069m

11.0%
Strategic growth areas doing their bit…
Overall, on an 'adjusted' ' basis, TDE increased revenue by 1.2%, to €5.4bn – an improvement on the 0.6% rise seen in Q1 (Deutsche Telekomwatch, #83). Core earnings margin advanced by 50 basis points, to 40%.
Within these numbers, there was especial positivity around mobile – where service revenue grew 2.4%, 140,000 net new branded contract customers were added, and average data usage was up 36% year-on-year, to 3.18GB.
There were also solid figures in strategic areas such as:
TV, where MagentaTV subscribers grew by 58,000, to 3.48 million.
DT's "fibre" category, encompassing both to-the-cabinet and to-the-premises connections, where 522,000 net new users were gained, to bring its base to 13.4 million.
Convergence, where more than half (54%) of TDE's mobile contract customers, and nearly a quarter (23%) of households, are now signed up to MagentaEINS bundles. This looks to put TDE well on track to meet a 30%-household penetration target for 31 December 2021, as outlined at 2018's Capital Markets Day (Deutsche Telekomwatch, #74).
Q2 FY18

Q2 FY19

Change

Deutsche Telekom, Germany area revenue split (as reported), Q2 FY19
Sources: DT and Deutsche Telekomwatch.

Total revenue

€5,322m

€5,388m

1.2%

By product

Fixed network

€2,374m

€2,340m

-1.4%

Broadband

€1,049m

€1,053m

0.4%

TV

€369m

€397m

7.6%

Voice-only

€355m

€284m

-20.0%

Mobile

€1,915m

€1,991m

4.0%

Wholesale fixed

€859m

€877m

2.1%

Value-added services

€43m

€37m

-14.0%

By segment

Consumer

€2,820m

€2,861m

1.5%

Business

€1,492m

€1,514m

1.5%

Wholesale

€926m

€927m

0.1%

Other

€84m

€86m

2.4%
…but not fast enough for DT's liking
The flipside – despite these new-wave wireline successes – was across the fixed-line market as a whole, where line losses accelerated (to -211,000) and TDE added only 28,000 broadband users, to compensate. This caused wireline service revenue to dip back into reverse (-0.3%).
Broadband revenue grew by 2.3% – the same as in Q1 – but this remains down on the 3%-4% compound annual growth rate target DT has set TDE, for the period to FY21.
Group Chief Financial Officer Christian Illek explained that the regulation-induced churn pains TDE has experienced with IP migration – and which recently led DT to move back its completion deadline for the programme to 31 December 2019 (for consumers) and 31 December 2020 (for businesses) – continued to weigh on the NatCo.
This is unlikely to have come as much of a surprise to Group stakeholders, however, and jitters will more likely have been prompted by a comment by Illek that DT is "seeing a slower market increase overall in the German broadband market". TDE's net broadband adds have been on a slide for several quarters, now, while cable and telco competitors have maintained a higher rate of expansion. Illek fronted up that "we are not satisfied with that result". "We have all hands on deck… to basically increase that momentum going forward", he added.
Measures that Illek referenced TDE as working on include up-selling, indicating it is seeking to accelerate the next-generation service differentiation referenced above, and that opportunities could come up for TDE's services partners. Arch-rival Vodafone has also highlighted up-selling as a key focus area for the coming years, laying out a One More Service corporate mission, to help limit churn.
Deutsche Telekom, Germany area operational indicators, Q2 FY19

Q2 FY18

Q2 FY19

Change

Notes:* Sum of all FTTx accesses (e.g. FTTC/VDSL, vectoring, and FTTH).
Sources: DT and Deutsche Telekomwatch.

Fixed access subscribers('000)

18,989

18,228

-4.0%

IPretail

13,629

16,614

21.9%

Broadband retail

13,437

13,636

1.5%

Fibre *

6,559

7,913

20.6%

TV

3,240

3,477

7.3%

Mobile subscribers('000)

43,023

44,827

4.2%

Mobile KPIs

Churn

€13

€12

-7.7%
Spend in spotlight
A sidenote to the Q2 presentation was that there was no sign – as of the end of Q2 – of any reining-in of spend at TDE, despite recent signals from the supply chain of possible belt-tightening, following conclusion of Germany's expensive and condition-wrapped 5G auction (Deutsche Telekomwatch, #81 and #85).
Both capital expenditure and operating expenditure rose in Q2 (by an 'adjusted' 7.1% and +0.5%, respectively), and there was no mention by executives of a departure from plans for "stable" capital outlay in Germany across FY19 (Deutsche Telekomwatch, #81). Nonetheless, the auction's finish only came in June 2019, towards the end of Q2, so if there has been any row-back, it would not be likely to filter through until Q3 results are reported in late-September 2019, at the earliest.
Reports have suggested TDE may be cutting back in other areas, beyond infrastructure. Handelsblatt reported in July 2019, ahead of the Q2 presentation, that TDE was planning to cut as many as 1,200 sales staff and close around 40 shops in a bid to create savings. It was not clear, however, whether the move represented acceleration or merely continuation of the digital transformation-infused Service transformation strategy that TDE has been conducting for some time (Deutsche Telekomwatch, #71 and passim).