Managed Nextcloud offer taps into a rising data sovereignty sentiment in Europe, but are efforts to combat the might of US hyperscalers futile?
DT said to be market leader among European cloud providers with a 2% market share.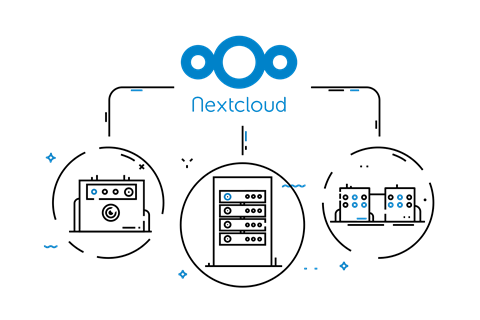 Deutsche Telekom (DT) partnered with Germany‑based Nextcloud on a managed cloud collaboration platform for enterprise customers in Europe.
The new offering, which aims to exploit the growing trend for remote working combined with data privacy and security requirements, is based on the open source Nextcloud Hub platform and hosted in DT data centres in Europe.
DT is providing the Managed Nextcloud service via its broader Open Telekom Cloud offering. The two partners emphasised that the service complies with the European Union's (EU) General Data Protection Regulation (GDPR), as well as the data sovereignty principles of the European GAIA‑X initiative launched in June 2020 (Deutsche Telekomwatch, #89 and #94). It appears that the service is being positioned as an alternative to large public cloud providers based in China and the USA.
Hagen Rickmann, Managing Director, Business Customers, at Telekom Deutschland (TDE), said the second wave of COVID‑19 has "further accelerated the need for remote collaboration, with many employees working from home. At the same time, the increased frequency of digital attacks and risks from privacy violations have increased awareness of security and digital sovereignty. There is a clear demand from organisations and policy makers for better protection of customers' data, more transparency around security and data storage and respect for privacy from cloud vendors".
Nextcloud Hub is an on‑premise cloud server that allows enterprise users to share documents, send and receive email, manage calendars, and conduct video calls, among other functions. It is based on version 20.04 of the open source Ubuntu operating system.
Managed Nextcloud includes various functions such as Nextcloud Files, for file‑sharing and syncing; Nextcloud Talk, for calls, chats, and online meetings; and Nextcloud Groupware, for calendars, contacts, and email. A white‑label offer also enables enterprises to adapt the application or online interface to fit a corporate design.
Nextcloud was founded in 2016 by Frank Karlitschek, who also serves as the current Chief Executive (CEO). The business emerged out of a project launched in 2010 that aimed to "give people back control of their data".
This message of data privacy and sovereignty, with a reduced reliance on foreign public cloud giants, has resonated with governments in Europe and elsewhere.
In 2018, the German Federal Information Technology Centre (ITZBund), the central IT service provider of the German government, began using Nextcloud Enterprise as a secure file exchange for 300,000 users. In 2019, the French Ministry of Interior and Swedish federal government agencies flagged similar Nextcloud projects.
Also listed as clients on Nextcloud's website are the Dutch National Archives; the City of Geneva; the Ministry of Foreign Affairs in the Islamic Republic of Afghanistan; and the City of Paris.
Nextcloud collaborates with Germany‑based providers IONOS by 1&1, a European provider of cloud infrastructure, cloud services, and hosting that is owned by Group rival United Internet; and Viakom, a managed service provider and software developer that specialises in information technology centre solutions for the business‑to‑business market.
GAIA‑X: like King Canute?
Managed Nextcloud represents another tangible DT offering based on the principles of GAIA‑X, following the partnership between T‑Systems (T‑Sys) and France‑based cloud computing specialist OVHcloud (Deutsche Telekomwatch, #100). T‑Sys also recently flagged its involvement in the European Automotive Alliance, as part of the GAIA‑X initiative (Deutsche Telekomwatch, #101).
DT is one of the founding members of GAIA‑X and its prominent role shows that the project is a strategic priority. In the wake of the COVID‑19 pandemic, DT views the project as one of the potential beneficiaries of the EU's €750bn recovery fund.
When GAIA‑X was first launched, it was emphasised that the aim was not to compete with existing hyperscalers such as Amazon Web Services (AWS). Instead, GAIA‑X is intended to connect different elements via open interfaces and standards in order to aggregate data and create a platform for services. AWS, Google Cloud, IBM, and Microsoft are among 300 organisations from around the globe that are already participating in the project. However, as projects based on GAIA‑X mount, the desire to reduce dependence on the US hyperscalers is becoming increasingly evident.
John Dinsdale, a Chief Analyst at Synergy Research Group, described efforts such as GAIA‑X to "reverse the fortunes of the European cloud industry" as "laudable", but nevertheless likened them to "King Canute attempting to stop an incoming tide". According to a report from Synergy for the third quarter of 2020, AWS, Google, and Microsoft now account for 66% of the European cloud market. In contrast, the report said the market share of European providers has fallen from 26% at the beginning of 2017 to below 16%.
DT is said to be the market leader among the European cloud providers with a 2% market share, followed by OVHcloud and Orange. Synergy estimates that European cloud infrastructure service revenue increased 31% year‑on‑year to more than €23bn in 2020 as a whole.