DT and TMUS emphasise continuity and aggression with leadership change, 5G acceleration, and extension of Un-Carrier initiatives to New T‑Mobile era.
Legere to step down in May 2020, with WeWork posting a possibility.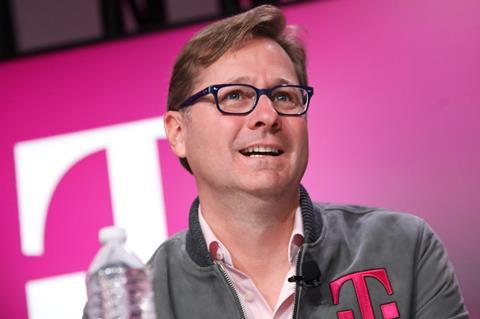 Deutsche Telekom (DT) and T‑Mobile US (TMUS) went into overdrive on stakeholder reassurance as they sought to address concerns related to the delayed TMUS–Sprint merger approval effort (Deutsche Telekomwatch, passim).
A marked step up in their charm offensive towards regulators and policy-makers — particularly hold-out state authorities that are legally challenging the deal — saw TMUS putting more gloss on its projection of the future 'New T‑Mobile' as an aggressive market disruptor, rather than drag on competition. This came via the announcement of "accelerated" 5G plans, new Un‑Carrier commercial initiatives, and a continuity‑themed business update confirming how New T‑Mobile's senior management will line up, if it becomes reality.
There were also attempts to soothe shareholders of DT and TMUS — which have been getting jittery regarding how the approval delay could confuse the NatCo's approach to coming spectrum auctions. For them, there was the assurance of the firmed-up leadership plan, and a nod to "things that could potentially be a plan b" if the Sprint merger ends up falling at the final hurdle.
Legere drops the Mike: Sievert transition hurriedly confirmed
The need for better New T‑Mobile optics was on show as TMUS held an analyst call to announce — as had long appeared a strong possibility — that Chief Executive (CEO) John Legere is to vacate the role after the TMUS–Sprint melodrama has played out.
The brash but entertaining CEO, who has done wonders at TMUS after joining in 2013 (Deutsche Telekomwatch, #13), is to step down from his position in May 2020, but will retain a Board of Directors slot at either TMUS or New T‑Mobile, depending on what transpires with the merger. Stepping up is Mike Sievert, President & Chief Operating Officer at TMUS — who in effect began the transition into Legere's role when promoted to the presidency in 2018 (Deutsche Telekomwatch, #73).
Accentuating the theme of stability, Chief Technology Officer Neville Ray was nominally promoted to become President, Technology. Further, Chief Financial Officer (CFO) Braxton Carter has postponed his planned exit from the operator (Deutsche Telekomwatch, #82) until at least 1 July 2020 (i.e. after DT and TMUS presumably believe all the merger questions will have been answered). Legere said that TMUS is to launch a "full review of all internal candidates as well as external candidates for the CFO job" — perhaps suggesting that Sunit Patel, a recent hire as Head of Merger & Integration at TMUS, is not a shoo‑in to replace Carter, as some had suggested (Deutsche Telekomwatch, #76). As noted by Legere, the CFO role is about to change drastically if TMUS absorbs Sprint, or heads to an M&A plan b.
The CEO switch itself has not come as a major surprise, but the timing of the announcement was interesting, and evidently down to the need to regain a stronger grip on the merger agenda. Elevating Sievert — the chief architect of TMUS's disruptive Un‑Carrier go‑to‑market strategy — will not have hurt messaging towards authorities ahead of the key date of 9 December 2019, when a collective of state attorney generals seeking to block the merger will have their case heard. DT CEO Timotheus Höttges wrote on LinkedIn that the succession was a "long‑term" move, adding that "we are thus paving the way for a new generation of executives who will lead TMUS into the next phase of the 'Un‑Carrier' culture".
Putting aside Legere's halo, the financial community will have noted that Sievert has essentially been running the NatCo while the CEO has been focused on lobbying for the merger in Washington — and that TMUS has been outperforming expectations despite the distraction.
With the impromptu announcement, DT and TMUS will also have been seeking to dampen shareholder concerns after a dip in the American NatCo's stock price, prompted by earlier speculation that Legere was in discussions to become CEO of troubled space-sharing venture WeWork. Legere denied this outright during the call, but conceded that the situation had created an "awkward couple of weeks". Accentuating his discomfort will have been the fact that WeWork's rescuer and majority owner is Sprint parent SoftBank. Its management — which would have been privy to behind-the‑scene developments at TMUS, as part of the merger discussions — clearly believed there was an opening for Legere to be prised from the NatCo, thus giving the game away somewhat.
Tellingly, Legere left the door open for a move to WeWork, or another challenging business turnaround mission, after the end of his tenure.
"I'm not retiring. I've got at least 30 or 40 years and five or six good acts left in me, and… I'm already getting a tremendous amount of input of companies that could use cultural transformation, leadership, and things similar to what we've demonstrated here… Sometime around May [2020], we'll take a look at that, but I'm sure there's going to be a lot of speculation and ideas on that, and, unfortunately, some of them happened a little prematurely. "

— Legere.
AT&T and Verizon Communications — or "dumb and dumber", as Legere likes to call them — were not on his radar, he said.
New T‑Mobile strikes Un‑Carrier pose
In a similar PR vein, TMUS attempted to remind politicians and regulators of what they will be missing if they fail to sanction the TMUS–Sprint merger by announcing three Un-Carrier initiatives for New T‑Mobile.
TMUS sought to stress that these initiatives will only see the light of day if New T‑Mobile gets up and running. Clearly designed to press sensitive political buttons, such as the promise of better equipped first responders and greater digital inclusion among low‑income groups, the three proposals are:
Connecting Heroes Initiative: a ten‑year commitment for free 5G access to every first responder. Applicable to all public and non-profit state and local police, fire, and emergency medical services agencies "across the entire country".
Project 10Million: a $10bn (€9bn) commitment designed to eradicate the "homework gap for millions of children". TMUS envisaged this will result in free services to ten million households.
T-Mobile Connect: a prepaid solution "for everyone" at half the price of the lowest offer today. New T-Mobile will charge $15 per month for a monthly 2GB allowance.
TMUS puts foot down on 5G gas pedal, fuelled by 600MHz
There was also some messaging going on as TMUS announced it will launch a "nationwide" 5G network, based on 600MHz frequencies, on 6 December 2019 (the last working day before the state attorney general battle reaches court).
The NatCo described the timing as an "acceleration" of its 5G rollout plans, and that the network will provide the "foundational layer" for 5G offered by New T‑Mobile. The 5G network should reach more than 200 million people — the same coverage level that TMUS boasts for LTE over 600MHz. If the launch is successful, it will vindicate Ray, who has long promised widespread 5G coverage on the back of software-upgrading LTE base stations on the 600MHz grid. The 5G footprint will cover 1.4 million square miles.
These low-band frequencies will not provide thumping 5G speeds, however. Nor is TMUS apparently keen on pinning down throughput performance for 5G customers using 600MHz airwaves. In one interview, Ray said peak downlink speeds will be between 200Mbps and 300Mbps. In another, he said average speeds for initial services will be in the 60Mbps–70Mbps range, which is about double those offered over TMUS's 4G network. The consistent message is that 5G on 600MHz will be faster than 4G, but perhaps not enough to turn heads of customers who are not early tech adopters.
The first smartphones capable of tapping into the 600MHz 5G network are Samsung's Galaxy Note10+ 5G and OnePlus's 7T Pro 5G McLaren. TMUS was quick to point out that the two devices are compatible with 2.5GHz spectrum, which the NatCo will acquire in abundance if the Sprint merger gets the go‑ahead. This mid‑band platform promises much faster speeds than low‑band 600MHz. "We have detailed integration plans and we are preparing to start deploying Sprint's 2.5GHz spectrum soon after closing [the merger transaction]", said Legere.
In July 2019, TMUS, Ericsson, and Qualcomm conducted a low‑band 5G data session on a commercial 5G modem (Deutsche Telekomwatch, 86). The test was carried out in TMUS's lab in Bellevue, Washington, using frequency division duplex (FDD) 600MHz spectrum. The mobile test device was equipped with the Qualcomm Snapdragon X55 5G modem, which is FDD‑compatible. Ericsson supplied commercial 5G radios. Ray lauded the test as a "key step" towards realising the NatCo's vision of "5G for All". In December 2018, TMUS also conducted a 5G data and video call across 600MHz airwaves — this time, in collaboration with Ericsson and Intel (Deutsche Telekomwatch, #80). The trio recorded a 5G signal capable of covering more than 1,000 square-miles from a single tower.
The backup plan: layering the 5G cake without Sprint
The 600MHz-based 5G move adds to the modest and low‑key 5G launch TMUS made in June 2019, initially reliant on mmWave spectrum (Deutsche Telekomwatch, #85).
Looking further to the future, TMUS's 5G network strategy is firmly multi‑band, and geared to the ambition of going "broad and deep": 600MHz and 700MHz to underpin nationwide rollout, with higher mmWave frequencies to increase indoor coverage and capacity. To build this multi-layered platform further, the NatCo is expected to take part in Auction 103. Slated to start on 10 December 2019, this sale will put concessions in the 37GHz, 39GHz, and 47GHz frequency bands under the hammer. TMUS has already gone through Auction 101 and Auction 102, which saw the NatCo pick up 24GHz and 28GHz spectrum assets for high-bandwidth, localised 5G network rollout (Deutsche Telekomwatch, #84 and 87).
All this continues to leave the question of how TMUS will gain sufficient mid‑band spectrum to bulk out its 5G network — unless the Sprint takeover is approved.
In the November 2019 analyst call, Legere dropped a strong hint that TMUS has settled on a backup plan for mid-band access in that eventuality. "If the 1% chance [of Sprint deal rejection] ever happened, the momentum of our business and the timing and alignment of the things that could become a plan b from a 'how do you build a 5G network' [standpoint], those seem to be lining up as well. So all roads lead to success", he said. No detail was divulged on the plan, but the comment seems most likely a suggestion that TMUS would take an aggressive approach to two mid‑band auctions expected (tentatively) to take place during 2020, covering C‑Band (3.7GHz–4.2GHz) and Citizens Broadband Radio Services (3.5GHz) airwaves (Deutsche Telekomwatch, #88 and passim). Some might also see mileage in a watered down Sprint tie‑up that could still give TMUS access to the operator's outsized 2.5GHz holdings.
A further possibility is a deeper combination with broadband player Dish Network, thus reworking the spectrum and other asset sale agreement they formed earlier in 2019, in a bid to help push through the Sprint deal (Deutsche Telekomwatch, #85). Dish does not hold mid‑band spectrum, however.