DTGC frets roaming arrangements will become too complex.
DT unit sees blockchain as an answer.
Still no sign of commercial solutions.
DTGC hopeful regarding Carrier Blockchain Network initiative.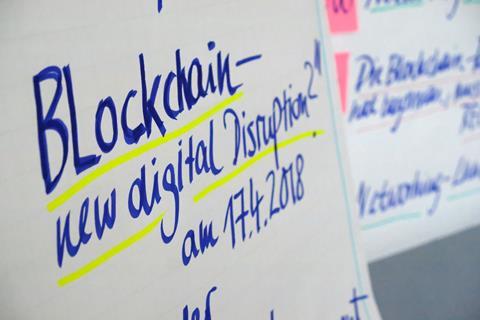 Federico Homberg, Head of Commercial Roaming Business Development at Deutsche Telekom Global Carrier (DTGC), once again highlighted the potential of blockchain solutions to streamline wholesale relationships with operators. Getting ideas off the drawing board and into real-time applications still seems a challenge, however.
In a somewhat lengthy blog, Homberg framed the technology as a "great value addition", and something that could support better process efficiencies and greater transparency in the inter‑carrier roaming business. The revamping DTGC has long been a blockchain admirer, not least because closer attention to wholesale roaming is increasingly necessary given growing demands on the retail side of the business.
Homberg pointed out the relatively new requirements of Roam‑like-home, where local rate plans are applied abroad when travelling within the European Union, and the integration of SIM cards within vehicles by car manufacturers. To achieve coverage of this sort, Homberg said roaming agreements with four or five large mobile network operators were typically necessary to provide connectivity in different geographical regions.
Too much manual work
DTGC has roaming relationships with more than 600 mobile operators. Contracts need to be negotiated, implemented, tracked, and settled with all of them. A lot of this work was still done manually, the DTGC man ruefully noted. The roaming business was due a shake‑up, given it had not changed much in the 30‑odd years of its existence, he added.
Homberg expected complexity in managing roaming relationships only to increase as various technologies, such as 5G, LTE‑M, Narrowband Internet of Things, Voice‑over‑LTE, and Video‑over‑LTE evolve. Increased automation will be necessary in order to cope, he said.
"I therefore see blockchain solutions as a great, perhaps crucial, value addition. It can support efficiency of processes and greater transparency as more and more operators work together. A first step towards automation in inter-carrier roaming settlements could be to implement agreements via software rather than manually. This would create one source of truth for rates and discounts that could be stored over a blockchain. In a second step, a smart contract could be created that would automatically request the concluded volume data from either a data clearing house or an internal data source and apply the pricing and discounts agreed upon in the first step. "

— Homberg.
Homberg envisaged a "uniform settlement sheet" that could be "easily compared" with those received from other mobile operators. "In the case of disputes, the smart contract could apply an automated workflow", he said. "Contingent on the result of the settlement, a credit or debit note could be generated and even the payment could be automated. While the latter is probably still a bit further out, the first two steps are relatively straightforward and would solve significant pain points", he said.
Carrier Blockchain Network in pipeline
Homberg flagged the work of the ITW Global Leaders' Forum (GLF), an organisation representing more than 25 international wholesale carriers, including DTGC, as important in tackling lack of industry standards and interoperability between different blockchain protocols. In June 2019, GLF, backed by eleven carriers (again, including DTCG), announced plans to launch Carrier Blockchain Network (CBN) in the "coming months". The idea behind the "special-purpose vehicle" is to:
Leverage blockchain technology to manage the contract, agreement, settlement, payment, and dispute processes.
Ensure interoperability through development of industry standards open to all ICT service and technology providers.
Build a governance model and membership process to facilitate speed‑to-scale and industry participation.
If all this can be achieved — CBN was not yet up and running as far as Deutsche Telekomwatch could determine at the time of going to press — the roaming business should be better placed to handle increased usage and greater complexity. As well as meaning that fewer employees will be needed for settlements, the GLF expects that operators will gain cash flow benefits from real-time capability, shorter settlement cycles, and reduced costs to the data clearinghouse. Call data records, said Homberg, could be handled via blockchain.
Various "technology partners" are involved in the CBN project. These include Amartus, Clear Blockchain Technologies, ConsenSys, Difitek, IBM, Internet Mobile Communications, Orbs, R3, Subex, Syniverse, and Tomia,
DT's new kits on the block
DT is bullish on blockchain and is involved in various efforts to develop distributed ledger technology (DLT) use‑cases and applications. As well as the Carrier Blockchain Network, these include:
Hyperledger Global Forum: DT joined the Forum, a collaborative community focused on enterprise use‑cases for blockchain technology, in September 2018 (Deutsche Telekomwatch, #79). Of particular interest to DTGC is a wholesale roaming application built on Hyperledger Fabric, a "smart contract engine" developed through one of the Forum's projects.
Hedera Hashgraph: Telekom Innovation Laboratories (T‑Labs) is among inaugural Governing Council members of Hedera Hashgraph, an enterprise blockchain application development initiative that began testing its software in December 2018 (Deutsche Telekomwatch, #81). Hedera Hashgraph also boasts Swiss incumbent Swisscom, law firm DLA Piper, Brazilian retail group Magazine Luiza, and Japanese financial firm Nomura Holdings as members.
Professorship of software engineering with specialisation in blockchain, based at CODE University of Applied Sciences. Dr Peter Ruppel, a DLT expert, was appointed to the newly-created position in September 2019 (Deutsche Telekomwatch, 87). CODE is a private state-accredited university of applied sciences in Berlin. The blockchain professorship, the first of its kind to be supported by DT, is part of a recent partnership between T‑Labs and CODE.
German Blockchain Ecosystem: T‑Systems has disclosed plans to release a procurement-oriented "blockchain-as-a-service marketplace" for German enterprise clients in 2020. The service promises to allow businesses to "map a product's entire value chain, from raw materials to delivery, using blockchain". At launch, it will feature a Validator-as-a-Service solution to "reliably and securely" check cross-company processes. T‑Sys' Digital Solutions division worked with T‑Labs on the offering's development. T-Sys' first partner on the German Blockchain Ecosystem is Maltese investment agency Malta Enterprise.