DT taps MOWEA to help meet renewable energy ambitions and challenges of getting power to 5G sites.
MOWEA previously tied with Vodafone Germany.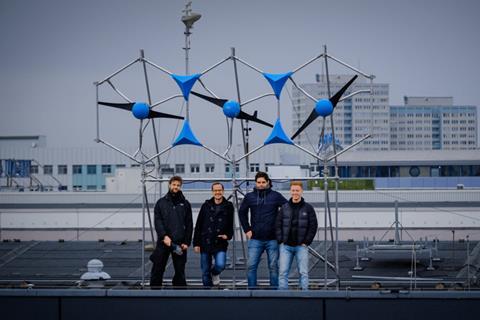 hubraum flagged that "micro wind turbines" are to be attached to various Deutsche Telekom-owned (DT) "broadcasting facilities" such as radio towers.
The turbines will be supplied by modular wind power solution provider MOWEA, a German startup that won the 2020 5G in Sustainability (5GS) competition led by hubraum, DT's tech incubator, in February.
According to the announcement, MOWEA has spent the majority of 2020 tailoring its "wind turbines to fit Telekom Group structures". It is not clear in which market(s) the startup's solution will be intially deployed, but it appears likely to be DT's domestic market, Germany (see below).
By winning 5GS, the startup secured a €25,000 (£22,000) share of a €50,000 prize pot provided by hubraum, and a DT sponsorship deal with networking opportunities and a go-to-market focus.
Tower power
The promise is that MOWEA's remotely controllable, "plug-and-play" turbines will enable smarter and cheaper use of energy by DT and that they will power, "at least partially", off grid base stations and "other equipment" as part of the telco's ongoing renewable energy drive. Another knock‑on benefit of MOWEA's turbines is their size, enabling the telco to install its solution on radio towers located in congested urban areas.
Robert Johnen, MOWEA's Deputy Manager, claimed that the network densification associated with 5G offers significant growth potential for the business. Given that the "amount of radio towers will increase significantly over the next few years", Johnen said, MOWEA's purportedly versatile, low-maintenance solution will be seen by telcos as a desirable means of meeting this increased "energy need".
MOWEA, founded in 2016, holds office space in Berlin, and its plan is to eventually tap into the wider European market. It raised €500,000 in a Series‑A funding round in May 2018 (the investor(s) have not been named, however). In 2019, the startup installed its modular wind energy system on a cell phone mast "for the first time", in collaboration with Vodafone Germany.
The move comes with DT honing its focus on long-term environmental objectives, such as a goal to reduce carbon emissions by 90% by 2030 (Deutsche Telekomwatch, #28 and #92). Another example of a sustainable energy solution the DT is trialling is Cloud&Heat's water-cooling system, which is being used to help power its cloud-cased gaming service MagentaGaming and recycle "waste heat" to warm buildings (Deutsche Telekomwatch, #100).
2021 competition coming soon
Full details on the next 5GS competition are yet to be disclosed but hubraum is expected to deliver an update between January and March 2021.

Sam Patterson is a Staff Reporter for TelcoTitans, contributing telecoms news analysis since September 2020 as part of the TelcoTitans Editorial team.