DT and eSports player promise to "redefine" professional online gaming.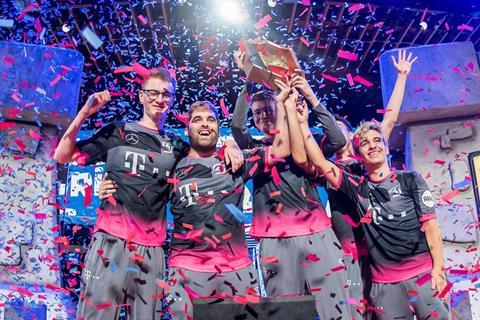 Deutsche Telekom (DT) acquired a 25% stake in SK Gaming, a professional e‑sports organisation based in Germany. DT claimed to be the first telco to invest directly in a business specialising in competitive online video gaming, although it is by no means unique in seeking to develop the market for commercial gain.
Financial details were not disclosed. Other SK Gaming investors are automotive player (and regular Group partner) Daimler, football club 1. FC Köln, and Alexander Müller, who is Managing Director of the e‑sports player. Each now hold a 25% stake, like DT.
The Group investment builds on a partnership struck between Telekom Deutschland (TDE) and SK Gaming in June 2018 (Deutsche Telekomwatch, #75). As part of the deal, TDE was tasked with upgrading SK Gaming's communications infrastructure and IT. The NatCo also sponsored a new team founded by SK Gaming to support its return to the high‑profile League of Legends competition. Other e‑sports tournaments in which SK Gaming teams and players participate include the Riot Games' Premier Tour, SMITE Pro League, Clash Royale League, and the FIFA eWorld Cup.
Hiro Kishi, Head of Sports Sponsorship at TDE, said the investment underlined the importance that DT places on e‑sports and online gaming. "Our networks, products and services provide the best possible environment for the e‑sports and gaming community", claimed Kishi. As apparent evidence of this, the official statement drew attention to SK Gaming's two performance centres in Cologne and Berlin, which are connected using TDE's fibre-optic cables. TDE and SK Gaming claim the network setup provides professionals with the "ideal training environment".
Look to the future, everybody's having fun
Both Kishi and Müller alluded to further plans for developing the online video gaming market, although details were scant.
Kishi thought SK Gaming was the "perfect partner with whom we can cooperate to shape the market into the future", but did not elaborate.
Müller seemed equally ambitious, but likewise vague. "With [DT], we intend to further develop the eSports sector, and in some ways to redefine it", he said. The general idea is to offer gamers the "best possible access to e‑sports". This will presumably involve greater reliance on 5G and its associated promise of enhanced mobile broadband and ultra-reliable low latency communications.
Playtime
DT has steadily become more active in the consumer gaming market in recent years. In July 2019, TDE launched MagentaGaming to select users as part of a free beta‑phase trial (Deutsche Telekomwatch, #86). A cloud-based gaming service, MagentaGaming allows beta testers to stream more than 100 titles. A full commercial service is expected in 2020.
Claudia Nemat, Head of Technology & Innovation at DT, argued in a recent blog that network infrastructure players could make inroads into the highly competitive gaming market, taking on the likes of Google, Microsoft, and Sony. Her optimism for greater involvement rested on her not unreasonable belief that data centres and network performance will largely determine gaming experience.
Another avenue through which DT is exploring online gaming is MobiledgeX (Deutsche Telekomwatch, #70 and passim). The edge computing platform spinout partnered with Niantic, the US‑based creator of augmented reality (AR) games Ingress Prime and Pokémon Go, in October 2018 (Deutsche Telekomwatch, #77). The idea is to develop AR gaming services that will exploit DT's 5G network, MobiledgeX edge servers, and Niantic's proprietary Real World Platform for AR gaming.