SKT's 5G repeaters "upgraded" for indoor testing in Germany.
DT and SKT to analyse customer feedback as part of their 5G tech JV.
No timeframe for commercial launch.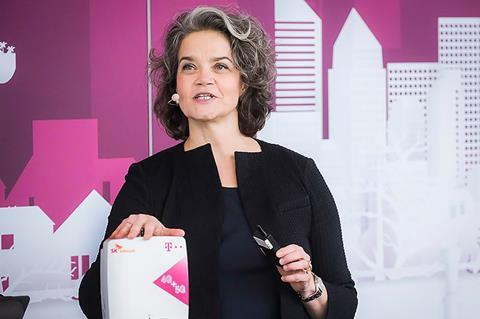 Deutsche Telekom (DT) and SK Telekom (SKT) announced a collaboration on radio‑signal amplification technology as part of their joint venture (JV) focused on developing 5G transport systems (Deutsche Telekomwatch, #85). SKT said it will provide (apparently modified) 5G repeaters to Telekom Deutschland (TDE) and support the NatCo's first indoor coverage trial in Germany.
According to Korea IT Times, SKT started installing the 5G repeaters in South Korea's "major buildings" in 2019. Through work conducted by the JV — which Deutsche Telekomwatch assumes is a 50:50 arrangement — an "upgrade" to the indoor kit to suit the 5G environment in Germany and Europe was completed in January 2020. Details about original equipment manufacturer involvement were not disclosed.
TDE said it planned to launch the 5G indoor trial involving 200 'testers' — comprising both enterprise and individual customers — in the quarter to 30 June 2020, and invited customer applications for trial participation at the end of February 2020. Both SKT and TDE will analyse customer feedback to inform commercial launch plans. No timeline for a full release was specified.
Hagen Rickmann, Managing Director, Business Customers at TDE, identified "smaller business customers" as a market that might especially benefit from better indoor 5G coverage.
Although SKT's 5G repeaters are geared up for high-band frequencies, which are better at penetrating buildings than low-band airwaves, the South Korean operator pointed out that they are also designed to support LTE signals.
In parallel to the 5G repeater announcement, the NatCo said it had 5G commercial services up and running in eight cities, including Berlin, Bonn, and Frankfurt. TDE launched 5G in July 2019 after a long-running and expensive auction of 5G-friendly frequencies (Deutsche Telekomwatch, #84 and #85).
When the 5G JV was announced in June 2019, at SKT's headquarters in Seoul, the two operators flagged various areas of interest. Aside from 5G repeaters, these included development of a "5G in‑building solution", Multipath User Datagram Protocol to manage access for a "seamless connectivity experience", and MPEG Media Transport technology for low latency media streaming.
Other 5G irons in the R&D fire
DT has ploughed other furrows to develop 5G technology and is far from reliant on picking the brains of SKT, even though it is a longstanding technology partner.
In mid‑2019, DT announced a new 5G test bed in Bonn, involving five locations, and Bonn joined Berlin and Darmstadt as a site where the Group is carrying out in‑depth testing of 5G technology and use‑cases. Teams at the facility are said to be working in close collaboration with TDE's 5G Lab in Dresden to study interaction between network and devices.
Working with startups is another key Group focus for 5G innovation. "We intentionally opened up our 5G and edge infrastructure for startups and their ideas at a very early stage", recently claimed Claudia Nemat, Head of Technology & Innovation at DT. TDE reported in July 2019 that 18 startups from nine countries were participating in its 5G Prototyping Programme, working on 15 different projects at the Berlin testbed. The programme was developed by hub:raum, DT's tech incubator. Virtual reality (VR) and augmented reality (AR) are strong elements of 5G testing. hub:raum was said to be considering setting up a programme to help speed up commercialisation of 5G use‑cases built on VR and AR.
DT is also keen to tap into the vibrant startup scene in South Korea and Asia. In November 2019, Deutsche Telekom Capital Partners (DTCP), the investment arm of DT, said it will open an office in Seoul, underlining close Group ties with SKT (Deutsche Telekomwatch, #89). Other DTCP offices are in Hamburg, Silicon Valley, and Tel Aviv.