DT management wants Bolivian–American entrepreneur to have SoftBank's seat on Supervisory Board.
Claure sees potential in "undervalued" DT and is bullish about partnership.
DT offers route to European market for SoftBank portfolio companies.
But the appointment has some drama as a long-running compensation dispute reportedly threatens Claure's relationship with SoftBank.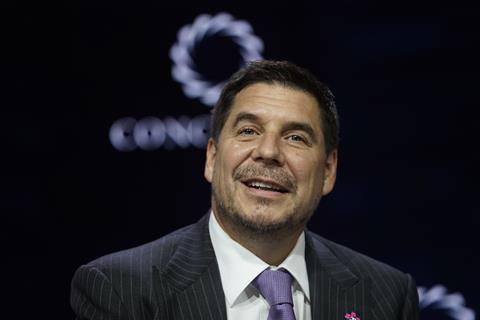 Marcelo Claure, Chief Operating Officer of SoftBank Group and CEO of SoftBank Group International, is set to join Deutsche Telekom's Supervisory Board as part of the recently rejigged relationship between the German operator and SoftBank that resulted in the Japanese conglomerate owning 4.5% of DT.
When the share-swap deal was announced in September 2021, DT said its management will support SoftBank's proposal to elect Claure to the board at the next annual shareholder meeting in April 2022.
The Bolivian-born American businessman will be a unique addition. For starters, he is not German. Eighteen of DT's 20 board members are German nationals. The board's collective career experience span companies and institutions such as Allianz, BMW, Carl Zeiss, and KfW development bank, whereas Claure's background is in building and investing in new businesses, with the notable exception of serving as President of Sprint for four years.
Claure is new to the board, but he is well known to Group CEO Timotheus Höttges and his management team from his time at Sprint, from 2014 to 2018. He worked with Höttges and Head of USA & Corporate Development Thorsten Langheim on the T-Mobile US (TMUS) merger deal and no doubt shares scars from the protracted two-year approval process. Since April 2020, Claure has been on the TMUS board of directors alongside Höttges, Langheim, DT CFO Christian Illek, and DT Head of Europe Dominique Leroy.
Who is Marcelo Claure?
Clay Parker, a lawyer who worked for Claure for 20 years, told the Miami Herald in 2008 that "Marcelo wants to be king of the world… [he] views that everything is a stepping stone to somewhere else, [and his] view [is], if he works hard, he can accomplish it".
In interviews, Claure comes across as driven and passionate with a seize-the-day attitude. His Twitter feed gives the impression that there are more hours in the day for him than for the rest of us. It is regularly updated with posts about his companies, investments, cycling, holidays, family, friends, and football, and peppered with words of encouragement and inspiration for budding entrepreneurs among his 279,000 followers. A common theme running throughout is that 'life is short, so make it count'.
"I have the energy of a teenager (actually more), the drive of a 30-year-old, and the wisdom of my true age (50). You?" he tweeted recently.
He believes the most important advice he can give to anyone is to 'love what you do'. "I'm lucky, I'm passionate, and I actually do love what I do every single second of my life", he said during an interview with Macedonia-born tech executive Mike Zafirovski at Macedonia Summit 2025 in November 2021.
He described himself and Zafirovski as "mistakes". That is, since they both came from small countries, "we are not supposed to be where we are or have the experiences that we have had… a Bolivian is definitely not supposed to be leading one of the largest investment companies in the world… hopefully that mistake will serve to be an inspiration", he declared.
Claure's origin story
Claure got his first job in 1993 when he met Guido Loayza, President of the Bolivian Football Federation, on a flight to La Paz. He became the Federation's international manager at the age of 23 and, in 1994, Bolivia made it to the World Cup. "That taught me that everything is possible", he exclaimed.
In 1994, he started his first company, USA Wireless, after acquiring a retail wireless business from the owner "because he was fed up with it", he told the South Florida Business Journal.
His next startup, Brightstar, was launched in 1997 and would change his life. The mobile device distribution company grew to achieve annual revenue of more than $7bn (£5.3bn/€6.2bn) when it caught the eye of SoftBank in 2013, which acquired a majority stake for $1.2bn.
Zafirovski was instrumental in Brightstar's success, according to Claure. He recounted how they first met in Mexico City in the early-2000s when Zafirovski was COO of Motorola. Claure wanted to pitch Brightstar to be Motorola's exclusive distributor in Latin America but could not land a meeting with anyone more senior than Motorola's local salesperson in the region. When he was invited to a Motorola hospitality event at a Formula One race, he spotted the executive and took his chance to introduce himself. Knowing Zafirovski was an avid runner, Claure suggested they go for a run the next morning. Claure, with a large build at 6 foot 6 inches, admittedly was not much of a runner and indeed "could barely run". But they hit it off and the gambit paid off. The result was that Zafirovski "took a huge bet on me" and Motorola gave Brightstar a $300m line of credit, he said.
"Life is full of these life-changing moments. It's probably one of the biggest stepping stones of my life to determine where I am today", said Claure, noting that the funding was what made it possible for Brightstar to become the "largest Hispanic company ever founded in the US".
Souring on SoftBank?
Following SoftBank's acquisition of Brightstar, the company's founder and CEO Masayoshi Son asked Claure to run Sprint in 2014 and gave him the mission of turning the ailing operator around. That he did and it culminated in the merger with TMUS (Deutsche Telekomwatch, #72 and passim).
This began what has become a close working relationship between Son and Claure since he joined the company in 2017. He is considered to be Son's right-hand man in many ways. As COO of SoftBank Group and CEO of SoftBank Group International, he oversees the Group's strategic direction, portfolio of investments, and the $5bn Latin America Fund he launched in 2019.
Claure wears many hats
Company
Role

SoftBank Group

COO

SoftBank Group International

CEO

WeWork

Executive Chairman

Fortress Investment Group

Chairman

Club Bolivar football club

President

Girona football club

Co-owner

Arm

T-Mobile US

Sorare (fantasy football game based on NFTs)

Univision

Board membership
However, The New York Times recently reported that Claure and Son are in a major dispute about compensation that risks a fallout between the two. Claure reportedly wants roughly $2bn over the next several years, but Son and SoftBank execs want the pay to be in the tens of millions. The report said Claure believes he is owed this amount for "various cleanup jobs", the most recent of which was shepherding WeWork to an initial public offering.
The New York Times described Claure's role at SoftBank as "part Mr. Fixit and part ambassador — untangling messy investments, scouting out lucrative opportunities, and wooing startup founders".
The disagreement has reportedly taken a toll on the relationship between Son and Claure, so much so that Claure could leave the company whether he gets the compensation amount or not, according to unnamed sources.
Claure has also sailed close to controversy by making personal investments in startups that were also invested in by SoftBank, which he then profited from. The company approved of this at the time, but has recently changed its policies to prevent potential conflict of interests.
Mercurial Marcelo
The two men also disagree on the Latin America Fund, according to Bloomberg. Claure is keen to spin it out to create value for SoftBank and swell his own compensation, but Son wants to keep it in-house. Claure reportedly could leave the company if he does not get his way, although he has apparently threatened this before, according to Bloomberg sources.
One source said Claure can be "mercurial" but didn't think he would resign over this.
In a statement sent to Bloomberg, Son said there had been "no discussion of spinning out SoftBank's Latin American Fund… second, Marcelo and I have a strong relationship and he is a valuable member of the SoftBank team".
Spreading the VC love to Latin America
The Latin America Fund seems an enterprise that is near and dear to Claure's heart, and possibly viewed as a way for him to give back after achieving his own business success. He said that, when he launched the fund in 2019, the total amount of venture investing in the region was $1.5bn. Just two years later, venture funding in Latin America totalled $28bn.
The SoftBank fund is not as large or well known as its $100bn Vision Fund, but it reportedly now has $8bn in assets and has invested in 48 companies.
Claure told the Macedonia Summit that his "dream" was to see a "unicorn" emerge in Bolivia. "In the past, you had to be in Silicon Valley to be an entrepreneur. Today, the world is so large and it really doesn't matter where you are. That opens an incredible amount of opportunities", he added.
Passion on the pitch
A passionate football fan, Claure is President of Bolivian football team Club Bolivar and has thrown his weight into securing investment and development with the ambition to create a world-class club and academy. Under Claure, Bolivar is building a state-of-the-art stadium in La Paz, due to be ready in 2025, and getting access to best practices and strategic advice through a new partnership with City Football Group (owners of Manchester City).
Claure is also part-owner of Girona football club in Spain. For a while, Claure and Son co-owned Inter Miami football club with David Beckham, but they sold their share in August 2021.
The Claure effect for DT
Claure's appointment to DT's board is yet another posting in SoftBank's investment empire. But he has probably already made a good impression with his bullishness about the renewed partnership with DT. Speaking to CNBC, Claure said SoftBank was "in it for the long run" and that DT is "undervalued and has a lot of potential".
" There's a lot more that we're going to be able to do with DT, and a lot more that DT is going to be able to do with our portfolio companies. "

Claure.
A key part of the tie-up with DT will be to support DT's "digital telco" strategy through gestation of links with SoftBank's startup investments, Claure indicated.
" We're always looking for digital disrupters and we love what DT wants to do as it relates to becoming the first truly digital telco… it's a combination where we can bring all the digital expertise of the more than 300 portfolio companies that we have… to the intersection between communications and digital. "

Claure.
The SoftBank partnership will give a further boost to DT's efforts to build a bridge to Europe for Asian technology and investments, which it has been exploring via its longer running (but looser) strategic relationship with South Korea's SK Telecom. Claure was enthusiastic about the opportunity to expose SoftBank's portfolio companies to the European market.
" We've learned [with] what we've done in Japan [is] that telcos have a unique way of powering digital companies, so we can gain higher market share [and] at the same time be able to have lower customer acquisition cost. So, first and foremost, we're really proud of the partnership we have struck with Deutsche Telekom… and now we have got to get to work. "

Claure.
-

Michelle Donegan is an experienced telecoms writer and has been contributing as a reporter and news analyst for TelcoTitans since July 2020.