Avidan brings entrepreneurial mindset to DT IoT as he seeks to transform the business and meet growth ambitions.
Major strategic initiative, IoT Hub, planned for commercial launch in early-2021.
Hints are made at "inorganic activities" in future, but current initiatives driven by organic efforts and strategic partnerships.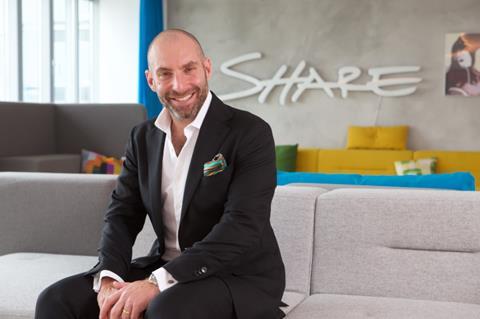 Rami Avidan, CEO of Deutsche Telekom's new Internet of Things (IoT) unit (DT IoT), has been in the business of connecting things for 20 years, long before it was called IoT. Now, he is on a mission to harness the IoT activity of DT to build something more than a predominantly connectivity-based business.
Speaking to Deutsche Telekomwatch, Avidan shared his vision and plans for DT IoT.
Avidan joined DT in April 2019 as Senior Vice-President for IoT and became CEO of Deutsche Telekom IoT GmbH on 1 July 2020, when the business was spun out as a separate legal entity — but remained operationally under the Group's enterprise division T-Systems (Deutsche Telekomwatch, #82 and #92). In October 2020, Deutsche Telekomwatch revealed that DT IoT will be moved from T-Systems in 2021, to be managed by German NatCo Telekom Deutschland and its new CEO Srini Gopalan (Deutsche Telekomwatch, #99).
Avidan lives in Sweden, does not speak German, and avidly supports Manchester United. That makes him quite an outsider at DT, and perhaps ideally suited to revamp the IoT business to meet ambitious growth plans. He also brings an entrepreneurial spirit to the role, having launched and grown businesses during his career, and most recently built up Tele2's IoT unit.
DT considers IoT a high growth area. Setting up DT IoT as a separate entity is intended to give the business more autonomy and flexibility, enabling it to grow faster than if tethered to a corporate unit, just as DT has done with the parallel spin-out of Telekom Security from T-Systems on 1 July 2020 (Deutsche Telekomwatch. #95 and passim).
"I can tell you that IoT is a strategically important area for DT", said Avidan. "[DT CEO] Tim Höttges is adamant that this business for DT is a must-be position and a must-win position".
According to a Berg Insight report that ranked operators by volume of cellular IoT connections, DT is not among the top five globally and some way behind international rivals. DT's cellular IoT connections are "in the range of 24 million–46 million", placing the operator behind China Mobile (683 million), China Unicom (190 million), China Telecom (157 million), Vodafone (97 million), and AT&T (66 million — Deutsche Telekomwatch, #96).
The financial size of the business is elusive as DT does not report IoT revenue (although regularly flags it as growing). But Avidan said a rough breakdown of DT IoT revenue is that 70% comes from connectivity, which is growing 15%–20% annually, outperforming the global market (which is expanding at 13%–15%). The remaining 30% is derived from "solutions, hardware, and enabling capabilities", he said, noting that "that's a high growth area for us. We're putting more emphasis on that going forward".
Laying the organisational and cultural foundations for growth
The organisational move to TDE puts DT IoT closer to Deutsche Telekom Business Solutions, TDE's recently established enterprise communications business, rather than the now-predominantly-IT-focused T-Systems (Deutsche Telekomwatch, #94).
For Avidan, this move to management by TDE is important because one of his early initiatives has been to corral all the disparate IoT activities within DT into one structure. He also said that his business will continue to work closely with T-Systems as its preferred, although not exclusive, systems integrator (SI).
"When I joined, there was a substantial IoT business in DT, but it was spread out across the group", he said. "I stepped into a well-working business, delivering decent results, but it needed to really step up to the plate to harness the power that is there in DT".
Over the last 18 months, Avidan has been focused on "consolidation and simplification", which included streamlining the portfolio, removing redundant platforms, restructuring the organisation, and improving decision-making processes — as well as "difficult decisions with regards to people".
DT IoT currently has roughly 700 staff, and Avidan did not specify how many have been let go as part of the recent overhaul.
Altogether, he said the changes have "radically improved our cost position, making the business sustainable and profitable". "We're in a good place — we have a lot of talented people and great capabilities", he said.
Vision, innovation, and what's next?
When Avidan joined DT, his priority was to "get our story right". With his vision and strategy for the business now established, DT IoT is "knee-deep into execution".
Now, he has turned his attention to innovation. "One of the things that we were potentially lacking a little bit in the past has been the notion that you have to innovate to stay alive", he said. "We're much more focused on innovation now — i.e., driving 'Horizon Two' and 'Horizon Three' parts of the business. And that happens partially organically but also through strategic partnerships".
He pointed to DT's recent seven-year strategic agreement with Microsoft and a relationship with Siemens' Mindsphere as examples.
DT IoT's Horizon Two efforts include the IoT Hub, its in-house developed, open IoT platform architecture, and a recently launched IoT Creators programme that provides customers a place to test and build new IoT capabilities, and engages with application developers. Another example is DT's nuSIM integrated SIM for IoT devices (Deutsche Telekomwatch, #87 and #96).
Horizon Three projects are 18–24 months down the road. Avidan did not divulge any details but would only say that the projects will be in core areas such as connectivity, device management, and security.
Finally, he hinted at potential "inorganic activities" in future as the last piece of the growth puzzle. "In the second half of 2021, I wouldn't be surprised if DT announces one or two of those potential moves, but it's way too early for me to comment", he said.
IoT Hub takes centre stage in strategy
Avidan considers the IoT Hub to be the centrepiece of his strategy for the IoT business. "Our vision is to be the orchestrator within the IoT ecosystem", he said. "We build horizontally and go to market vertically".
That means DT builds the underlying infrastructure — i.e., the IoT Hub — and invites partners to create the vertical solutions, which either they, DT IoT, or other partners then sell to customers. The model is based on "co-opetition" with players from across the IoT landscape, from hardware to cloud to SIs.
The IoT Hub will broaden DT IoT's go-to-market strategy to include direct and indirect sales channels. "We do business directly with customers — [for example], automotive. Then, we are also now opening up the indirect channel with the ability for partners to build solutions on top of our stack and then sell it on themselves", he said.
DT IoT is gearing up for the commercial launch of the IoT Hub in the first quarter of 2021, which will be a big test of Avidan's strategy. First unveiled in early-May 2020, the IoT Hub has been in friendly customer trials since July 2020. Avidan said the feedback is "very, very good".
Avidan likened the essence of what DT is attempting to do with the IoT Hub to what Apple did with the App Store and engaging the smartphone developer community.
"We have all these millions of devices out there and thousands and thousands of customers. We're engaging with a huge amount of different types of customer across the value chain. We should be able to attract the wide variety of ecosystem players to build suitable capabilities for those customers on top of our infrastructure. Together, those players create value for customers on top of the infrastructure", he said.
To be the orchestrator for the IoT ecosystem requires two things: an appealing business model for partners, and an infrastructure to attract the IoT players, said Avidan.
DT IoT currently has more than 350 partners in areas including IoT devices, chipsets, wireless communications modules, wearables, and cloud services. Not all are part of IoT Hub, and DT IoT has not disclosed how many ecosystem partners have committed to the Hub.
Two recent examples of high-profile partners in the IoT ecosystem are Microsoft and Amazon Web Services, whose recent collaboration agreement with T-Systems will contribute to the IoT Hub strategy.
What is the IoT Hub?
The objective of building the IoT Hub is to bring together all the pieces needed for IoT solutions and integrate them into a single infrastructure that makes it easier for customers to consume and manage the services. It is a modular approach that gives customers the flexibility to buy individual components and build their own solutions or buy plug-and-play, end-to-end solutions, while DT IoT orchestrates the solution components and customer platforms.
"This is not yet another IoT platform", said Avidan. "It's an infrastructure that allows interoperability between underlying capabilities, whether the capabilities are from Deutsche Telekom or external partners".
The components of the IoT Hub include connectivity, devices, sensors, cloud, and then the applications that are created to sit on top of the IoT Hub.
"If you take any IoT use-case in any industry, 70% of all those use-cases require the same fundamental capabilities. The 30% is where you have to start individualising the solution for specific use-cases. What we're doing now is basically building that 70% that goes across all use-cases. That is where Deutsche Telekom is investing," he said.

Michelle Donegan is an experienced telecoms writer and has been contributing as a reporter and news analyst for TelcoTitans since July 2020.