CEO gets a two‑year extension as results hold up during overhaul.
Deal positions 2022 as target year for emergence of revamped T‑Sys.
Cash flow production remains the big unticked box.
DT confirms coming extraction of division's network activities.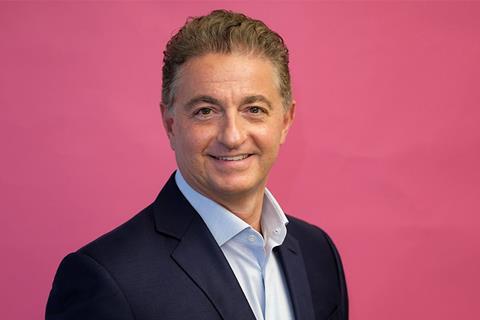 Adel Al‑Saleh, Chief Executive (CEO) of T‑Systems (T‑Sys), was rewarded with a fresh contract as the division achieved a rare feat of hitting its marks, financially, during the year to 31 December 2019 (FY19).
The CEO — who joined Deutsche Telekom (DT) in January 2018, to inject new ideas and impetus into the Group's T‑Sys turnaround effort (Deutsche Telekomwatch, #67) — was in September 2019 handed a two‑year extension to his original, three‑year deal, DT disclosed in its FY19 Annual Report.
By the time the new contract is up in December 2022, DT hopes not only to have completed the organisational and financial overhaul of T‑Sys but also reignited the enterprise services division as a growth-oriented digital and post‑digital services player, unencumbered by its margin-light legacy. The Report gave a further hint that it has this timeframe in mind for New T‑Sys's birth by noting, elsewhere, that the division aims to achieve a "significant shift in the revenue mix toward our growth areas by 2022".
As always with T‑Sys, there appears some nuance to DT's retention of Al‑Saleh. As shown by T‑Sys's results for FY19 (see below), the division is making progress in its turnaround programme — and Group leadership will no doubt have warmly appreciated this, given the numerous false starts it has seen in the past. At the same time, the mission is by no means accomplished, and it is clear that further measures have recently been deemed necessary to give the reorganisation additional thrust, such as the coming extraction of unprofitable Telecommunications Services (TC Services) activities and growth-led Internet of Things (IoT) and Security businesses from T‑Sys's main hierarchy (Deutsche Telekomwatch, #86 and see separate report).
The contract extension is an evident vote of confidence in Al‑Saleh, and offers stability in a time of radical change at T‑Sys. It could also be seen as a form of compensation for being open to this carve‑up.
It is not yet clear how much DT has bumped up Al‑Saleh's remuneration, which totalled €2.27m in FY19, including a €900,000 fixed annual salary.
Restructure: the foundations in place; partnership enthusiasm still evident
The language in DT's FY19 presentation suggested that, in terms of organisation change, T‑Sys is nearing an endpoint in the overhaul.
DT CEO Timotheus Höttges sought to stress that DT had enacted an "aggressive" reset of T‑Sys's sales organisation, and the Group's slide deck reported its new portfolio model (see table) was now "fully operational". However, the new measures, seeing the transfer of the Classified ICT and TC Services units to Telekom Deutschland (TDE), and spin out of Deutsche Telekom IoT and Telekom Security, are not expected to be firmed up until mid‑2020. There are also various other loose ends to be tied up, such as where T‑Sys's challenged mainframe services business will end up, following a failed sale to IBM in 2019 (Deutsche Telekomwatch, #84).
DT's emphasis remained on refashioning T‑Sys as a more agile and future-proof business, with significantly reduced reliance on areas dragging down its profitability because of competition and commoditisation. The Annual Report stressed that its interest for growth is in "cloud services, big data, smart network services such as Industry 4.0, the Internet of Things, and M2M, as well as for the mobilisation of business processes and ICT security".
Partnership opportunities remain a feature of the reorganisation, as seen with recent refreshed alliances with the likes of SAP and Software AG (Deutsche Telekomwatch, #77, #85, and passim). "A focus on scalable business models and global partnerships with specialised vendors enables attractive margins and our continued investment in these areas", the Report added.
Also noticeable was the use of the term "global" in relation to partnerships — another sign the slimmed-down and refreshed T‑Sys is looking beyond its traditional German and European heartland. Germany continues to contribute around three-quarters of T‑Sys's revenue, but the division has been hinting at a more international focus in recent months, particularly in IoT (Deutsche Telekomwatch, #77 and passim).
T Sys's "redefined" portfolio structure

"Cluster"

Unit

Operational change (if applicable)

Revenue (FY17)

Target

(FY17–FY21)

Note: * "DT view".

Source: Deutsche Telekom

"Telecoms Core"

TC Services (Fixed-line & Mobile Services)

Transferring to TDE

€2.2bn

Stability

"Growth Portfolios"

Classified ICT

Newly created in restructure and transferring to TDE

€0.4bn

Growth

IoT

Spinning out as separate entity

€0.3bn *

Growth

Security

Spinning out as separate entity

€0.3bn *

Growth

Road Charging

–

€0.1bn

Growth

Digital Solutions

Newly created in restructure

€0.4bn

Growth

Public Cloud Managed Services

"Enhanced" in restructure

€0.1bn

Growth

SAP

"Reshaped" in restructure

€0.5bn

Growth

Health

"Emerging" in restructure

Undisclosed

Growth

"Classic IT"

Managed Infrastructure Services & Private Cloud

"Reshaped" in restructure

€2.5bn

Decline

Dedicated Systems Integration Solutions
Earnings box ticked but can new T‑Sys become a cash producer?
As in FY18 (Deutsche Telekomwatch, #81), T‑Sys's figures showed progress as the division works through step‑by‑step improvement of its P&L, from the top‑line down.
Order entry continued a pickup seen since the restructuring began, rising 8.2% across FY19, with an on‑message T‑Sys attributing this primarily to a "positive trend in our growth areas, in particular digital solutions, public cloud, and also road charging".
Revenue rose slightly in Q4 (+0.2%), but not enough to prevent T‑Sys from contracting across the FY as a whole (‑1.9%). Still, this will not have been too great a worry for the increasingly profit‑ and cash flow‑oriented business. Group Chief Financial Officer Christian Illek said, in terms of T‑Sys sales, the "underlying trend is moving in the right direction". Revenue was expected to be stable in FY20 — although DT's forecasts came before the ramp‑up in COVID‑19 containment measures hit economies internationally.
T‑Sys comfortably met its key target for the year — moving into growth on earnings before interest, taxation, depreciation, and amortisation (EBITDA). On an "adjusted" basis, EBITDA jumped 17.4%, driven by cost cutting associated with portfolio streamlining and other transformation measures — which include mid‑management trimming and transfer of functions to India. DT expected another strong growth figure in FY20, albeit pre-coronavirus.
Cash flow is where T‑Sys is mandated to deliver in FY20, under the plan outlined at DT's 2018 Capital Markets Day (Deutsche Telekomwatch, #74). However, it remains some way away from achieving its target of beginning to contribute positively to the Group kitty. DT does not break out official cash flow figures for T‑Sys, but in FY19 the division's operating profit came in at €140m and was heavily outweighed by capital expenditure (capex) of €384m, so evidently has significant work to do during the current FY. It remains unclear how the extraction of the network and growth businesses will alter the picture on T‑Sys's cash flow, but it was noticeable there was no reaffirmation of this Capital Markets Day objective by Group leadership during the FY19 presentation.
Spend: IT and people savings remain on agenda
Spend‑wise, leanness remained a key theme of the Al‑Saleh plan for T‑Sys.
FY19 saw confirmation of a sharp drop in capex at the division (‑16.9%) owing to dissipation of a one‑off splurge in FY18, to fire up growth areas and implement new management systems (details of which have not been revealed, but ServiceNow and Salesforce appear among beneficiaries). T‑Sys said it expects capex to be stable in FY20 and FY21.
Headcount fell 3.5% on a pro forma basis, amid the downsizing.
Management also talked up T‑Sys's interest in automation going forward, to build on a reported €30m reduction in IT costs during FY19.
Deutsche Telekom, Systems Solutions financial summary (adjusted), Q4 FY19
Q4 FY18
Q4 FY19
Change
Sources: DT and Deutsche Telekomwatch.

Total revenue

€1,842m

€1,854m

0.7%

1

EBITDA

-€13m

€91m

800.0%

1000

EBITDA margin

-0.7%

4.9%

5.6pp

Depreciation, amortisation, impairment

-€157m

-€123m

Operating profit

-€170m

-€33m

80.6%

101

Cash capex (reported)

€110m

€151m

37.3%

47