All mobile network and 93% of fixed lines now recovered.
35,000 new fibre connections to be built in worst-hit areas.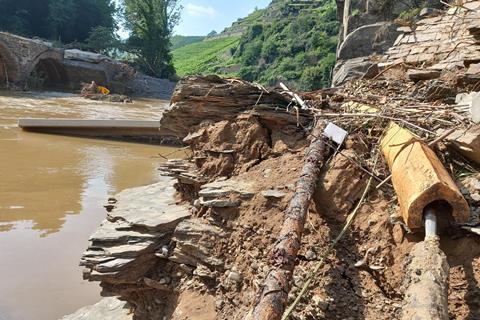 Deutsche Telekom (DT) delivered an update on its network rebuild project in Germany, three months after flash floods hit the country and others in Europe.
Speaking at a virtual gathering of telecoms provider association ETIS, Marco Holzwarth, Senior Vice-President of the Operating Office at Deutsche Telekom Service, said that mobile networks are now fully restored, while 93% of fixed lines have also been recovered.
July 2021's flash floods claimed the lives of 183 people in Germany, causing an estimated $20bn (£14.5bn/€17.3bn) in damage. They also impacted various countries throughout Europe including Belgium, Croatia, Italy and the Netherlands.
In his presentation, titled "Beyond digital infrastructure resilience in a hotter world: How to strengthen contingency and long-term disaster recovery planning", Holzwarth focused on DT's ongoing work in two German villages, Alteneahr and Dernau, which were hit particularly hard. Within two hours of the initial flooding, both villages had lost 60%–80% of their infrastructure. This was not simply limited to communications, but electricity, water, the sewer system, and everything in between.
In total, the damage left about 250,000 residents without mobile network access and 102,000 without fixed lines. DT's main switching stations were said to be some 2m–3m underwater, offering little chance of an immediate fix.
" It's not about the resilience of the infrastructure or reconstruction of hardware. It's about taking care of the people. That's priority number one. "

Holzwarth.
The floods, Holzwarth said, were considered to be at an end on 16 July 2021. Within two days, 50% of the mobile network was recovered and, within a week, that number had reached 100%.
The next priority was to re-establish fixed lines. DT's field service technicians went door-to-door to reinstall all cables and customer premise equipment as they aimed to restore the entire network. At the time of writing, approximately 62,000 customers had reportedly received a home visit, with 93% of fixed lines now said to be recovered.
For those whose lines could not be restored quickly, DT built a new product, Router Speedport Pro, "within two to three weeks", enabling customers to access the network via LTE in the interim period. Rather than replacing copper lines like-for-like, DT is building out fibre, delivering 35,000 new connections in the most badly affected areas.
"There is still a tremendous task ahead", declared Holwarth, vowing that DT will remain in the area "until absolutely everyone is connected".