Industry steps up efforts to attract more people in tight labour market and keep fibre rolling.
"Unprecedented" demand gives candidates the upper hand.
Signs of progress on gender diversity and hiring more women in traditionally male-dominated roles.
BT, Openreach, and Virgin Media O2 tout apprenticeship plans.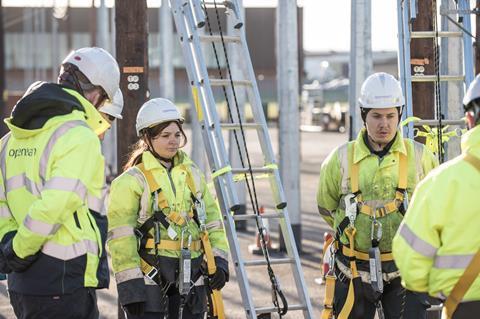 It's National Apprenticeship Week in the UK. For the telecoms sector, the week‑long promotion highlights the efforts to attract, train, and retain talent — and increase diversity — in a tight labour market amid nagging concerns that a skills shortage could slow down the roll out of full-fibre broadband and put the government's target of achieving 85% Gigabit-broadband coverage by 2025 beyond reach.
In the wake of Brexit and the coronavirus pandemic, the UK has a record 1.2 million job vacancies. According to the latest report from the UK Office for National Statistics (ONS), in November 2021 more than half of businesses with worker shortages said they could not keep up with demand.
The number of vacancies in the telecoms industry is not specified, but ONS reported 71,000 vacancies in "information and communication" and 122,000 in "professional scientific and technical activities".
Earn-while-you-learn apprenticeships are one way to acquire in-demand skills and this week saw a flurry of announcements:
Openreach said it will create and fill 4,000 jobs this year, including via hiring 3,000 apprentices, calling it part of the "largest recruitment drive" in its history. In the last two years, the network infrastructure provider has trained 8,000 apprentices. Openreach also said it will retrain more than 3,000 existing engineers over the next year, shifting skills from copper‑based technologies to fibre.
BT separately announced it will fill 336 apprentice roles and recruit 286 graduates as part of its September 2022 intake across applied research, customer service, cybersecurity, and engineering, as well as supporting 5G network build.
Virgin Media O2 announced plans for 200 apprenticeship roles to support its 5G and broadband deployments and said there are 100 apprenticeships available in engineering, ranging from in‑home broadband and TV installation, Gigabit network rollout and maintenance, to digital marketing and project management.
BAI Communications, which has a 20‑year concession with Transport for London to provide neutral host mobile connectivity for the London Underground, launched a new programme for "multiple" apprenticeships, but did not specify how many. Initial roles include field technician, network technician, and project assistant, with more planned to be offered next year.
"[Apprenticeships] especially work when there is a skills shortage in an industry, which there is in telecoms at the moment, and that's just going to continue for quite some time until… we've encouraged young people to go into this industry far more proactively", said Crissi Williams, Chief Executive of the Institute of Telecommunications Professionals (ITP), a not‑for‑profit organisation that provides mentoring, continuing personal development, and apprenticeship and recruitment support for the telecoms sector in the UK.
A likely bit of encouragement is that telecoms apprenticeships are generally higher paid. They typically start at about £21,000 (€24,904) per year compared with schemes in other sectors that begin at £10,000. Openreach's newly announced trainee engineering roles have a starting salary of £21,845, which can rise up to £28,353 after a year of specialist training.
Williams wants to raise awareness of apprenticeships in telecoms at schools as well as at smaller operators that might not know about some of the government‑funded programmes available to them for skills training. She is also on a mission to "challenge perceptions" and "change hearts and minds" among employers when it comes to recruitment.
The right person for a role does not necessarily have to hold a certain qualification or university degree. Rather, hiring can be a matter of spotting raw talent. "The world has changed. You can recruit the personality and train the skill… especially when there is a skills shortage", she highlighted.
Training up the fibre workforce
Telecoms apprenticeships span various roles across the business, but some of the most in‑demand skills are for the engineers who are out in the field digging up streets, laying fibre underground, hanging fibre overhead, and installing customer connections. A group of telcos and service providers, led by BT, created a new apprenticeship course, "Telecoms Field Operative", which was approved in May 2020 and specifically designed to meet these needs. The course takes 15 months to complete.
The Education and Skills Partnership (ESP) is one of four independent training providers that offers a course for this apprenticeship qualification. Jason Hargreaves, Managing Director at ESP, said his company is seeing more demand across the board and the "greatest demand" in telecoms training. "It's the sheer pace of the digital network [rollout] and how important that digital network has become to everybody", he noted. ESP recently added 20 instructors to its telecoms team, making it the company's largest.
Unprecedented demand puts candidates in control
Compared with Openreach — which has 15,000 engineers working on fibre‑to-the‑home build and provisioning, a recruitment rate among engineers of 1,000 per quarter as of November 2021, and eleven regional training centres — the country's 80‑plus alternative network builders with fewer resources are likely to have a harder time getting skilled people in the tight labour market.
Emma Atkins, founder of fibre industry recruitment firm FibrePeople, described the demand for labour as "unprecedented" and the market as "completely candidate‑led". Skilled fibre engineers are changing jobs more often for better pay or conditions, salaries are rising in some places as employers compete for talent, and altnets keep popping up and creating more demand for staff. Also, "the number of qualified applicants is falling quite a lot", too, she said.
The situation is not helped by the fact that other industries are thriving and chasing similar skill sets, such as construction. Also, Brexit has had a "slight impact" on the workforce, she remarked.
Atkins is chair of the Labour and Skills special interest group at the Independent Network Cooperative Association (INCA) and is working on several initiatives in the areas of candidate attraction, diversity, and a coordinated approach to training and upskilling, "to help bridge these gaps we're seeing".
She said there was a "lack of knowledge of the industry". Telecoms overlaps with IT and construction, but it "needs to be seen with its own identity", she explained. INCA is putting together marketing videos to raise awareness and interest.
Just as important as attracting people is training and retention — "ensuring there are enough training places to bring new people into the industry and upskill the existing workforce", she said, adding that "it's important for the altnets to give a really good candidate experience, keep their employees engaged, so that people are not looking to move around".
She stressed that the skills challenges needed to be "addressed quickly and with tangible efforts across the board".
According to Ferdinand Nijboer, Senior Economist at ING, fibre rollouts across the UK and Europe will feel some effect from chip shortages in the short term for equipment such as fibre‑optic modems, but the biggest constraint will be labour shortages that reduce construction capacity.
In a recent blog, he said that civil engineering works account for up to 75% of FTTH capex, which means construction capacity shortages can have a "major impact on FTTH deployment costs". The UK is not alone in having a tight labour market, and he noted there are about 3,000 vacancies in Germany for skilled people in fibre construction, "and the amount of people required is likely to rise in the coming years".
CityFibre's Director of Supply Chain James Thomas talked about the problem of labour shortages for the industry in a recent interview with TelcoTitans and said that training and recruitment were "massively important". "When you add up everyone's plans, there's a lack of human resource, not just in the civils gangs but also those more technical fibre skills and, increasingly, the back‑office skills around programme management and the permitting", added Thomas.
CityFibre has 25 build contractors that supply 3,500 "boots on the ground". The altnet expects to increase its contract workforce to 5,000 in the next year as it scales up its network build.
Girl power for fibre
Along with attracting more people, there is a big push to get more women into fibre engineering roles. According to the latest Gender Pay Gap report, women have 14% of lower pay level telecoms roles and 21% of high-paying roles.
Atkins launched the Women in Fibre Initiative to raise the profile of women working in the fibre industry and open the door for others through a series of events. The project is being further developed with INCA.
"It's not an industry that is usually attractive to women or they don't feel it's an industry for them… That diversity brings new ideas. It would only make it a better industry for that", she said.
The ITP is also working to close the gender gap in telecoms. ITP's Williams said that of the 348 apprenticeships the organisation delivered in the last year, 36% were women, which is "incredible". The group recently supported altnet Vorboss with recruitment for its Female First Initiative.
Vorboss, which is rolling out fibre to enterprises in London, wants to have a 50:50 gender split among employees — and has so far achieved a workforce that is 41% female. Getting so many women hired was partly down to getting the wording right in the job adverts, said Williams. "The job title really matters… Rather than a fibre installation engineer, it could be a customer connection specialist. It's the same thing, but means different things to different people", she noted.
An Openreach study found that hidden gender bias in job adverts discouraged women from applying for engineering roles. Changing the wording, construction, and skills descriptions used in ads — including removal of the term "engineer", which is still strongly perceived as a male role — resulted in attracting 300% more women to engineering roles. Openreach said that 20% of engineers hired in 2021 were women, which is the target it was aiming for and hopes to repeat, compared with less than 5% in FY18–19.

Michelle Donegan is an experienced telecoms writer and has been contributing as a reporter and news analyst for TelcoTitans since July 2020.