Scotland has hardest to reach rural communities.
Increased FTTP activity intensifies competition for skilled engineers.
Scottish government pumps funds into rural broadband.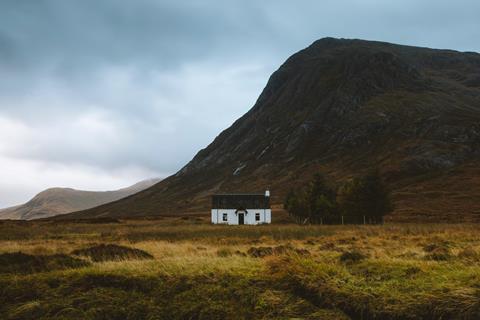 As in other parts of the UK, Openreach is ramping up full‑fibre rollouts and rural deployments in Scotland. But the geography and vast rural areas, along with intensified competition for skilled engineers, could make the region Openreach's most challenging fibre market in the UK.
With 13% of Scottish homes having access to full‑fibre broadband services, Scotland is on a par with England (13%) and just below Wales (15%), but not even close to the full‑fibre penetration of Northern Ireland (49%), according to Ofcom's latest Connected Nations Update (BTwatch, #315).
Percentage of homes with full‑fibre access across the UK
Access to full fibre services
September 2019
May 2020
Source: Ofcom Connected Nations Update: Summer 2020.

UK

10%

14%

England

10%%

13%

Northern Ireland

31%

49%

Scotland

8%

13%

Wales

12%

15%
Challenges: physical geography…
Openreach does not break out deployment figures for Scotland, but the rollout is part of the access service provider's £12bn plan to deploy full‑fibre to 20 million UK premises by the mid- to late‑2020s, and to 4.5 million by March 2021. As a general rule of thumb, it is understood that Scotland accounts for about 10% of Openreach's fibre run rate.
When it comes to the basic process of building out fibre, Scotland is no different to any other part of the UK, according to Robert Thorburn, Partnership Director for Scotland, Openreach. "The build is the build", he said.
But there are some big differences in that Openreach works with 32 local authorities across Scotland and in contrasting geographies ranging from urban to very rural, he explained, noting that Openreach is the only fibre builder that works across the whole territory in urban, rural, and very rural areas.
… and human
One of the challenges is that there is more competition for contracting resources and Openreach needs suppliers that can work in cities as well as very rural communities. Thorburn said Openreach was "absolutely fine today" and has the resources it needs for its current connectivity plans for Scotland, but a "wider reach of resources is going to be needed" in future.
" Obviously, as we ramp up and drive more full‑fibre builds over the next number of years, it's going to become more competitive. The challenge for every provider moving forward is that the pace and scale of work that we're all doing is driving the need for more skilled resources within those areas. "

— Thorburn.
In Scotland, Openreach has 3,200 employees — the majority of which are in engineering roles, such as fibre provisioning or network repair — and 700 contractors. The operator has also recruited 600 trainees over the last two years.
Openreach's main contractors for the full‑fibre build in Scotland are Morrison Telecom Services and KN Circet (BTwatch, #310 and separate report). For other provisioning work, such as fibre-to-the-cabinet (FTTC) and installing new lines, Openreach uses Kelly Group and MJ Quinn.
" In Scotland, we are focused on making sure that we've got the right resources in the right places to be able to deliver the connectivity to those really hard-to-reach locations, which none of the rest of the UK have. . We have quite some unique challenges to deal with. It does make it exciting to build in those locations but challenging nonetheless. "

— Thorburn.
At the end of July 2020, Openreach announced plans to build full‑fibre to 60 small towns and villages in rural Scotland, covering "hundreds of thousands" homes and businesses — notably, without government subsidy. The locations include Aviemore, Campbeltown, Cumnock, Dunbar, Kilsyth, Peebles, and Thurso. Work is planned to start in the next twelve to 18 months, but will likely continue through 2024 due to the size of the build project.
Full‑fibre rivalry heats up
Openreach is not alone in its full‑fibre ambitions for Scotland. Its largest full‑fibre rival in Scotland is Virgin Media, followed by CityFibre and Hyperoptic, and the latter two are primarily focused on building fibre in cities.
Operator
Planned or deployed FTTP
Source: company websites.

CityFibre

£4bn Gigabit City Investment Programme includes Aberdeen, Dundee, Edinburgh, Glasgow, Inverness, and Stirling.

Hyperoptic

Full-fibre in cities and suburbs of Aberdeen, Dundee, Edinburgh, Glasgow, and Fort William with a focus on multi-dwelling units.

Virgin Media

More than 220,000 premises passed in Scotland as part of £3bn Project Lightning programme.
Public funding support for rural builds
While there are some commercial plans, most broadband and full‑fibre connectivity in very rural areas is heavily reliant on government funding. As the seven‑year Digital Scotland Superfast Broadband (DSSB) programme winds down, the Scottish government is pushing for more rural broadband coverage.
Since the £463m DSSB gap-funding programme launched in 2014, Openreach connected 950,000 premises in Scotland with fibre broadband — primarily FTTC and some fibre-to-the-home — and contributed £146m to the project. "Superfast" broadband (30Mbps or more) is available to 94% of Scottish homes, according to thinkbroadband.
Now, the Scottish government is prioritising the hardest-to-reach rural areas with the £600m Reaching 100% (R100) programme, which aims to connect by 31 December 2021 the remaining 5% of homes that do have access to at least 30Mbps broadband and are not covered by operators' commercial deployment plans. But the project has been delayed, and the network build is expected to be mostly completed by the end of 2023.
Openreach won two of the three R100 contract lots, which cover central and southern regions of Scotland (BTwatch, #308). But Openreach's contract for the third and largest lot in the northern region — covering 99,288 premises and worth £384m — has been delayed by a legal challenge from fibre altnet Gigaclear (BTwatch, #309). Gigaclear settled this dispute in August 2020, which paves the way for the Scottish government to finalise the R100 procurement with Openreach.
In total, R100 will see the deployment of nearly 179,000 superfast connections in Scotland, with 25% of premises in nine areas required to receive speeds of at least 100Mbps on a connection that is theoretically capable of providing Gigabit rates, in line with the programme's overall aim of encourage the deployment of fibre-to-the-premises (FTTP) where possible.
Openreach said it expects to reach 50,000 premises in the next four years in southern and central Scotland. The build in the southern region will be entirely full‑fibre, while the central region will have a "high proportion" of full‑fibre.
And for those who will not have access to superfast broadband by the end of 2021, the Scottish government launched the Scottish Broadband Voucher Scheme, offering £5,000 vouchers for broadband connections for premises where there is not a planned deployment and £400 vouchers for interim connections ahead of planned superfast rollouts.
Recent UK and Scotland government-funded broadband programmes
Project
Funding
Goal

Note: * Reported estimate, according to ISPreview.

Source: government websites.

Digital Scotland Superfast Broadband

£463m

Superfast broadband — primarily FTTC — coverage in Highlands and Islands and rest of Scotland.

Reaching 100% Broadband

£600m

100% superfast broadband coverage for all homes and businesses in Scotland by December 2021.

Scottish Broadband Voucher Scheme

Between £26.4m and £50.7m (estimate) *

For premises without superfast broadband by December 2021, vouchers up to £5,000.

Local Full‑Fibre Network Programme

£2m

Fibre network extension to schools and council buildings on Shetland islands.

Local Full‑Fibre Network Programme

£4.5m

Full-fibre broadband access in Inverness, Fort William, Wick and Thurso.

Scottish 4G Infill

£25m (including £10m from European Regional Development Fund for the Highlands and Islands)

Mobile infrastructure and services for up to 60 "not spots".

Rural Gigabit Voucher Scheme

£67m (UK total)

For rural premises with broadband speeds of less than 100Mpbs, vouchers of £1,500 for homes and £3,500 for small businesses to support cost of installing faster broadband.

Rural Gigabit Connectivity Programme

£200m (UK total)

Full-fibre Gigabit broadband for public sector sites and businesses, encouraging connections to homes.

Michelle Donegan is an experienced telecoms writer and has been contributing as a reporter and news analyst for TelcoTitans since July 2020.