Openreach Northern Ireland accelerating full-fibre rollout as challengers expand their ambitions.
Market has highest full-fibre coverage in UK, but urban–rural divide persists.
Startup Fibrus takes on Openreach and Virgin Media.
Long-awaited, £165m Project Stratum to be awarded soon.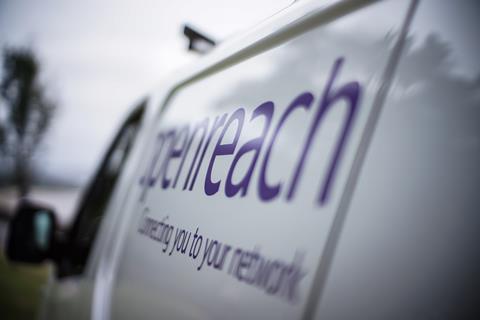 Northern Ireland is a land of broadband extremes. The country has the highest level of access to full-fibre broadband in the UK, and the largest proportion of residential and business premises (6%) that cannot get a decent broadband connection of at least 10Mbps. It also has the lowest access to superfast broadband (which Ofcom defines as at least 30Mbps).
While full-fibre access looks impressive, the country's broadband outliers point to a wide gap between urban and rural broadband quality. Most of the recent full-fibre rollout has been in urban areas. According to Ofcom, 39% of urban homes have full-fibre access, compared with 11% of rural homes. And of the 55,000 of premises without decent broadband access, 44,000 are in rural areas.
Looking at the current market dynamics, Northern Ireland looks set to keep its lead in full-fibre broadband and even fill some rural broadband gaps, driven by an influx of public sector investment, increased activity from the market's two main rivals Openreach and Virgin Media, and bold moves from a fibre-building new entrant.
The latest Ofcom Connected Nations Update (based on data from January 2020) reveals that 41% of homes in Northern Ireland have access to full-fibre broadband services, far higher than the UK national average (12%) or coverage in England (11%), Scotland (10%), and Wales (13%). Given further deployments this year, full-fibre coverage in the region is now likely to be higher. For example, current data from thinkbroadband shows full-fibre coverage in Northern Ireland getting close to 50%.
The region is also rolling out fibre at a faster rate than the rest of the country. Full-fibre broadband reached 25% of homes at 31 May 2019 and this had grown to 41% by 31 January 2020. The UK average saw full-fibre coverage increase from 9% to 12% in the same timeframe.
Percentage of homes with full fibre access across the UK
Access to full fibre services
May 2019
September 2019
January 2020
Sources: Ofcom Connected Nations Update, spring 2020.

UK

9%

10%

12%

England

8%

10%

11%

Northern Ireland

25%

31%

41%

Scotland

7%

8%

10%

Wales

10%

12%

13%
The primary reason why Northern Ireland ranks so highly in full-fibre coverage might just be a matter of market size. With a population of about 1.8 million, there are simply fewer residential and business premises to cover compared with other parts of the UK.
Openreach on a fibre roll
Openreach Northern Ireland (Openreach NI), formerly BT Northern Ireland Networks, was officially separated from BT in October 2018 (BTwatch, #297 and #299). It is set up somewhat differently compared to the rest of Openreach Ltd.
An Openreach spokesperson explained that "whilst the team report into Openreach, it remains part of BT plc and maintains its local management team, strategic responsibilities, and organisational structure. This unique structure takes account of the network investment and product evolution of the Openreach division as well as local initiatives to the benefit of the Northern Ireland community".
The spokesperson added that "Openreach has Board structures for Wales and Scotland which are similar, but not the same. These boards are set up in a way that allows the teams to maintain close ties to the devolved governments, key stakeholders, and industry bodies".
Since its launch, Openreach NI has revved full-fibre rollouts, just as Openreach has UK-wide (BTwatch, #310 and #312). Openreach NI is currently building full-fibre out to 750 premises-per-day and its full-fibre network covers 360,000 homes and businesses (as of 30 June 2020), which it said represented 40% of properties.
Openreach NI full-fibre rollout status
Date
FTTP homes added
Total FTTP homes passed
Openreach investment in full fibre network
Notes: * As of October 2019. ** As of March 2020.
Source: Openreach NI Annual Reviews.

FY18–19 *

108,000

138,000

£13.5m

FY19–20 **

187,000

326,000

£28m

FY20–21

200,000 (target)

525,000 (target)

Not specified
For context, the number of full-fibre homes passed by Openreach NI accounts for 12% of the total three million homes passed by Openreach to date in the UK.
Openreach NI will have to further accelerate the full-fibre rollout over the current and coming two quarters to reach its goal of adding 200,000 more premises for a total of 525,000 premises by 31 March 2021.
To support the full-fibre rollout, Openreach NI plans to hire 100 apprentice engineers before March 2021. Openreach NI currently has 785 employees, of which 659 are in engineering roles and 61 are in support roles, while 65 are manager positions.
Openreach NI invested £28m last year in expanding the full-fibre network, according to the company's latest Annual Review. In FY20–21, the operator plans to invest at least £40m in expanding its network but does not specify how much of the total would be dedicated to full fibre.
Virgin Media fibres up Belfast
Meanwhile, Openreach cable rival Virgin Media won a key public tender in 2019 with Belfast City Council, through a £11.5m government-funded programme to connect 100 council buildings with full-fibre. Virgin Media says it has invested £100m in Northern Ireland since 2015, which includes spend on a new office in Belfast for most of its 350 employees in the region, according to ISPreview.
The cable operator recently completed the rollout of "ultrafast" connections to 150,000 premises in Northern Ireland, via the Project Lightning programme, bringing its total coverage to 375,000 in the country. The operator is currently upgrading its entire UK network to DOCSIS 3.1, which delivers speeds up to a max of 1Gbps, and aims to complete the project by March 2021.
Fibrus shakes up fibre scene
Openreach and Virgin Media are no doubt looking over their shoulder at well-funded fibre startup Fibrus, which plans to invest an initial £100m to build fibre-to-the-premises (FTTP) to 150,000 premises in suburban and rural areas in Northern Ireland. Fibrus launched in 2018, led by co-founders Conal Henry (former Chief Executive of Irish wholesale network operator enet) and Dominic Kearns (founder of b4b Telecoms, which led to the creation of Fibrus). In May 2020, Fibrus was acquired by its lead investor Infracapital (M&G's infrastructure equity investment unit) for an undisclosed sum. Infracapital also owns UK FTTP operator Gigaclear and recently acquired BBV Deutschland, which deploys FTTP in southern Germany (BTwatch, #312).
Fibrus has bigger plans than its initial £100m FTTP rollout. The startup wants Northern Ireland to be the first UK nation to have 100% full-fibre coverage by 2025. Given current forecasts for investments among the operators, including Fibrus, plus government-funded projects for rural broadband coverage, the provider reckons full-fibre coverage is on track to reach 88% by 2025. Now, Fibrus is determined to fill the remaining twelve percentage point-gap.
In a recent Ulster Business podcast, Conal Henry, founder and Chairman, said filling the gap could cost another £100m and that the business has a "five-year plan to build in excess of 200,000 homes", adding that its investment "could be as much as £200m".
Fibrus vs. Openreach in Project Stratum
Fibrus and Openreach are going head-to-head in bidding for one of Northern Ireland's biggest publicly funded rural broadband projects. The operators are the final two contenders on the shortlist for the Northern Ireland government-funded £165m Project Stratum, after US investment group Granahan McCourt Capital withdrew from bidding earlier this year, according to The Irish News (BTwatch, #308). The contract is expected to be awarded in mid-October 2020.
Project Stratum aims to improve broadband connectivity for 79,000 homes that do not have access to at least 30Mbps services. That is a smaller target than the 97,000 homes the project originally planned to cover, with the scope revised down after a review of infrastructure deployment data in January 2020 showed fewer areas needed intervention. According to Ofcom's latest data, 89% of homes in Northern Ireland have access to at least 30Mbps broadband, which is the lowest among UK countries and below the UK average of 95%.
Public sector support
To lessen the gap between urban and rural broadband connectivity, the public sector steps in. The Northern Ireland Department for the Economy invested some £78.7m of public funding into broadband infrastructure projects between FY06–07 and FY18–19, according to a Department spokesperson. Funding has also been made available from central UK government programmes. Some of these projects are listed in the table below.
In addition, some of the 6% of premises in Northern Ireland without decent broadband might be eligible to receive better services from BT via the Broadband Universal Service Obligation that started in March 2020 (BTwatch, #301 and #311). Another way to reach the underserved is Openreach NI's Community Fibre Partnerships programme, which enables communities to apply for subsidised broadband connections. The operator has eleven community projects underway and completed seven so far, which extended FTTP to 297 homes.
Recent public investment programmes for broadband in Northern Ireland
Project
Funding
Goal
Date
Sources: Government websites.

Project Stratum

£165m

Extend fibre to 79,000 premises unable to receive 30Mbps.

Contract to be awarded mid-October 2020.

Local Full Fibre Network Programme

£15m

Full-fibre network to connect 880 public sector sites by March 2021.

Contract awarded in 2019 to Full Fibre Northern Ireland consortium of ten local councils outside Belfast.

Local Full Fibre Network Programme

£11.5m

Connect 100 council buildings with full fibre in Belfast.

Awarded to Virgin Media in 2019.

Rural Gigabit Voucher Scheme

£67m (UK total)

For rural premises with broadband speeds of less than 100Mbps, vouchers of £1500 for homes and £3500 for small businesses support cost of installing faster broadband.

First wave launched in March 2018, now closed to new applicants.

Northern Ireland Broadband Improvement Project

£17.7m

Lay fibre from existing exchanges to new, smaller exchanges in more rural areas

Completed December 2017.

Superfast Rollout Program

£15.7m

Build fibre to cabinet and some premises connections.

February 2015–December 2018.

Michelle Donegan is an experienced telecoms writer and has been contributing as a reporter and news analyst for TelcoTitans since July 2020.