Fallout from Russia's invasion of Ukraine hits satellite comms operator.
Decision could delay service launch and have knock-on effect on distribution partner BT's rural coverage vision.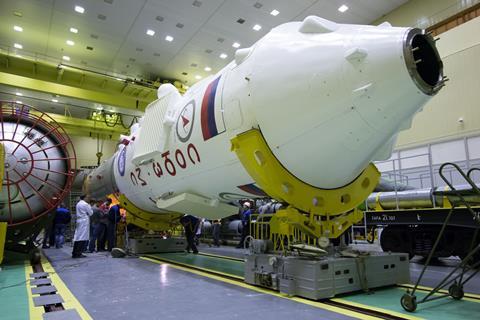 OneWeb, the UK-backed satellite communications operator and BT Group partner, cancelled all launches scheduled from the Russian cosmodrome in Baikonur, Kazakhstan, following a standoff between the UK government and Russian space agency Roscosmos.
The decision could delay the launch of OneWeb's services later this year and cost the company in the region of $300m (£226m), according to the Financial Times. More generally, the move also signals the end of years of space collaboration with Russia as Western sanctions effectively isolate the country following its invasion of Ukraine.
OneWeb was due to launch 36 satellites on Russia's Soyuz rocket from Baikonur on 4 March, and had five more launches planned before August this year to complete its low-earth orbit (LEO) satellite constellation. Since 2019, the operator has put 428 of the planned 648 satellites into orbit, all of which were launched on Soyuz rockets (BTwatch, #321 and #330).
In a dramatic escalation earlier this week, Dmitry Rogozin, head of Roscosmos, demanded that the UK government sell its stake in OneWeb and give assurances that the system would not be used for miliary purposes as conditions for the launch to proceed.
Refusing these demands, UK Business Secretary Kwasi Kwarteng announced via Twitter "there's no negotiation on OneWeb: the UK government is not selling its share. We are in touch with other shareholders to discuss next steps".
OneWeb said on late-Wednesday that its Board had voted to "suspend all launches from Baikonur" and ordered its team to leave the launchpad site in spaceport. Kwarteng said the government supported OneWeb's decision and that it was "reviewing our participation in all further projects involving Russian collaboration".
The decision leaves OneWeb scrambling to find other rockets and launch sites for its remaining 220 LEO satellites. The operator is reportedly considering American, European, Indian, and Japanese rockets, according to SpaceNews.
OneWeb was rescued from bankruptcy by a £1bn (€1.2bn) investment from the UK government and Bharti Global in 2020. This investment was then upped by engagement from Eutelsat, Hanwha, Hughes Network Systems, and SoftBank.
Implications for BT's rural coverage
BT linked with OneWeb in November 2021, signing a distribution agreement as part of its ambition to provide connectivity "anywhere" in the country by 2028 (BTwatch, #328). OneWeb's entire 648-satellite constellation is expected to be operational by June 2022. But the fallout with Russia casts doubts on the original timeline.
BT's agreement covers both Global and its sister Consumer and Enterprise businesses. While capabilities are expected to be limited to begin with, BT has said it eventually plans to widen focus onto the use of OneWeb's platform for applications such as IoT backhaul and fixed-wireless access in rural areas.
It described the tie-up as spanning a "growing range of connectivity solutions around the world", as well as "specific opportunities for the UK market", where BT is seeking to use a variety of new comms tech to help meet a target of delivering 5G to more than 90% of the UK's landmass by 2028 (BTwatch, #327).
However, the operator's rural coverage targets are not reliant on OneWeb, according to a BT spokesman. When the agreement was announced, BT said it would explore the LEO capabilities at its lab in Bristol in early-2022, initially for low-latency backhaul at sites where more capacity or back-up is needed and for delivering "improved resilience" for business customers.

Michelle Donegan is an experienced telecoms writer and has been contributing as a reporter and news analyst for TelcoTitans since July 2020.