BT and Openreach staff down tools on Friday and Monday.
Asked if frontline staff could receive salary increases, CEO Jansen retorts "why would I do that?"
Operator feels well prepared, but Jansen concedes there will be the "odd surprise".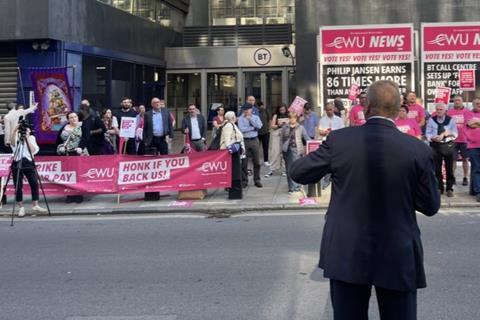 BT Group Chief Executive Philip Jansen said his team has had to "plan for strikes where nobody wins" as the Communication Workers Union commenced two-day strike action on Friday.
Speaking on BT's earnings call for the quarter to 30 June 2022 (Q1 FY22–23), Jansen said the situation is "extremely sad". However, asked if he would consider further increases to salaries for frontline staff, he replied, "why would I do that?", insisting that "we've done everything we possibly can to help our people" and that BT's flat £1,500 pay rise "compares extremely well" to the wider industry.
Notice for strike action was served in mid-July after the CWU secured an overwhelming majority vote for BT and Openreach members. EE staff, however, are unable to follow suit after failing to reach the government's 50% participation threshold.
The £1,500 increase came into effect on 1 April 2022 and applies to frontline employees such as contact centre staff, engineers, and retail workers. It affects approximately 58,000 of BT Group's 93,000 employees in the UK, across BT, EE, Plusnet, and Openreach. It will cost BT in the region of £87m.
However, the CWU has repeatedly refused the "imposed" salary increase, insisting that any pay rise must be negotiated and agreed. The union originally demanded a 10% increase for all BT employees, though such specifics have faded in recent communications (BTwatch, #334–#335).
The handling of 999 calls will be unaffected by the action, and Jansen thanked the CWU for "carving out" emergency services. He attempted to paint a friendly relationship with the union, though recent comments from CWU General Secretary Dave Ward suggest otherwise.
Jansen also claimed BT is "always open to dialogue" despite being accused of refusing to negotiate by the CWU.
Networks braced for impact
The CEO appeared generally unconcerned by the strike, stating that BT is "well prepared" for the action. He conceded that call waiting times will be longer, repairs may be delayed, and there will be the "odd surprise we haven't anticipated".
All in all, however, Jansen appeared to regard the 40,000-employee strike as little more than a minor inconvenience.
Speaking to the Financial Times, he explained that BT had prepared for the strike by reducing its workload and ensuring its 25,000 contractors are prepared to work.
Ward has previously claimed there could be a "very significant impact" on UK infrastructure should the strike go ahead.
" These are the workers who, combined, control, maintenance, and roll out of the UK's broadband infrastructure. There are also key contracts with government agencies, security agencies — they manage those contracts. It will have an impact. "

Ward.
Behind the scenes, BT has been preparing its networks for some time. Speaking at BT Networks' Business Briefing in June 2022, Chief Technology Officer Howard Watson claimed that BT has a "robust plan" to mitigate any impact, though he did not give any details on the measures in place. "Unlike a production line, networks will run without manual intervention", he claimed.