BT's new HQ opens after more than a year of delays.
Jansen aims to remove "hierarchical" business format.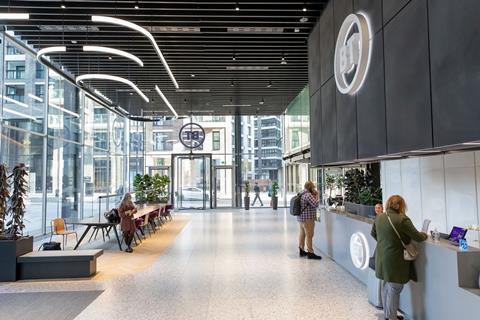 BT CEO Phillip Jansen conceded that BT has been conceptually "on the back foot for ages" as the telco opened its new HQ, One Braham, in Aldgate.
Speaking to the Evening Standard, Jansen said the £429m (€505m) premises will "reflect the new way of working", which is less formal, and less command and control. "BT had a hierarchical history",he said, and "it shouldn't be like that".
The 18-storey space, which will house some 3,500 staff and has been given a Platinum WiredScore rating for its digital infrastructure, features 200 meeting rooms, 85 digital spaces, 450 cycle stands (almost four times as many as the Group's former BT Centre HQ), and 49 showers to encourage staff to cycle and run to work. As part of the refit, 99% of the waste generated was said to have been recycled.
"Conceptually, BT has been on the back foot for ages", Jansen told the Evening Standard. "We'd been declining for five or six years. When I arrived I decided to lean forward a bit. We have to convert that into success in the marketplace". Individual desks are said to be a thing of the past at BT, with "not a single [one]" at the premises.
When Jansen joined BT in early-2019, he was quick to call out the key pain points the business was facing. One of those impediments, he surmised, was the BT Centre itself — which sits on a site with more than 150 years of history with the operator, but had also become, for some, a relic of its 'old' hierarchical nature. The beige building had housed BT since it became a plc in the 1980s, sandwiched between City banks and featuring (at one time) a reserved lift and Mad Men-style cocktail cabinets for top executives.
One of Jansen's first moves was to affirm a plan hatched under predecessor Gavin Patterson for the telco to ship out of the Centre, and the operator will now get a more fitting base of operations for the new CEO's agenda of modernisation and empowerment (BTwatch, #328).
The move to One Braham should have been completed in October last year, but was unsurprisingly delayed significantly as a result of the COVID-19 pandemic. However, Jansen believes that the past 18 months have showed customers "just how fundamental" connectivity is, and that "we delivered in very difficult circumstances, [which] made people realise they can use technology in a different way, get more out of it".
" My strong preference is for flexibility. But that doesn't just mean work from home … I'm a three- to four-day person. Collaboration and teamwork are the most important sparks for anything. WFH might be okay for a company for a while, then it will stutter. Life is not 9–5 and you can't separate work as you used to, so embrace it. We are leading on it; we say 'guys, you make your choice'. But if you are never in the office, you aren't going to make it around here. "

Jansen.
Amid a wider office transformation, BT's 870 UK locations are being cut down to just 30 offices — albeit considerably larger ones. It is hoped the changes will save £1.3bn, allow the more streamlined company to react more rapidly to market trends, and enable the company to get closer to customers.
As consumer focus switches from price to performance, Jansen was asked if this could result in a rise in price points for BT internet packages. Although avoiding a comment on any potential price structure amendments, he stated "I think our core proposition is massively mispriced. It is extraordinary value for money. Compared to the US, we are half price".