3D image processing specialist hints at telco deployments of HoloPort platform in 2021.
Business-to-consumer service said to be in pipeline.
DoubleMe–BT relationship growing out of Telecom Infra Project innovation hub.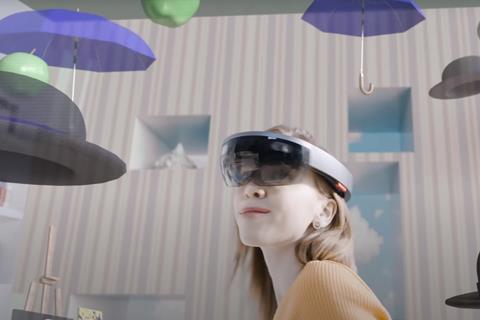 DoubleMe, a US-based holographic reality developer, signalled it is collaborating with BT and other telcos on the launch of a business-to-consumer (B2C) service.
Petros Bozatzis, Chief Financial Officer of DoubleMe, said the provider has been working with telcos "in parallel" with its recent launch of TwinWorld, a beta application that is designed to enable interaction with 3D images using the Microsoft HoloLens 2 mixed reality headset.
TwinWorld transports 3D models, such as those built by HoloPortal, DoubleMe's volumetric 3D model builder, to a HoloLens or personal computer — a process described as 'real-time holoportation'. DoubleMe said it plans to use TwinWorld to extend the HoloPort technology for large-scale spatial 3D capture. "This expansion, intended for mirroring both humans and spaces, will generate holographic digital twins in real-time", it said.
Winner's TIP
BT's involvement with DoubleMe began in early-2020 when the operator announced it as one of two winners of TEAC UK Wave 3 — the startup competition organised by BT's Telecom Infra Project (TIP) Ecosystem Acceleration Centre (BTwatch, #309).
DoubleMe pitched HoloPortal, which uses broadly similar technology to Condense Reality, one of the six shortlisted startups for TEAC UK Wave 3. The latter is also engaged in the BT-led 5G Edge-XR (extended reality) project, alongside BT Sport, the University of Bristol, and UK innovators DanceEast, The GRID Factory, and Salsa Sound (BTwatch, #316).
As a TEAC UK Wave 3 winner, DoubleMe was given the opportunity to work with BT Research for twelve-to-18 months and join Innovation Martlesham, the high-tech cluster of ICT specialists based at Adastral Park.
DoubleMe said it has been testing the latest HoloPort platform with BT, MTS, and its other telco partners, "for the early deployment of its platform in 2021".
As well as BT, DoubleMe said it is partnering with LG Uplus in South Korea, Russia's Mobile TeleSystems (MTS), Singapore Telecommunications, and "twelve other global telecoms operators". It has previously revealed partnerships with AIS in Thailand, as well as Deutsche Telekom. DoubleMe also took part in the Korea Spring 2017 season of Orange Fab Asia, the Orange Group accelerator for startups in Japan, Korea, and Taiwan.
Further backing comes from Samsung Electronics and SK Telecom in South Korea, the location of DoubleMe's first TwinWorld Experience Centres, with 13 such centres set to be in place by January 2021 in Bangkok, London, Moscow, Paris, and elsewhere.
It is not clear whether or not these centres are in addition to, or a replacement of, its Hologram Rooms, of which 16 were due to be available around the world by 31 March 2020. DoubleMe also operates volumetric video capture studios in London and Seoul.
Mass-market focus
During a podcast with Nicky Daniels, Head of Innovation Martlesham, Bozatzis explained that DoubleMe is initially focusing on the fields of entertainment and communications, but claimed there are "endless" applications of the technology it has developed. "If you think of the situation with COVID-19 right now, and the challenges this poses to travel, work, or entertainment, one could use our technology to bring more human touch to communications in all these industries", he said.
Bozatzis also claimed that DoubleMe is the "only company out there to have achieved holo-portation with a single camera and a single PC".
He provided some hints as to what form a B2C service with a telco like BT might take, and said DoubleMe plans to make TwinWorld device agnostic."We are also looking to make our application and service more light and more portable. We may soon be able to use a mobile phone and the next generation of goggles to achieve holoportation", he said.
DoubleMe is working with various mixed reality device manufacturers, including Microsoft and Nreal, to "make our technology more widely available to individual users, application developers, device manufacturers, and pretty much everyone who would like to use a 3D video or consume 3D content, or have a 3D conference component in their solution", Bozatzis added.
BT has been hesitant about mixed-reality technology in the past, primarily owing to latency issues (BTwatch, #300 and #304). DoubleMe previously indicated that these issues can potentially be circumvented with edge computing and deep learning.
BT has recently demonstrated heightened engagement with augmented and virtual reality technology, as illustrated by the integration of augmented reality features with the new BT Sport App, to exploit the capabilities of EE's 5G network (BTwatch, #318 and passim).
Getting real
While Bozatzis lays claim to unique features that could set DoubleMe apart from challengers, the 3D image processing market does seem somewhat crowded at present.
Tracxn, a market intelligence platform for tracking startups and private companies, lists 32 direct competitors to DoubleMe, of which 19 are made available. DoubleMe was founded in 2014 and so far has raised $12.7m (£9.5m/€10.5m).
As well as his CFO role at DoubleMe, Bozatzis is also Senior Managing Partner and Chief Operating Officer of Blue Frontier Group, a private equity and advisory service provider. Albert Kim is the co-founder and Chief Executive of DoubleMe, which started life as 3D media startup Voxelogram in 2010.
DoubleMe and competitors, listed by Tracxn ranking, December 2020
Company name
Focus
Location
Funding
Founded
Stage

Sources: Tracxn; BTwatch.

Fyusion

3D image processing technology for consumer applications

San Francisco, USA

$71.4m

2013

Series–B

8i

Tools for volumetric video capture

Los Angeles, USA

$41.5m

2014

Series–B

Radical

AI-based algorithm for 3D motion capture of human bodies

New York City, USA

–

2016

Seed

Motion Analysis

3D passive motion capture

Santa Rosa, USA

–

1982

Unfunded

DoubleMe

Dynamic 3D modelling from 2D video

San Jose, USA

$12.7m

2014

Seed

Qualisys

Sensors for 3D positioning tracking systems for sports

Gothenburg, Sweden

–

1989

Unfunded

IKinema

Animation middleware for games

Guildford, UK

–

2006

Acquired

Condense Reality

Volumetric capturing solutions for virtual reality applications

Bristol, UK

–

2019

Seed

Volucap

Volumetric studio for enterprises

Potsdam, Germany

–

2018

Funding raised

4DViews

Volumetric capture technology for virtual reality (VR) applications

Grenoble, France

–

2007

Unfunded

TeeVR

VR based robot to model indoor spaces

Seoul, South Korea

$6.7m

2017

Series–A

Mamoca

Marker-less motion capture technology

San Clemente, USA

$750,000

2005

Acquired

OptiTrack

Software and hardware solutions for 3D motion capture

Corvallis, USA

–

1996

Unfunded

Imverse

Volumetric capture solutions for augmented reality (AR)/VR applications

Los Angeles, USA

–

2017

Funded

iPi Soft

Marker-less motion capture software

Moscow, Russia

–

2008

Unfunded

Cambridge InnoVision

3D reconstruction technology solution for VR

Cambridge, UK

–

2003

Series–A

Embody Digital

Technology for the creation of 3D characters

Los Angeles, USA

–

2016

Funding raised

Flaime

Solutions to create volumetric videos for AR/VR applications

London, UK

–

2020

Seed

SIMI

Reality motion systems

Munich, Germany

–

1992

Acquired

PresenZ

Volumetric technology for creating 6DoF VR movies and images

Brussels, Belgium

–

2015

Unfunded

Anne Morris is a freelance journalist, editor and translator. She has been working as a reporter and news analyst for TelcoTitans since 2016.