Controlling football crowds and helping train technical staff among 5G-based applications being looked at in AR/VR tie-up with University of Glasgow.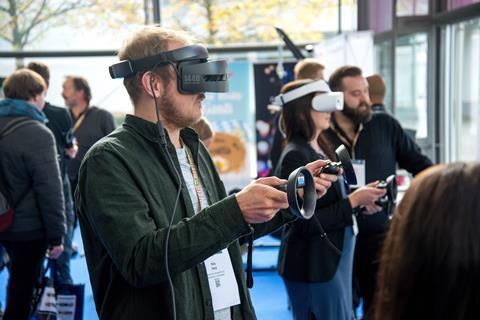 BT is expanding an R&D tie-up on 5G-equipped augmented and virtual reality (AR/VR) applications with the University of Glasgow.
The two organisations have partnered to run two AR/VR-focused development projects, with one centring on "immersive", remote training and teaching, and the other on wayfinding.
The former project aims to use AR/VR to "teleport" users and allow them to be instructed, remotely, on how to operate complex devices. It also involves VRtuoso, a VR-based training tool specialist with which BT has an existing commercial relationship.
The second — which is still being "worked on", according to Professor Muhammad Imran, Professor of Communication Systems at the University — involves using AR to guide visitors in busy areas. It appears currently focused on University facilities but could be an "excellent tool" for crowd management at large conferences and football matches, said Professor Imran.
Keeping it real
Speaking during a presentation earlier this week, Professor Imran stressed the need for fuller 5G network functionality to enable both projects. The AR/VR training application is a "very specialised use-case that requires ultra-high reliable low latency and controlled feedback over the 5G network, because if you move your hand and the view does not follow it with very low latency, then you lose the immersive experience", he said.
Like many other operators, BT has already shown interest in developing AR/VR solutions as both a B2B revenue stream and to support staff in their day-to-day tasks. The Group, for example, has mooted use of VRtuoso's services internally, for employee training, as well as marketing the vendor's services to business clients through BT Enterprise (
BTwatch
, #300). Staff in its Technology arm have also been developing an
AR-based hazard warning system
for field engineers (
BTwatch
, #313).
BT puts spectrum towards city's new Urban Innovation testbed
The AR/VR instruction tie-up has been flagged previously, with BT Chief Executive Philip Jansen giving Scottish First Minister Nicola Sturgeon a demonstration of the technology back in January — but appears set to move into a fresh testing phase with the introduction of new facilities in Glasgow.
It is one of several projects that are in line to be supported by the University's Urban Innovation testbed, which is due to be switched on at the end of October.
The new facility is said to include a "telco-grade" core and 17-cell radio access network, initially featuring Release 16-based non-standalone 5G functionality (but with a standalone update coming in 2021). Other elements include a self-organising network controller, edge computing platform, and Internet of Things systems based on Narrowband IoT and LoRaWAN.
BT has freed up a 1.7MHz slice of 1800MHz spectrum to support the network, which is otherwise reliant on test frequencies allocated by regulator Ofcom.
Beyond BT and VRtuoso, organisations involved in the Urban Innovation testbed include ABB, Cisco Systems, Fujitsu, Nokia, and Telefónica UK, and will focus on developing applications in areas such as emergency communications, remote healthcare, robotics for manufacturing, and vehicle-to-everything communications. Telefónica's participation builds on a tie-up announced in July, focused on enabling 5G/satellite-connected mobile health clinics, with widening of COVID-19 test availability one possible application. Discussions are said to be ongoing with NHS Scotland over the project.
Springing Forth
The University of Glasgow tie-up is the second 5G-focused R&D initiative in Scotland where BT has been named as a participant.
It follows on from a recent partnership with the University of Stirling's Forth Environmental Resilience Array, focused on environmental- and equality-focused applications of 5G. It will dovetail with the Alloa-based International Environment Centre, a coming research and policy hub, and use EE's 5G network to help environmental monitoring.
The tie-up underpins the Forth Valley Hub — the first of a batch of regional, government-funded 5G research facilities that are being established in Scotland this year and next.
The network is being coordinated by the Scotland 5G Centre, set up in 2019 to help expand 5G application development projects in the country and bring together a "Scotland-specific" 5G strategy. Each Hub will feature mobile private networks and accelerator facilities for startups.

Richard Agnew is Group Editor at TelcoTitans.