In-line performance, and commitments to keep building transformational momentum, but medicine may have short-term side effects.
Fibre acceleration revving up, but uncertainty, both political and regulatory, acting as a brake.
Lowth committed to prudence, but open to upping investment.
Consumer getting more combative, Enterprise hoping to ride the waves of change, Global quietly on a comeback, Openreach still weathering storms.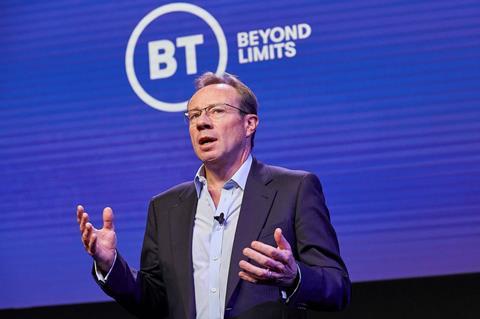 BT Group published its results for the quarter and six months to end‑September 2019 (Q2/H1 FY19–20), with a performance in line with expectations, and management appearing in confident form and focused on the mechanics of business transformation.
The half‑year results followed fairly quickly after the ambitious and aspirational Beyond Limits launch (BTwatch, #307), which was intended to re‑position BT as an integral part of society and revive the flagging brand as a national champion. In contrast to the showbiz glitz of that event, the results were more focused on the hard work that needs to be done out of the public eye to enable the overhaul of the business. And this part of the process may be more challenging and painful for the Group and its investors.
Group Chief Executive Philip Jansen emphasised the potential for bad news (or at least more challenging times) ahead of anticipated good news, and reiterated the complexity of internal plans to overhaul operations through an IT‑led transformation. As this battle plan moves deeper into the implementation phase Jansen is working hard to keep analysts onside and on‑board with his plans, and a couple of times acknowledged the level of engagement shown by the analyst community. Building goodwill now could be essential for ensuring that when news turns less positive, there is confidence that the management team are thinking about the bigger picture.
In the meantime, the H1 saw mildly negative numbers across key metrics, as anticipated, with revenue and earnings before interest taxation, depreciation and amortisation (EBITDA) sliding. Changes to accounting standards yet again made comparisons in several areas more challenging, but the divisional stories of slow painful recovery in business‑focused areas, and heightened retail competition fuelled in part by Openreach's strategy remains clear. Normalised cash flow was notably down, but this appears to be a matter of timing, with a significantly stronger second half of the year anticipated.
BT Group, financial highlights, H1 FY19–20

H1 FY18–19

H1 FY19–20

Change

Sources: BT Group.
Notes: On 1 April 2019 BT adopted IFRS 16, the new accounting standard for leases, on a modified retrospective basis without restating the comparative periods. BT has presented select pro forma financial information for the period ended 31 March 2019, however, history for certain financial KPIs impacted by IFRS 16, for example operating profit and net debt, cannot be calculated under BT's modified retrospective approach. These lines are shown in the pro forma template for completeness but with no historical values. * Adjusted, i.e. before specific items. ** BT prefers to highlight its 'normalised' cash flow figure, which excludes specific items and includes purchases of telecoms licences.

Revenue*

£11,624m

£11,413m

-1.8%

EBITDA*

£4,038m

£3,923m

-2.8%

Net income

N/a

£1,068m

N/a

Normalised free cash flow**

£974m

£604m

-38.0%

Capex

£1,736m

£2,063m

18.8%

Net debt

N/a

£18,347m

N/a

Net financial debt (excluding lease liabilities)

£11,895m

£12,235m

2.9%
Short and sweet
For H1 FY19–20, Jansen also attempted to tighten up the duration of the results presentation and subsequent Q&A. The CEO's first outings at such events have been lengthy affairs, with multiple questions taken from assembled analysts and fulsome answers as Jansen talked through his philosophy. Even with an extended running time, it appears that not all questions could be answered on these occasions. To expedite the process and get through more stakeholders, BT instigated a one-question-only cap on the latest call, which was largely adhered to by questioners more accustomed to asking two, or perhaps three, thus picking up the pace of the Q&A. The light‑hearted opening warning from Head of Investor Relations Mark Lydiard that "we reserve the right to pick the easiest one and move on" if more than one question was asked raised a laugh, but evidently kept attendees in line.
Jansen warns of tough times to come as part of the strategy
When discussing the road ahead for BT, Jansen appears committed to "acting decisively" to address competitive challenges, with Consumer and Enterprise his primary points of focus.
As previously noted, determination to compete in the retail market can put pressure on the longer-term BT goal of maintaining a premium brand in the market. The most recent challenge has been the return of unlimited data packages in the mobile sector in the UK, to which BT has responded (BTwatch, #305). Nevertheless, Jansen said the launch of these plans at the top‑end of its retail portfolio can be seen as "a clear continuation of our 'more for more' strategy". The Consumer fixed‑line business was described as continuing to "progress through a period of transition", and was a key area where Jansen took pains to highlight that things may look worse before they look better.
Upcoming bumps include the cost of migrating most of the 700,000 customers on copper to fibre-to-the-cabinet (FTTC) broadband services under the Beyond Limits mantra, and the pain that may be felt as Consumer goes cold turkey to get over its earlier addiction to a fast turnaround of phased price increases, and follows through with the commitment to Consumer Price Index‑based annual increases.
As previously highlighted by BTwatch, IT modernisation is to be a driver for transformation and provide a template for rethinking the way that BT operates (BTwatch, #304). On the Q2 FY19–20 call, Jansen again called out the importance of IT transformation, describing it as a "massive" opportunity. In keeping with the attempt to manage short‑term expectations, however, he also warned that "it's not straightforward to implement".
Lowth outlines cost of greater ambition
While BT talks up commitments to investment, restructuring, and pledges to use any means necessary to combat keenly‑priced competition, Group Chief Financial Officer Simon Lowth reiterated that this does not mean that the Group is backing away from its goal of a one-notch improvement in its credit rating, to BBB+.
The greatest challenge to improving the credit rating may, though, be the need to bolster capital investment (capex) to achieve the Group's goals. An accelerated full fibre programme would require finding money, and Lowth outlined a series of options including a dividend cut, while also noting the potential of hybrid bonds, reprioritising money invested in capex elsewhere.
Despite flagging cost‑cutting as an opportunity to provide headroom for investment, Lowth also took pains to stress that potential for quick and easy additional cuts is limited. The current cost-transformation programme is apparently ahead of schedule, in terms of £1.1bn in benefits already claimed against overall expectations of £1.5bn in savings by March 2021 (BTwatch, #296). However, Lowth downplayed the significance of this progress, noting that the final tranche of savings is the most difficult to unlock.
Lowth pointed out possible changes on the horizon to the calculation of retail price (RPI) and consumer price indices used in the UK as inflation measures. These could once again complicate the situation surrounding BT's pension deficit (and perhaps also its retail business, now that Consumer is using RPI to calibrate price increases).
Jobs cut, but headcount more resilient
Prior to Jansen's appointment, BT's transformation strategy had seen the introduction of a commitment to a significant reduction in jobs across several elements of the Group, outweighing recruitment in areas such as engineering at Openreach.
The prospect of significant net reduction in headcount appears less likely now, however, as the pace of recruitment looks likely to outpace the rate of reduction. Lowth seemed comfortable with this development, stressing that recruitment is supporting growth areas for the business.
"We said that we would save gross 13,000 roles and that is indeed the productivity improvements we're making. We said that we'd invest 6,000 new roles in security, in customer service, and in the fibre build. 

But we've seen opportunities to put a bit more investment in those areas and we've talked about scaling-up the fibre programme and the further investments we made at the beginning of the year. They will drive growth, profit growth and value into the mid- and longer-term. But they will mean that the net headcount reduction is not quite as great. And as we move forward in future guidance, we still stick to those principles of being clear on the gross reductions and the conscious investments we are making. "

— Lowth.
Fibre progress: hurry up and wait
Following a period of frenetic speculation regarding the acceleration of full-fibre rollout across the UK, sparked by Conservative government promises of full coverage by 2025, Jansen indicated that BT is ready and raring to go, but that there is continued uncertainty as to what can be done, dependent on the political and regulatory landscape in the very near future.
BT's results were released after confirmation of the December 2019 General Election, but before the major parties had unveiled their manifesto commitments in relation to the communications sector. The Labour Party dropped the hand grenade of Openreach-nationalisation and free‑for‑all fibre-to-the-premises into the political arena (see separate report), but on the results call Jansen was still managing expectations on the potential for expanding coverage to ten‑to‑fifteen million premises by the mid‑2020s under BT's existing plans.
The key message was that until the political dust settles, and regulator Ofcom unveils its proposals for the future of regulation beyond March 2021, no concrete commitments can be made.
Jansen reiterated previous assertions that the broad Ofcom market review, anticipated for publication in December 2019, will go a considerable way towards defining what will be possible, but, until that is processed by the industry, "nothing is cast in stone". Once the draft is published, industry consensus will need to be reached to achieve a degree of certainty on the investment case for a faster rollout.
BT's Head of Regulatory Affairs, Cathryn Ross, also stressed that "there is absolutely no doubt in my mind whatsoever" that Ofcom's main priority is devising the framework for fixed-access. However, she also described the planned evolution as a "pivot point" for the industry, and as such is not simple to devise nor easy to implement, adding "it's really in nobody's interest for Ofcom to unduly rush this process".
Whether this document will even be released by the end of 2019 could also be in doubt, with Jansen noting that "these things can be delayed". With Ofcom currently overseen by an interim-Chief Executive in Jonathan Oxley, it may be the case that a final document will be held until there is a clearer picture on the regulator's future leadership and the comportment of the new Parliament.