Microsoft beefs up its position within BT's enterprise ecosystem with formation of an updated strategic partnership.
BT aiming for a nine-figure revenue target from "complicated", "big" deal.
Software giant separately acquires BT spend-tracking partner Suplari.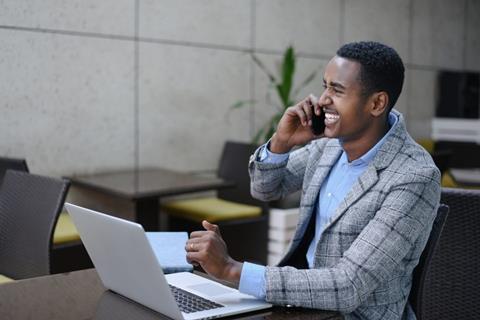 BT Group put a nine-figure revenue target on a newly revamped strategic partnership with Microsoft as it seeks to revive fortunes in the pandemic-hit enterprise market.
Chief Executive Philip Jansen bigged up the "strengthened" relationship during BT's results call for the quarter to 30 June 2021 (Q1 FY21–22) this morning, saying the two partners will "accelerate innovation across a range of products and services, including enterprise voice and cybersecurity".
BT's goal is for the tie-up to fuel £1bn (€1.2bn)-plus in sales over its timespan — although Jansen said this was the "minimum I'd expect from it". "We expect this partnership to underpin over £1bn of revenue across our enterprise units over the next seven years as we capitalise on our superior networks and security credentials, supporting our overall revenue growth", he said.
Jansen did not provide details of phasing. Nor did he offer up a profitability target, with it remaining unclear whether telcos have yet solved their challenges in extracting value from commercial partnerships as they ramp up digital services.
However, the target still represents a sizeable sum, and the inference from BT and Microsoft is that their arrangement is focused on seeding new services and supporting revived growth, rather than shoring up existing business. A fillip from refreshed tie-ups would be more than welcome at BT: the telco's Enterprise and Global units collectively saw more than £1bn in sales disappear during its last fiscal year, to 31 March 2021 (-11%, to £9.2bn), and both remained stuck in reverse gear during Q1 (-5% and -21%, respectively).
Jansen went on to stress the agreement was a "big deal", saying it "opens up loads of opportunities" in security, voice, and elsewhere. He described it as a "really collaborative, deep relationship" that BT and Microsoft had been "working on for a long time", and was "complicated and multi-dimensional — which is good, not bad".
Teaming up
Jansen's comments added some colour to a fairly brief and bland statement on the strategic partnership, released this morning.
According to the note, the tie-up will see BT and Microsoft work together to build new "enterprise voice, cybersecurity, and industry-focused services in sectors from digital manufacturing to health".
Their planned projects include the expansion of an existing relationship on Microsoft Teams, which, as previously flagged, will see BT bring its own comms services to the virtual gathering platform via its new Microsoft Operator Connect and Operator Connect Conferencing functions (BTwatch, #322).
The two partners will also "push forward with" the design and release of a "new generation" of managed security services — evidently cementing Microsoft's existing "Strategic Partner" status within BT's recently consolidated security vendor ecosystem (BTwatch, #324).
BT security partners, August 2021
Source: BT.
Critical Partners
Fortinet, McAfee, and Palo Alto Networks.

Strategic Partners

Cisco Systems, IBM, and Microsoft.

Ecosystem Partners

Check Point, CrowdStrike, F5, ForeScout, Netscout, Okta, Qualys, Skybox Security, and Zscaler.
Further collaboration is planned on "enhancing sustainability credentials" within the two businesses' supply chains — something that is on-point with BT Chief Procurement Officer Cyril Pourrat's push to ensure BT is seen to be working to reduce Scope 3 emissions — and on "promoting digital skills in the communities".
Microsoft buys into role in BT's spend data overhaul, too
Separately, another layer to Microsoft's relationship with BT came to light earlier this week as the software giant announced a deal to acquire a key purchasing data partner of the operator.
The move has seen the vendor absorb Suplari, a purchasing data software specialist that BT recruited last year, to help speed up decision making at Pourrat's Procurement function and escape the shackles of a fragmented and outdated IT stack (BTwatch, #318).
Like many other companies, BT was struggling to get the information together to make better and quicker buying decisions — apparently forced to gather up data from 35 separate systems and load it manually into an old-school database.
The weaknesses of BT's past setup appear to have become inescapable during the early days of the pandemic, when the telco needed to identify and track critical vendor relationships for business continuity.
They have also led to the more recent structural separation of some of its procurement functions within new, Dublin-based unit BT Sourced, as well as the formation of a host of new digital relationships with the likes of Suplari (spend intelligence), PRISM (risk monitoring), Globality (smart sourcing), and Trust Your Supplier (a blockchain-based supply chain management initiative also featuring IBM, Vodafone, and others). Progress with the Suplari buy may well be closely watched by both IBM and SAP — whose software is underpinning a major finance, procurement, and workplace management systems overhaul at BT (BTwatch, #313 and passim).
Suplari's artificial intelligence-equipped Spend Intelligence Cloud offering, as described by Microsoft, is designed to enable medium and large businesses to "proactively manage supplier spend by transforming data from multiple sources, such as contracts, purchase orders, invoices, expenses, and supplier risk, into valuable insight". Times are changing in procurement, the vendor noted — citing a helpful Gartner forecast that suggests that by the end of next year, half of all "legacy" spend analysis software will be replaced by AI-powered, cloud-based solutions.
" By bringing Suplari's spend intelligence insights together with the existing Microsoft Dynamics 365 capabilities, Microsoft is further helping organisations become insight-driven and enabling business leaders to take strategic action. "

Frank Weigel, Vice-President, Dynamics 365 Insights Product Group, Microsoft.

Richard Agnew is Group Editor at TelcoTitans.