Global division looking to satcomms to expand mining sector presence and boost search for growth.
Tie-up bridges various in-vogue areas of enterprise IoT, satellite, not‑spot coverage, and cloud productised services.
Deal appears precursor to broader revamp of BT's ecosystem at intersection of wireless and satcomms.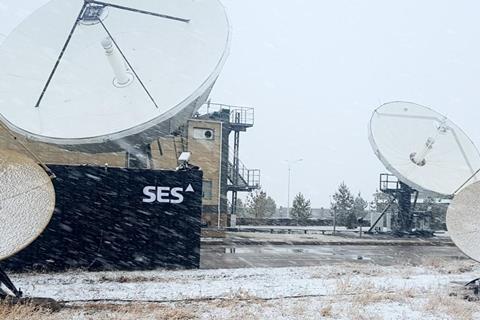 BT Global quietly revealed it is set to work with Luxembourg-based satellite player Société Européenne des Satellites (SES) on a joint data comms offering for enterprises operating in harder-to-reach areas.
A page on the division's website flags that the two providers have teamed up to provide "reliable, future‑proof connectivity" to businesses in the mining sector.
Entitled "Reimagining mining operations with satellite connectivity", it indicates the partners will market an "automated network-as-a-service platform service" to mining companies, featuring a "single management hub for real-time cross operational visibility". It stresses the system's ability to support "thousands" of Internet of Things sensors.
A graphic on the page suggests the offering will tap both SES' geostationary and medium-earth orbit (GEO/MEO) platforms — which are set to expand with the launch of O3b MPOWER, a new-generation MEO constellation promising "ultra-high-capacity, low-latency" services.
SES is expected to launch its first O3b MPOWER-based services in 2022, with deployment of the new constellation's planned eleven spacecraft to be completed in 2024, offering near-"global" coverage. Mining has been referenced as a key target market, alongside government, shipping, and telecoms, with Orange, iSAT Africa, and Microsoft already named as service provider partners on the new system.
Global's page goes on to note the mining industry faces a range of operational challenges, including delivery of "reliable infrastructure to remote and rural locations".
With SES' satellite connectivity, Global emphasises its ability to meet extreme connectivity requirements and enable "accelerated transformation". "With the help of our partner, the Société Européenne des Satellites… our satellite-enabled networks can deliver cost-effective and high-capacity connectivity to your mining operation, wherever it is", the page adds.
The missing link
The tie‑up builds on a long relationship between BT and SES, including a 2012 agreement focusing on GPS projects (BTwatch, #232), but could end up being part of a broader refresh of BT's satcomms product and partnership portfolio.
Notably, Global's page suggests BT is looking to provide a full, "multi-orbit" offering to mining companies, stretching across GEO, MEO, and low-earth (LEO) platforms. This would suggest there is room for other satcomms providers to be brought into play, as SES currently only operates GEO‑ and MEO-based services.
Although there have been suggestions in the trade media of a possible expansion into the increasingly fashionable world of LEO, based on a Federal Communications Commission filing by the satco in 2020, SES has indicated that it continues to regard MEO as its "goldilocks zone" for data throughput and latency. In 2021, it described its investment in O3b MPOWER as a decision to "double-down on MEO".
While acknowledging the "excitement" created by the new wave of LEO players entering the satcomms space, SES questioned the economics behind lower-orbit deployments, at least for heavier enterprise applications, in a 2021 corporate blog post. "At LEO, latency is nearly negligible, with the satellites even closer to Earth, but because of their short distance, each satellite covers a small portion of the Earth. Therefore, thousands of LEO satellites are required to achieve global coverage", it wrote. "Launching that number of satellites is not only a financial risk, but also requires that each satellite is smaller, offering less total throughput than current-gen satellites in GEO or MEO".
SES is part of a consortium working for the European Commission to consider the feasibility of a new, regional LEO venture, but the plan's scope and timing remain unclear.
OneWeb in the wings
BT, for its part, has already been gestating ties with players outside of the satcomms old guard. In November 2021, it firmed up a distribution agreement with LEO startup OneWeb — part-owned by SES rival Eutelsat — ahead of the latter's planned launch in June 2022 (BTwatch, #321 and #330).
The deal covers both Global and its sister Consumer and Enterprise retail businesses. While capabilities are expected to be limited to begin with, BT has said it eventually plans to widen focus onto the use of OneWeb's platform for applications such as IoT backhaul and fixed wireless access in rural areas. It described the tie‑up as spanning a "growing range of connectivity solutions around the world", as well as "specific opportunities for the UK market", where BT is seeking new tech to help meet a target of delivering 5G to over 90% of the UK's landmass by 2028 (BTwatch, #327).
Global has not broken out the importance of mining as a driver of its top line, although it has in the past highlighted major, multi-country networking and IT services deals with multiple players in the space, including Anglo American, De Beers Group, Glencore, and Kinross Gold Corporation (BTwatch, #232, #244, #249, and #259). It formed a partly-mining focused IoT connectivity partnership with US‑based wireless mesh network player Rajant in 2015 (BTwatch, #269).
The challenged division remains on a push to revive growth, including via new product and service partnerships, after a period of international retrenchment and pandemic-based disruption of client projects (BTwatch, #330 and passim). It recently broadened its portfolio with the launch of new cyber defence platform Eagle‑I and Cisco Systems' ThousandEyes infrastructure monitoring product, as well as a refreshed, Group-level strategic partnership with Microsoft (BTwatch, #320, #327, and #329).