BT Sport App upgrade showcases 5G capabilities.
5G Edge-XR project starting to bear fruit.
Support crew of specialist partners, including outreach startups.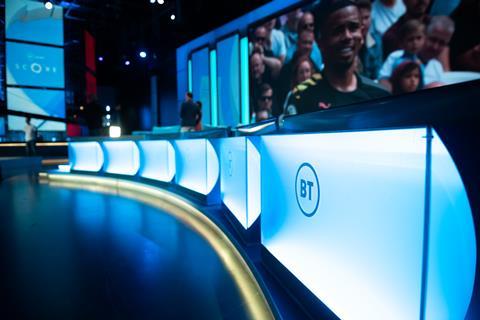 BT unveiled an upgraded version of the BT Sport App with new augmented reality (AR) features that exploit the capabilities of EE's 5G network.
BT Sport will be unreal
BT Sport has been exploring new ways for fans to watch sport during the coronavirus pandemic.
It recently revealed it was testing augmented, mixed, and virtual reality applications using 5G technology and edge computing in a new research project, called 5G Edge-XR, which is part of the UK government-funded £30m 5G Create programme (BTwatch, #316).
Although not explicitly mentioned, it would appear that findings from the project have fed into the upgraded version of the BT Sport App (see below).
In an interview with Broadcast Sport, Matt Stagg, Director of Mobile Strategy at BT Sport, also indicated that AR-based holographic broadcasts could become a reality within the next few years.
BT has been collaborating with Condense Reality on 3D hologram technology within the 5G Edge-XR project. The virtual reality startup was a runner-up in BT's Telecom Infra Project Ecosystem Acceleration Centre's third wave of finalists in January 2020 (BTwatch, #309).
Tip of the iceberg
Jamie Hindhaugh, Chief Operating Officer at BT Sport, told SportsPro that the aim is to avoid "gimmicky" products and focus on features that will genuinely enhance the viewing experience.
"I think that you are only seeing the tip of the iceberg in terms of what we are able to do here, collectively [with the BT Sport App upgrade] — both for our audiences and also our own production", he said, hinting at more developments to come.
Sam Kemp, Director of Products & Services Technology at EE, said the synergies between BT, BT Sport, and EE had given the Group the "freedom and flexibility" to look into new types of services that exploit 5G.
"In terms of the rollout, these features have, of course, been stitched and embedded into our BT Sport application, but early feedback is that it's going incredibly well", Kemp said, adding that there has been "twice the amount of uptake" in EE's BT Sport subscriptions in recent weeks.
BT Sport App upgrade
The new BT Sport App capabilities are grouped under Match Day Experience, which uses AR technology to provide a more immersive viewing experience for football fans, initially with a focus on Premier League matches, as well as selected UEFA Champions League, UEFA Europa League, and Gallagher Premiership Rugby matches. The upgraded app is offered with a new EE 5G Full Works plan and the new, 5G-equipped Apple iPhone 12. Match Day Experience includes:
Watch Together, which enables a split-screen interface and the ability to create a Watch Together room.
360-degree pitch-side viewing.
Match Day Live and Stadium Experience, using AR technology to access team, match, and behind-the-scenes information.
Manager Mode, allowing users to add their own graphics.
Dolby Atmos audio, which is set to be offered for certain events. Dolby's "immersive" technology debuted on the BT Sport App for 4K UHD and high-dynamic-range (HDR) viewing of the Brighton–Liverpool Premier League match in late-November 2020.
Various other enabler partners were flagged:
SportsPro said the 360-degree viewing experience was built and deployed in collaboration with video content delivery specialist Tiled Media and longstanding BT Sport supplier Deltatre, a sports broadcasting service provider owned by media group Bruin Sports Capital (BTwatch, #278). Bruin had been exploring a sale of Deltatre, but reportedly ended the process in April 2020 because of the coronavirus pandemic.
Match Day Live and Stadium Experience were developed in partnership with AR specialist Visualise, while Watch Together is based on technology from social-viewing specialist Sceenic, a former winner of a BT Infinity Lab competition for new sports media innovation (BTwatch, #293).
SportsPro added that BT is also working with Stats Perform and Second Spectrum, the statistics and tracking partners of the Premier League, respectively, to build a "comprehensive and robust" football data stream to support Match Day Experience.