With volatility biting businesses, University of Cambridge spinout attracts investment from range of backers with interests in sourcing sustainability and transparency, including fund linked to eBay creator Pierre Omidyar.
Startup is helping BT Sourced and others "proactively get ahead" of threats and respond accordingly.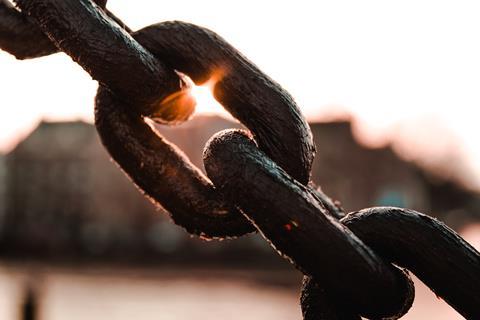 Leonard Read's 1958 essay "I, Pencil" famously illustrated the huge range of relationships that sit behind production of even the simplest consumer goods, and the futility of attempting to map, monitor — and rein in — this web of "know-hows".
In today's climate of unpredictability, businesses are compelled to have another go.
With trading networks in turmoil, inflation on the rise, and environmentally and socially conscious consumers becoming more discerning about product sourcing, many recognise they need to give their supply chains much more regular and thorough health checks.
Understandably, they want to be more proactive about spotting threats that come out of the leftfield — whether they're hitting a major tier-one partner or a previously ignored (but unknowingly mission-critical) supplier somewhere out in the far reaches of their long-tail.
Cambridge University spinout Versed AI is one tech player that has positioned itself to help supplier management departments respond and adapt to the challenge.
Launched just over two years ago, the business has already been working with BT Group and other large businesses on improving supply chain transparency, and in recent weeks secured its first round of outside investment, including from a fund linked to eBay creator Pierre Omidyar.
"There's so much happening in the procurement space at the moment", says Chief Executive Fenella Boyle. "Procurement organisations are becoming much higher profile within companies… and they are also looking for new technologies to do things more effectively".
Cambridge takes a punt
A "combination of serendipity and being open to new opportunities" is how Boyle describes her part in Versed AI's formation, which came about after a friend rented a room to Pascal Wichmann, one of the creators of its natural language processing-based system. "He was looking for somebody to come in and take on the CEO role, and somebody thought it would be a good match", she says.
Wichmann and Dr. Simon Baker, now Versed AI's Chief Technology Officer, had been collaborating at Cambridge University on a business relationship mapping research project, which was supported by Boeing as a means of helping it better understand its massive, multi-layered supply chain.
Wichmann remains a shareholder of Versed AI, but "decided not to pursue the entrepreneurial life, which is where I came in", says Boyle. She was previously an equity research analyst at UBS Global Asset Management, focused on the industrial sector, and was looking for "something different" to do after completing a part-time MBA.
The business was incorporated in late-2019 and a statement of capital shows several third parties took minority holdings last year, joining its founding management team.
Notable among these was Cambridge Enterprise, the university's technology transfer arm, and Founders Factory, the venturing studio of UK dotcom celebs Brent Hoberman and Henry Lane Fox (Versed AI joined its accelerator programme in late-2020).
Also now vested are fund managers Mainspring and Parkwalk, as well as Working Capital — The Supply Chain Innovation Investment Fund.
Working Capital, an early-stage fund — which was "actually an introduction from BT", says Boyle — teams with startups focused on buying transparency and ethics, including UK 'sustainability communications' software provider Provenance and Sweden's Quizrr, which offers training modules to factory workers in developing countries. It was originated by Humanity United, the philanthropic arm of Pierre and Pam Omidyar's Omidyar Group, although now operating as an independent partnership following a spinout in 2020.
Messages in text
Reflecting the variety of its backers, Versed AI has been building out a range of use-cases for its "advanced AI engine".
The solution is said to be able to "text-mine" news reports, social media, and other content in bulk, and use the information to build up a picture of relationships between different organisations, businesses, products, and people.
Typically, a client will give Versed AI a selection of their key direct (or 'tier-one') vendor partners and ask them to produce a 'map' of the suppliers they in turn rely on (tier-two), and so on through multiple layers .
Boyle says the software is based on three core elements: entity recognition, which enables a company to be identified from text; relationship extraction, to tease out the relationship between two companies; and comparison with a database of known organisations.
This latter part involves "disambiguating 'Am I talking about apple fruit farms?' or 'Am I talking about Apple Computer?'", explains Boyle. "And that's really important to be able to create the links in the chain, and create a large knowledge graph out of this, and get to tier-one, tier-two, tier-three, tier-four [partner] visualisation".
When businesses have typically performed supplier identification and intelligence, Boyle says the "status quo" has been a focus on laborious desktop research — which involves "finding needles in haystacks and takes a very, very long time. You won't capture everything that's out there".
Supplier managers have also relied on surveys, which she says "only get down one tier, and then they don't update very often — and you don't get a [high] response rate necessarily". "If Versed AI messaged Amazon and said 'please tell us who your key suppliers are', they probably wouldn't reply to us", she notes.
" Companies have done some of this work in the past for particularly important strategic areas — and do today — but it's usually resource intensive… What we do allows them to do it in a more scalable way. "

Boyle.
Navigation aid
Versed AI is focusing on a handful of core applications for its technology. The first brought up by Boyle — unsurprisingly, given current events — is "disruption and risk management" when it comes to ensuring integrity of supply.
She says that during mid-2021's floods in Zhengzhou, for example, Versed AI was asked by one client to scope out any vulnerabilities. None showed up in the first two layers of the supplier base, but a tier-three player was uncovered that had four factories in the vicinity.
Arming procurement managers with this foresight enables them to "proactively get ahead" of threats and formulate a response, whether by buying up additional inventory, finding an alternative supplier, or managing customer expectations, Boyle explains. Mercedes-Benz, for instance, embarked on a project to upgrade older vehicle components in 2021, in response to the global chip shortage.
A second driver — and one that initiated Versed AI's first engagement with BT in early-2020 — is compliance with regulation, including around cybersecurity or environmental and social governance.
In the telco's case, the project focused on gaining visibility into its risk profile around modern slavery by looking at vendors' manufacturing locations. As labour norms differ by country, modern slavery risk "tends to be a function of geography and industry", and mapping out production centres helps you "identify where you might want to send an audit team or put more resources into verification", Boyle says.
Other areas the business is seeking to open up include addressing reputational risk and opportunities to gain competitive intelligence.
With the latter, "you can say 'OK, who's supplying my competitor'? You can equally say, 'who's my competitor selling to?'", says Boyle. She says an automotive manufacturer, for example, might want to see which OEMs its rivals are working with to understand how the semiconductor crunch could affect their production volumes and influence the client's own resource availability.
" Partly because of coronavirus and Brexit and trade sanctions, and all the other things that have been going on, people's attention [has been drawn] to the importance of procurement… So disruption risk is just one angle to what we're doing. "

Boyle.
BT looks up
BT is one of the telecoms players that has been most vocal about this shift in procurement focus from reactivity to proactivity, and Versed AI is one of several businesses that has been working with BT Sourced, the Group's recently revamped buying operation, on efforts to better understand potential pitfalls in its third-party production base (BTwatch, #317 and passim).
Addressing supply chain volatility has been flagged as a key driver for the digital transformation that has accompanied BT Sourced's establishment in 2021. Adam Brown, BT's Director of Procurement Strategy & Transformation, told ProcureTech's recent 2022 Predictions & Purpose virtual forum that supply chain managers needed to focus on "just in case" as well as "just in time".
" Having the minimum amount of stock possible on the books that we need, that's a great thing financially, but what about when Brexit happens, what about when a pandemic happens, what about when the next thing happens — I don't know, an asteroid from space. "

Brown.
There is also a sense that BT Sourced sees commercial gain to be had from knowing its supply chain better, and identifying and attracting the choice vendors.
Cyril Pourrat, its CEO, has been flagging ambitions for the operator's buying department to become a "Salesforce of the bottom line" and to work more closely with other departments within the operator to drive growth.
He has also, in turn, indicated that the Dublin-based unit could market its capabilities to other businesses in both the telecoms and other sectors, as well as forming tie-ups with organisations that have common purchasing needs. "Regardless of the industry we are in, we're sharing the same challenges, the same issues, and we all want to digitise", he said.
Boyle agrees that "supply chain visibility down to 'tier n' is going to become increasingly important".
" I think there will be more digitalisation, more automation in the supply chain. And as I mentioned, I think procurement departments are looking to move from a reactive, firefighting situation to more of a proactive situation where they've got advance knowledge and can take proactive strategic decisions to improve the supply chains. "

Boyle.
Versed AI is one of several new partners BT Sourced has flagged that it has tied with to build out a greenfield organisation and technology stack, and revamp the way the telco procures goods and services. Others include:
US cybersecurity ratings provider Bitsight.
Darkbeam, a UK-based cyber-threat insight specialist that, like Versed AI, is a member of BT Sourced's Digital Procurement Garage initiative, launched in 2019 to encourage greater agility and innovation within its buying and supply chain management operations (BTwatch, #313 and passim).
US procurement and supplier acquisition software supplier Globality.
UK fintech startup Paid, whose platform enables freelancers and small businesses to speed up invoice settlement — a pain point for many players within BT's ecosystem.
New York-based macro risk consultancy PRISM.
Germany-based riskmethods, which like Versed AI is working with BT Sourced on mapping supply chain relationships and improving "sub-tier visibility". Bitsight and Versed AI feed information into the riskmethods dashboard.
"Spend intelligence" player Suplari, which has been supporting a much-needed overhaul of BT's procurement analytics systems and processes (and was acquired by Microsoft in 2021).
After forming these new links, the unit's focus is now on tying the solutions together. "Two years in on digitising it, we've got the point solutions done so I'm looking to orchestration", said Brown. "I'm looking at that next level. What's the orchestration layer that links everything together, not necessarily in a fully integrated way… but how does it logically link together? What do we present back to the company?"