Dave Pankhurst appointed Drones Director at BT Digital's newly‑formed Incubation unit.
Drones highlighted as one of four key verticals for the startup creation and acceleration division.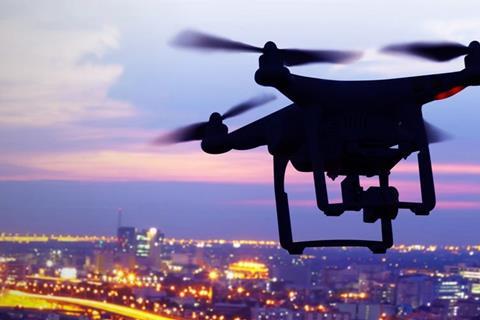 BT's newly‑founded Incubation unit added unmanned aviation to its priority list and appointed drones guru Dave Pankhurst to lead the charge.
The former Head of Drone Solutions was named Director of Drones.
Pankhurst joined BT in 2012 via EE, where he spent four years in technology partnership roles. He switched to the erstwhile BT Ventures division in 2016, before creating and managing the Group's drone business unit as Head of Drone Solutions. He led on strategy, partnerships, and product development for BT's drone interests.
Vertical challenges
Speaking at Digital's Business Briefing last week, Chief Digital & Innovation Officer Harmeen Mehta pitched Drones as one of four priority areas for Incubation.
She said that unmanned aviation was a nascent market, but added that it is of increased interest to companies "experimenting" with what is possible. However, as with any emerging vertical, there are problems to be solved. Among them, and seemingly Incubation's chief focus at this stage, is unmanned traffic management (UTM).
UTM incorporates issues of airspace management and communications between interoperable drones. Mehta underlined this as something that has not yet been fully navigated by any company.
" How are we going to manage all of this? The awareness of one drone that is operated by another company for a different purpose, in a different corridor? What is the space above a house that defines my privacy versus where a drone can fly? It's a problem waiting to be solved and we're having a lot of fun trying to solve it. "

— Mehta.
Long‑standing interest
In mid‑2021, when BT first created the dedicated Startup Growth team that would go on to become BT Incubation, drone‑based applications were among the named areas of focus.
In a launch video for that team, Director of Startup Growth Meg Blight cited a personal interest in drone services, highlighting ambitions for BT to secure a role in running "highways in the sky" — in essence, UTM services and solutions. "It's important that we don't have Google and Amazon running those highways. It can be BT", she said.
Later in the year, BT‑led R&D consortium Project XCelerate published findings identifying some of the challenges that the Group is likely to face in its drone activities. Primary concerns among the British public were around public safety and privacy. On the other side of the coin, opportunities were said to be in crime prevention, emergency services delivery, and replacing humans in dangerous jobs such as tower inspection or firefighting.
At the time, Pankhurst said that "close collaboration with a number of key stakeholders, from the public, government, regulators, and the industry is needed" to unlock the potential of unmanned aviation.
Project XCelerate is an eight‑partner consortium established in 2020 to test beyond visual line of sight drone flights in an 8km‑long Arrow Drone Zone testing sandbox in Berkshire. BT leads the project alongside Altitude Angel, which provides its UTM platform to track, monitor, and navigate drones in the flight corridor (BTwatch, #319 and 323).
Incubation is born
Drones is one of Incubation's key verticals, alongside Data & AI, Healthtech, and Product Factory. Together, the verticals are expected to deliver £200m (€237m) in prospects for BT by 2027 — although exactly how this will be achieved (or measured) is not yet clear.
Incubation is, as Mehta put it, a "small but capable" unit within BT's wider Digital domain. Tom Guy was named its Managing Director in January (BTwatch, #332). It seeks to invest in and accelerate external startups, as well as create startups from within BT's ecosystem, leveraging the Group's vast patent pool.
BT has a portfolio of more than 5,100 patents and patent applications, and Mehta has her eyes set on taking advantage of them. Speaking to TelcoTitans earlier this year, Managing Director of Applied Research Professor Tim Whitley noted BT's prowess in patent generation against UK competition, and said the Group was looking to build on a "track record in our domain".
Adastral Park is where much of BT's R&D activity is concentrated. There, a Robotics and Drone lab was unveiled in 2021 to provide a space to showcase drone developments and focus on safety solutions for the sector.

Joseph Purnell is a Staff Reporter for TelcoTitans, contributing telecoms news analysis since 2019 as part of the TelcoTitans Editorial team.