Newly inaugurated BT Sourced unit may branch out as a commercial player, selling services to other telcos and big companies.
Function's leadership open to partnerships in and outside industry, including DT and Orange's BuyIn JV.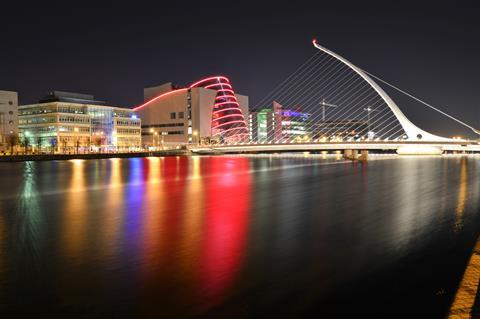 BT Sourced, the Group's new ProcureCo, is eyeing commercial opportunities off the back of the technology overhaul that has accompanied its creation over the past year, according to Chief Procurement Officer (CPO) Cyril Pourrat.
The Dublin-based business, which became operational in April after being carved out of BT's main organisational structure, could end up forming shared purchasing tie-ups with other telecoms players as well as businesses that operate in different areas of the economy but have common purchasing needs, Pourrat indicated.
Secret Source
Speaking during the unit's official launch today, he suggested it could end up targeting clients beyond BT.
BT Sourced's creation — Pourrat's flagship project since joining the telco in 2019 (BTwatch, #308) — has seen construction of an entirely new organisational platform and IT stack, in a bid to help the telco address widely cited challenges around purchasing efficiency, and the Frenchman indicated this revamp was already bringing new commercial opportunities to the surface.
He stressed BT Sourced's digitisation was enabling increased "face-time" with other teams within the telco, and development of a "stronger relationship with our stakeholders".
But outside of its operations, he mooted commercialisation of "procurement-as-a-service" and "digital procurement in a box" solutions for other businesses — adding that one CPO at a "very well-known" UK retailer had already approached BT Sourced for an "off-the-shelf" purchase of the digital tools it had brought together. "We've got customers knocking on our door and saying 'we really like what you have done'", Pourrat bragged.
First systems, then scale
In a more speculative section, Pourrat considered the combined impact of digitisation and disruption that has accompanied the pandemic, and the possibility it instigates closer collaboration between buyers across sectors such as automotive, insurance, and telecoms.
" Regardless of the industry we are in, we're sharing the same challenges, the same issues, and we all want to digitise … our organisation. So there's definitely an appetite out there to partner within the industry [and] across the industry. "

Pourrat.
In a suggestion he qualified as "provocative", Pourrat mused whether a "big", digital-savvy procurement services specialist could emerge from this transformative phase, employing "category managers which will cover multiple customers at the same time, and [use] AI and machine learning and all these kind of tools to be able to solve very complex problems".
" Right now, we're very much in our swim lanes. And maybe tomorrow, we will see that and maybe the company that we are currently actually managing will be one of them. Who knows? That will be interesting to see as well — the evolution of the operating model of procurement, the procurement company. And is there a space for a company like that in the future? "

Pourrat.
Team telco
Presenting at the virtual event alongside Pourrat were senior executives of three peers who will have been sources of inspiration for BT Sourced's creation.
In the line-up were: Béatrice Felder, CEO of BuyIn, the purchasing JV of Orange and (BT part-owner) Deutsche Telekom; and Vanesa Pepperell, COO of Aquanima, the procurement department of Santander. The BT CPO indicated openness to future collaboration with both businesses but did not say whether any commercial discussions had yet taken place.
BuyIn has already gestated buying partnerships with other operators including Bell Canada, Belgium's Proximus, and Portugal's NOS, to add weight to its bargaining position with suppliers in various key buying categories. Pourrat worked at the JV before spells at Saudi Telecom and Sprint that preceded his recruitment by BT. Back in 2015, after he left, BT and DT held unfruitful discussions over adding the UK telco to the BuyIn alliance, as part of strategic talks accompanying BT's takeover of EE (Deutsche Telekomwatch, #41).
Beyond BT and DT's links, Vodafone Supply Chain Director Ninian Wilson was another guest speaker at the event, briefly finding common ground with Pourrat on digitisation and automation within its own distinct buying business, the Luxembourg-based Vodafone Procurement Company.
He invited the Frenchman to up collaboration between the two operators on "decarbonisation of the supply chain", with Pourrat concurring more cooperation was needed.
BT and Vodafone are two of a number of European operators that already collaborate on The Joint Audit Cooperation supplier monitoring scheme, which debuted back in 2008, and have more recently flagged shared work on blockchain-based supplier tracking and verification, as part of the ongoing digital technology-led revamp of their respective procurement functions (BTwatch, #327).