Researchers delve into new materials for smarter, greener wireless tech.
Metasurfaces applied for better signal propagation and performance.
Operator planning to increase investment in materials R&D.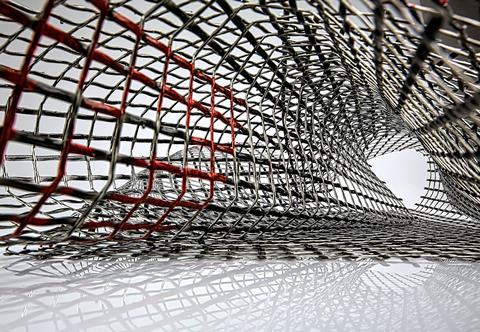 BT is supporting early research efforts to explore how metamaterials and metasurfaces can potentially make networks more intelligent and energy efficient.
Materials science is a huge interdisciplinary field with applications well beyond communications networks. Metamaterials are "artificial materials with characteristics beyond those found in nature" that unlock new functionalities, according to the UK Metamaterials Network led by Exeter University.
Fraser Burton, Senior Manager of Network Physics Research at BT, said the operator supports "low TRL [technology readiness level] academic research in materials science, especially low-energy electronics/photonics and green efficient batteries".
The current "sweet spot" for BT is metamaterials and metasurfaces that operate in the radiofrequency (RF) and microwave range, he said.
Metasurfaces are two-dimensional types of metamaterials with electromagnetic properties. The new materials can have different functions, such as reflection or transmission, and they can be passive or reconfigurable. "The metasurfaces are not made from exotic materials but have a specially designed structure at the same scale as the wavelength of electromagnetic wave they are interacting with", he said.
In Japan, NTT Docomo said in January 2020 that it had tested a prototype of a transparent metasurface using 28GHz 5G spectrum. The prototype, developed with glass manufacturer ACG, looks like a window and can dynamically change radio wave reflection and penetration. The concept is intended for installation in building or vehicle windows. In January 2021, Docomo and ACG tested another prototype, a "film-like" metasurface lens that attaches to windows and increases the strength of 28GHz signals to help them get through to reach indoor locations.
One of the areas BT is looking at is Reconfigurable Intelligent Surfaces (RIS) for improving wireless network performance. The idea is to use RIS rather than increasing the number of antenna elements in Massive MIMO systems to add capacity, which becomes impractical due to weight, size, and power consumption issues, according to BT.
Metasurfaces could become more common parlance in the telecoms industry as 6G research progresses. RIS already features in one of the first EU‑funded 6G projects, called RISE-6G (Reconfigurable Intelligent Sustainable Environments for 6G Wireless Networks). The UK's University of Nottingham is one of the participants in this project.
ETSI has already started an industry specification group for RIS and BT is one of the ten members, along with the University of Surrey and the UK Department for Culture, Media, and Sport (DCMS).
Broadening material horizons
There could be more materials research activity coming from BT. At the recent Wales Tech Week virtual event, BT's Head of Academic & Research Partnerships Carol Fletcher discussed how the operator works with more than 30 universities in a "symbiotic" way to explore new ideas. When asked if there were areas of research that BT wanted to grow, she pointed to artificial intelligence, quantum computing and cryptography, and "future materials".
She rattled off possibilities of new materials that could make network performance faster, transmitters or receivers more efficient, or even materials that can withstand heat that could be used in data centres or exchanges, which could reduce cooling costs and environmental impact.
"It's an area of interest for us for understanding what new materials might come along that could completely revolutionise our business", said Fletcher.

Michelle Donegan is an experienced telecoms writer and has been contributing as a reporter and news analyst for TelcoTitans since July 2020.